2011 Audi MedCup venues finally announced
With one month left until the first start of the 2011 Audi MedCup circuit, the organisers and the race teams are finalising their preparations to unfold their seventh successive year of fleet racing, one which will see the fleet return successively to Cascais, Marseille, Cagliari, Cartagena and with the season's finale in Barcelona.
As was the case last year, Cascais wil be the season opener with the Trophy of Portugal running from 16-22 May. The circuit then returns to Marseilles for the fourth year in a row over 14-19 June and then onto Cagliari, Sardinia Cagliari over 19-24 July, followed by Cartegena, Murciawho will host the Region of Murcia Trophy on 23-28 August with circuit finale set to be in Barcelona, over 12-17 September.
The formula has changed little for this season. Each city will host an individual stand-alone Trophy regatta, but it is the aggregate points across all five regatta over the entire season, for the TP52s and the new Soto 40s which will determine the overall champions.
"Returning to venues that are known to us is an advantage for everyone in terms of continuity," says Ignacio Triay, Director of the Audi MedCup Circuit. "And the cities keep building and improving on their past years' formula. And for the organisaton and the race crews that streamlines and improves the logistics. We have also accumulated good data on weather reliability, which makes providing high quality race management and equable racing more straightforward."
Although the venues has a familiar look, the TP52 fleet will be boosted this season with many new boats and new faces. 
Among those with new boats are Quantum Racing (USA) and Synergy (RUS) who will campaign similar new Botín Partners designs which have been built by Longitud Zero. Marcelino Botín and his team have won overall honours with their winning designs in 2008, 2009 and 2010, but Rolf Vrolijk has new TP52s for Audi Sailing Team powered by All4ONE (FRA/GER), Audi Azzurra (ITA), Ràn (SWE/GBR) and Container (GER), to two noticeably different designs. Vrolijk also designed Bribón (ESP), which was formerly Matador (ARG) and Gladiator (GBR) which was previously Artemis (SWE).
The transition to the 2011 TP52 box rule now features a standardised 4,800 kg keel, comprising a 1000kg solid steel fin supporting the 3800kg bulb, which has made measurement of the fin and bulb more accurate and easier. Also the new 2011 rigs are no longer allowed high modulus carbon in their manufacture and since 2010 boats are built to the ISO Germanischer Lloyds classification, making for slightly heavier, more robust hull and deck.
Star recruits
Among the new faces for 2011, Quantum Racing stands out with the arrival of America's Cup winner Ed Baird (USA) as skipper-helm, stepping into the shoes of Terry Hutchinson. The strong North-American campaign have been training hard to take on several crew changes but the afterguard of Adrian Stead (GBR) and Kevin Hall (USA) remain as tactician and navigator. The Italian Audi Azzurra team will also need a period to gel. They are predominantly Alberto Roemmers Argentinian Matador regulars who finished third in the 2010 circuit, including skipper Guillermo Parada but now featuring the all-Italian afterguard of strategist Vasco Vascotto, tactician Francesco Bruni and navigator Bruno Zirilli.
In its second season on the Circuit, but their first with a brand new boat, Audi All4One will once again be skippered Jochen Schuemann, four time Olympic medallist, who has said that "The team´s main goal will be to finish in the top three in the overall standings and to win at least one of the trophies". Frenchman Sebastien Col will be helm again for the Franco-German team.
Synergy's young helmsman Evgeny Neugodnikov will only have a limited amount of training time aboard their campaign's new first brand boat. 
"Especially in Cascais at the beginning of the circuit, we will have our new boat, it´s our first regatta with it and we will take time to get used to it," says Neugodnikov.
Skype co-founder Niklas Zennström´will join the TP52 class for the first time on the heels of string of major racing successes.
 Rán, is one of the teams that has the pedigree and experience to succeed from the outset. Under the guidance of Tim Powell (GBR) who has many years of experience in the Audi MedCup, Gavin Brady (NZL) as tactician and Steve Hayles (GBR) as navigator.
Ràn's sistership, Udo Schütz' Container, will also debut in Cascais with Markus Wieser at the helm and Hamish Pepper (formerly Artemis strategist/tactician) as tactician. Wieser commented: "The project is a great opportunity to lead the team into a new dimension, a competition with a very skilled group."
Lastly, British owner Tony Langley's new TP52 campaign, Gladiator, steps up to the Audi MedCup circuit in this season after an enjoyable experience aboard Weapon of Choice at the TP52 Class World Championship. Langley will be sailing the 2009 Vrolijk designed former Artemis, and the British team will one of five from the MedCup to take part in the Palma Vela in Mallorca later this week.
Meanwhile 2011 will be the debut year for the Soto 40s on the Audi MedCup. Iberdrola Team (ESP) and Ngoni (GBR), the first European boats have been training out of Valencia over recent weeks. Noticia IV (ESP), Patagonia (ARG) and XXII (ESP) are expected to arrive in Spain imminently.
PalmaVela practice for the new generation TP52s by Jesus Renedo/www.sailingstock.com
Nico Martinez's images from on board the new Audi Azzurra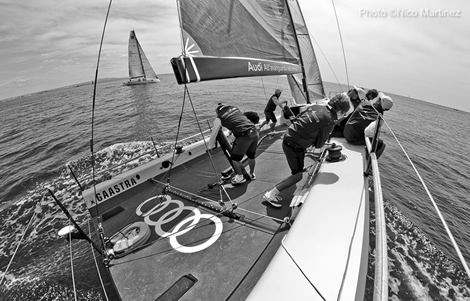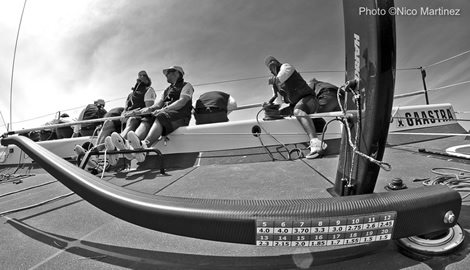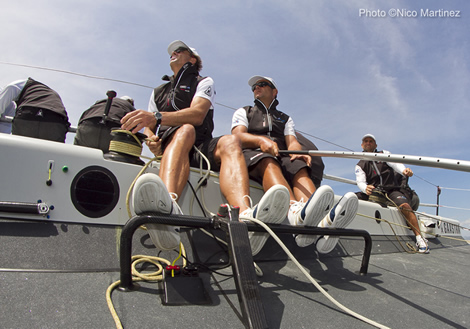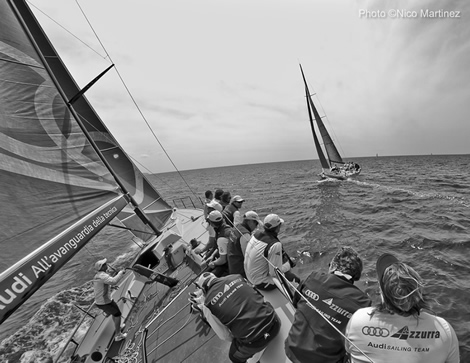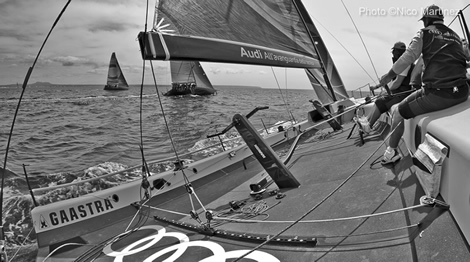 Back to top
Back to top