New sponsor for All4One
As of today a new partner will also be supporting the Audi Sailing Team by All4One in the form of Soitec - a world leader in generating and manufacturing revolutionary semiconductor materials, a company at the forefront of the most exciting energy and electronic challenges.
Stéphane Kandler, All4One CEO said: "We are delighted to welcome a new partner onboard, one that is also a world leader in its sector, one that like All4One has chosen innovation as a growth tool. Our team now has all that is necessary to compete at the highest level on the Audi MedCup circuit and potentially other international regattas. With a three-year commitment from both our partners we are now in a position to be able to consolidate our human and technical assets on which we have invested so much since our team's launch in 2009. We are proud of what we have achieved over this time and excited about what is ahead."

One of Soitec's core business is in solar/photovoltaic energy. The company backing of All4One comes at the most opportune moment reinforcing the top-level sailing programme planned for the next three years on the Audi MedCup circuit and TP52 World Championships developed by the Franco-Germanic team with Audi.

André-Jacques Auberton-Hervé, Chairman and CEO of Soitec: "We join the Audi Sailing Team powered by All4One with the goal of reinforcing the Franco-Germanic team - a leader meeting another leader to win together! We have chosen to enter the sailing world because our targets are leadership, performance and efficiency - which are key words in our field of expertise. To be successful at the Audi MedCup and other regattas, the All4One team must generate a winning performance against international competitors out of nothing more than the power of the wind and waves., In order to be the fastest team on the water the team will develop and optimise its boat using high technologies and techniques. We are established in all the countries of the Mediterranean basin, where our yacht will race, and where we can also demonstrate the strengths of our Concentrix Concentrating Photovoltaic (CPV) solar technology. This technology, aimed at the manufacture of solar farms in sunny regions, is fully in phase with the sustainable development targets that were defined at the 2009 UN Climate Change Conference in Copenhagen, where targets were set for 20% of the world's energy to be produced from renewable resources by 2020."

Jochen Schümann, Skipper and Sports Director:"I'm very proud to welcome Soitec within the Audi Sailing Team powered by All4One. Our team will be even stronger thanks to the support of this international company that is synonymous with advanced technology, and a leader in its field of expertise. We share the same values as Soitec as well as with our title sponsor Audi. All together we are100% performance orientated with one goal - a podium finish in the 2011 Audi MedCup overall standings with our new TP52."

Audi Sailing Team powered by All4One's new TP52 is set to arrive from Australia at the team's base in Valencia, Spain today. Once in the team's hands the final preparations, along with the first sea-trials, will be carried out. The team will then deliver the yacht to Cascais, Portugal where she will be christened on 16 May - the eve of the first Audi MedCup Circuit Regatta of 2011.

Soitec is an international manufacturing company, a world leader in generating and manufacturing revolutionary semiconductor materials, at the frontier of the most exciting energy and electronic challenges. Soitec's products include substrates for micro and nanoelectronics (most notably SOI: Silicon-on-Insulator) and concentrating photovoltaic systems (CPV). The company's core technologies are Smart Cut™, Smart Stacking™ and Concentrix™, as well as expertise in epitaxy. Applications include consumer and mobile electronics, microelectronics-driven IT, telecommunications, automotive electronics, lighting products and solar power plants for large-scale utilities. Soitec has manufacturing plants and R&D centers in France, Singapore, Germany, and the United States.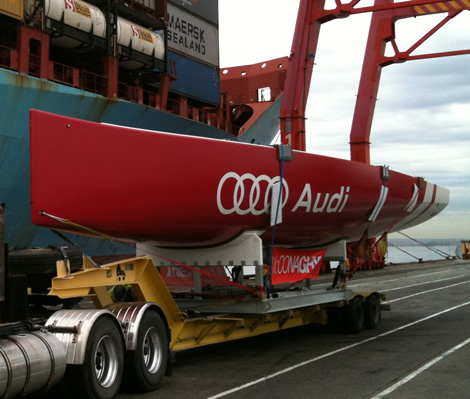 Back to top
Back to top