North's Thin Ply Technology moves to masts
Monday April 18th 2011, Author:
James Boyd
, Location: none selected
Last year we looked at North Sails' 3Di, originating from Switzerland and the mystery 'black sails' Alinghi trialled prior to the 2007 America's Cup and North's resultant 'thin ply technology' (TPT) - read this article here.
To recap: the ground breaking aspect of TPT is that its manufacturing process uses carbon fibre uni-directional 'tapes' that are significantly thinner than the usual forms in which carbon fibre is typically supplied to the boating industry. This is in the process of revolutionising not just sail making (ie flexible composites) but potentially every aspect of 'rigid' carbon fibre construction too. For while composite engineers are typically limited to working with uni-directional or bi-axial cloths, TPT goes some way to allieviating this constraint allowing engineers to create lighter, stronger, more efficient laminates.
As TPT guru, Norths' Technical Director of 3Di and 3DL, Bill Pearson describes it: "It is hard to get carbon UD pre-preg commercially (at a reasonable price) much under 100gsm (g/m²). Because of the requirements for sails, we had developed our own pre-preg process that was easily manufacturing tape down to 25gsm, and we have gone as light as 15gsm. Obviously if you could build a composite part using four layers of 25gsm material, in place of a single layer of 100gsm, you can have the carbon fibre at four different orientations for the same amount of material and weight. This would allow a lot more design freedom, and much higher resolution in the structural optimisation of any composite part."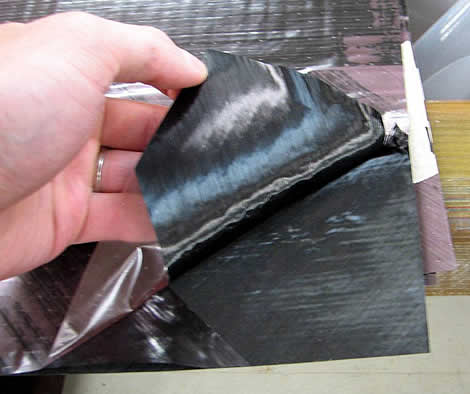 While 3Di sails are gaining an increased foot hold in the upper echelons of grand prix yacht racing, this season TPT is making its debut in racing yacht spars with North Marine Group subsidiary Southern Spars supplying masts built entirely using this technology to three of the new generation TP52s: Rán 4, Audi Azzurra/Matador and Audi A1 powered by All4One.
With the TP52 rule specifying a minimum weight and vertical centre of gravity (VCG) for masts, the benefit of using TPT on this occasion has not been weight saving but an increase in stiffness. To give some idea of the loads involved, a typical TP52 rig can generate up to 7 tonnes of headstay tension, and more than 22 tonnes at the mast step.
Southern Spars Group General Manager David Glen describes it: "TPT laminates have been tested and proven to be more than 10% stronger than laminates of conventional pre-preg in heavier weight fibres. Weight savings in a TP52 mast directly attributed to use of TPT material is more than 4% of the mast weight. Given the TP52 rule minimum weight, this weight saving is taken advantage of by placing 4% extra laminate in the mast to increase rig stiffness."
The result, according to Glen, is that the new generation of TPT TP52 masts are 19% stiffer than the stiffest 2010 generation TP52 mast.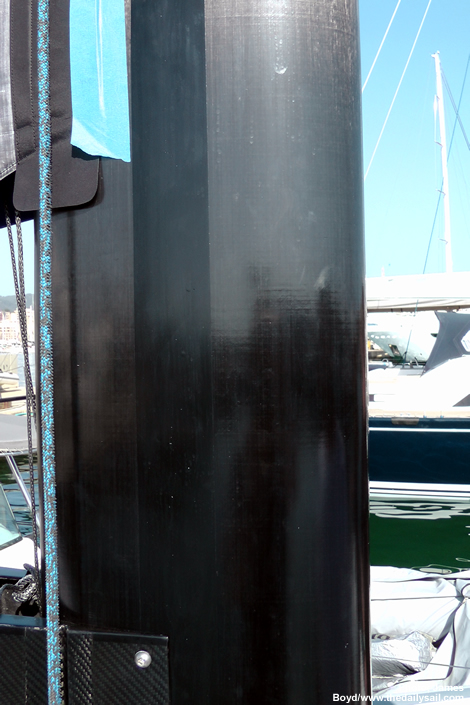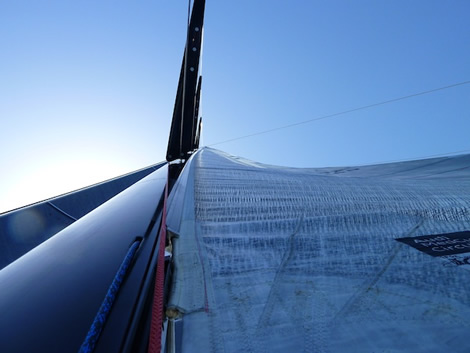 Bill Pearson continues: "Using TPT we optimised ply angles/laminate stack in the mast tube and spreaders which resulted in higher stiffness parts. All the (low performing) woven layers were deleted as the lightweight plies used on the surface of the part are resistant to splintering/splitting. Strength gains due to thinner plies resulted in weight savings where extra laminate is applied for patching, underneath fittings, and at spreader and gooseneck attachment points. The materials weight 'liberated' by these three effects was then used to increase the mast tube stiffness longitudinally and laterally in positions that suited the individual teams requirements."
TPT masts have undergone 18 months of testing prior to being fitted to the TP52s, in house at Southern Spars, at the test facilities at the University of Auckand and with various other partners wanting to use the technology. A TPT mast has been trialled on the Sydney Harbour 18ft skiff Thurlow Fisher Lawyers and from here they are also set to be fitted to Ray Hasler's new Reichel Pugh 42 Rikki and a new IRC 54.
And TPT is slowly moving beyond spars: Two prototype rudders built in TPT have been built for Summit Yachts and it is to be used in the spreaders for two J-Class yachts.
TPT is also reaching outside of the sailing world. Movement Skis have already built many thousands of ski in TPT, while it has also been using in Solar Impulse, the around the world solar powered plane.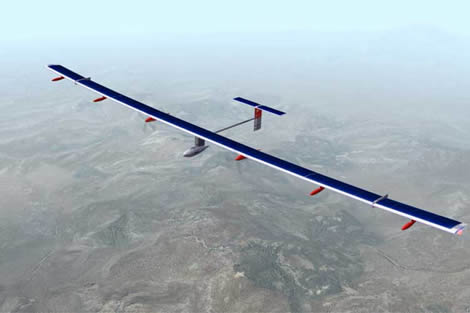 Back to top
Back to top