Bora Gulari falls to female skipper
An earlier start time for the final day of 2011 Sperry Top-Sider Charleston Race Week saw frantic preparations across the Charleston Harbour Marina this morning. Many of the nearly 250 teams removed non-essential equipment, heaving away as they pulled piles of extra sails and gear off their boats to lighten their loads for the expected forecast of just 5-10 knots of wind. The offshore courses saw sufficient sailing breeze through most of the day, with the first race run under very light northerly conditions and the final race in a moderate Charleston sea breeze of 10 knots.

"We had the heavy stuff on Friday, and the light and shifty stuff today, and we loved the challenge of figuring out all the conditions," said Mark Thomas, a North Carolina native sailing on Diana Sea, Bernie Cignavitch's Alerion 38 that squeaked out a one-point victory over Minnesota sailor Denny Manrique's Centurion 40 Island Flyer in the PHRF heavy displacement class. "We may have lost by a point, but we had a great time and we'll certainly be back," said Manrique.

The biggest boats at the event had an exciting, three-way battle for their class championship, with Don Terwilliger's Beneteau 47.7 Dauntless starting the day with a commanding lead due to three first-place finishes on Friday. "We needed to finish fifth in the last race today to secure first in class, but it turned out to be a tough nut to crack," said tactician Brad Taylor. Terwilliger and his crew won Class A at this event last year, but Dauntless enjoys the stronger wind, and Taylor watched their lead disappear on the final race. "About 100 yards from the finish, the two J/130s were behind us, and when they jibed for the line, their hotter angle pushed them over the line ahead of us." That final move cost Dauntless the win in this class to Patrick Eudy's Lutra 42 Big Booty. "If we have to lose to a boat, we don't mind losing to those guys - they're good guys, great sailors, and we're all friends," Taylor said.

Inshore, conditions were more fickle and no races were completed on the J/24 and J/22 race course, with only one completed on the Viper 640, J/80, and Ultimate 20 course. The big fleet of Melges sailboats on course 2 saw their first race abandoned, and though it looked like there'd be no racing for these sporty boats as they lolled on the calm waters for two hours, Charleston's sea breeze saved the day, appearing out of nowhere just minutes before the race deadline of 2:00 p.m.
Among the 47-strong Melges 24 Class, Tiburon, CA skipper Kristen Lane set something of a milestone in the biggest fleet of the regatta. Lane is the first female skipper to win a major, big fleet event in this class for as long as anyone can remember. "I've gained a lot of confidence over the past couple of years in this fleet," said Lane. "My crew is always amazing, and together we really work hard to race fast while having a good time. I think that's the key to our success." Lane professed that Charleston is her "favorite regatta," adding "you just can't beat this venue."

Former North American and National J/24 Champion Mike Ingham was disappointed that his class didn't see enough wind for a final race today, though he was happy to take the victory in the most competitive J/24 fleet that Charleston has seen in several years. "We last sailed here for our National Championship about six years ago, and it's just as great as I remembered," said Mike. "On Friday, we got four solid races in, and just kept our noses clean and tried to sail smart. It worked."

In the Melges 20 Class, Roland Van Der Meer of Menlo Park, CA, took a different tack than most to get to Sperry Top-Sider Charleston Race Week. "These guys are good friends," he said indicating his crew - Phillip Barow and Peter Koar of Barnegat Bay, NJ., and I really enjoy sailing with them. We talked this winter and decided to do something awesome this spring on the water," he said. "We saw all the videos and asked around, and decided to charter a Melges 20 for Charleston." Van Der Meer is normally a J/105 and Shields sailor back home, while Barow and Koar sail E-Scows. "I'd come back to this event in a heart beat, said Van Der Meer. "There's really no other place in the U.S. quite like Charleston and few events like this."

2012 Charleston Race Week dates set

Organisers didn't waste any time setting the dates for 2012 Charleston Race Week, and the ideal tidal conditions - those that give a push to the offshore sailors as they head out and return from racing - will occur between 19-22 April 2012. As popular as Charleston Race Week has become, organizers encourage all teams to register early to avoid entry caps or late fees.
Results - top three by class
J/24 (One Design - 25 Boats)
1. USA 5448, J 24 24, Mike Ingham , Rochester, NY, USA - 1, 3, 1, 2, ; 7
2. Street Legal, J 24 24, Chris Jankowski , Richmond, VA, USA - 3, 2, 2, 3, ; 10
3. Vanishing Act, J 24 24, John Surguy , Marlboro, NJ, USA - 4, 4, 3, 1, ; 12
J/22 (One Design - 16 Boats)
1. Solid Layer, J 22 22 , Chris Doyle , Kenmore, NY, USA - 1, 2, 1, 1, ; 5
2. USA 1586, J 22 22, Greg Fisher , Mt. Pleasant, SC, USA - 2, 1, 3, 3, ; 9
3. Leading Edge, J 22 22, Todd Hiller , Annapolis, MD, USA - 3, 3, 2, 6, ; 14
Vipers 640 (One Design - 25 Boats)
1. Jackpot, Viper 640 21, Brad Boston / Lee Shuckerow , Point Edward, Ont, CAN - 4, 3, 2, 3, 4, ; 16
2. 3 Grins, Viper 640 21, Dave Nickerson / MoiseSolomon ,Noank, CT, USA - 2, 2, 6, 1, 9, ; 20
3. Black Mamba, Viper 640 21, David Guggenheim , Savannah, GA, USA - 1, 4, 4, 9, 3, ; 21
J/80 (One Design - 26 Boats)
1. USA 352, J 80 26, Kerry Klingler , Larchmont, NY, USA - 5, 2, 2, 3, 3, ; 15
2. Rascal, J 80 26, Henry Brauer / Will Welles , Marblehead, MA, USA - 3, 3, 1, 2, 9/TLE, ; 18
3.Tiamo, J 80 26, Bruno Pasquinelli , Dallas, TX, USA - 1, 1, 4, 6, 9/TLE, ; 21
Ultimate 20 (One Design - 12 Boats)
1. Slippery, Ultimate 20 20, Jim Pearson , Wheatley, Ont, CAN - 1, 1, 2, 1, 4, ; 9
2.Rumbullion, Ultimate 20 20, BJ Jones , Cornelius, NC, USA - 3, 2, 9, 4, 1, ; 19
3. Zulu, Ultimate 20 20, Peter Marriott / Bob McGrath , Charlotte, NC, USA - 2, 7, 3, 2, 5, ; 19
Melges 24 (One Design - 47 Boats)
1. Brick House 812, Melges 24 24, Kristen Lane , Tiburon, CA, USA - 2, 4, 3, 2, 4, ; 15
2. New England Ropes/West Marine Rigging, Melges 24 24, Bora Gulari , Detroit, MI, USA - 1, 2, 10, 1, 13, ; 27
3. WTF, Melges 24 24, Alan Field , Los Angeles, CA, USA - 6, 1, 7, 16, 1, ; 31
Melges 20 (One Design - 23 Boats)
1.Bacio, Audi Melges 20 20, Michael Kiss , Holland, MI, USA - 3, 1, 3, 1, 3, ; 11
2. Elevation Racing, Audi Melges 20 20, Anthony Tabb , Chicago, IL, USA - 2, 6, 2, 2, 7, ; 19
3. Red Sky, Audi Melges 20 20, Paul Reilly , Chicago, IL, USA - 1, 2, 6, 4, 8, ; 21
PHRF A (PHRF - 8 Boats)
1. Big Booty, Lutra 42 42, Patrick Eudy , Charleston, SC, USA - 3, 4, 2, 1, 1, ; 11
2. Dauntless, Beneteau First 47.7 48, Don Terwilliger , Charleston, SC, USA - 1, 1, 1, 3, 6, ; 12
3. Wicked, J 124 40.7, Douglas Curtiss , Branford, CT, USA - 2, 3, 4, 2, 2, ; 13
PHRF B (PHRF - 7 Boats)
1. Gambler, J 122 40, Doug Shafffer , Kemah, TX, USA - 1, 1, 2, 1, 1, ; 6
2. Velocity, J 111 36, Wayne Jackson , Columbia, MD, USA - 3, 4, 4, 2, 2, ; 15
3. Teamwork, J 122 40, Robin Team , Lexington, NC, USA - 4, 2, 1, 7, 3, ; 17
PHRF C (PHRF - 14 Boats)
1. Rock Star, C&C 115 37, Tim Tucker , Alachua, FL, USA - 3, 2, 1, 8, 2, ; 16
2. Tangent, Cape Fear 38 38, Gerald Taylor , Annapolis, MD, USA - 1, 3, 3, 5, 4, ; 16
3.L'outrage, Beneteau 34 34'5, Bruce Gardner , Annapolis, MD, USA - 2, 1, 2, 4, 8, ; 17
PHRF E HDC1 (PHRF - 8 Boats)
1. Diana Sea, Alerion 38-2 38, Bernie Cignavitch , Charleston, SC, USA - 1, 1, 2, 1, 2, ; 7
2. Island Flyer, Wauquiez Centurion 40s 40, Denny Manrique , Tonka Bay, MN, USA - 2, 2, 1, 2, 1, ; 8
3. Old School, S2 9.1 30, Paul Jacques ,Charelston, SC, USA - 3, 3, 3, 8, 5, ; 22
Tartan 10 (One Design - 6 Boats)
1. Demon Rum, T-10 33, Mike / Beth Eckstein , Royal Oak, MI, USA - 2, 1, 2, 4, 1, ; 10
2. Wild Norwegian, T-10 33, ArvidEiesland , Glenview, IL, USA - 1, 2, 3, 3, 3, ; 12
3. Silver Surfer, T-10 33, Simon Beemsterboer , Mokena, IL, USA - 3, 5, 1, 1, 4, ; 14
PHRF S Sport Boat (PHRF - 6 Boats)
1.Rhumb Punch, Farr 30 30, John and Linda Edwards , California, MD, USA - 1, 1, 1, 1, 1, ; 5
2. Wave Bye, Melges 30 31.10, Michael MaCleod , Flowery Branch, GA, USA - 3, 3, 3, 5, 2, ; 16
3.Wairere, Thompson 30 31.25', Pete Hunter , Kill Devil Hills, NC, USA - 2, 2, 7/DNS, 2, 5, ; 18
PHRF D (PHRF - 10 Boats)
1. Mighty Puffin, J 29 MH OB 29, Steve Thurston , Bristol, RI, USA - 2, 1, 5, 4, 1, ; 13
2. A Parent Tripp, Tripp 26 26, Brett Harrison / John Yeigh , Annapolis, MD, USA - 1, 3, 4, 3, 3, ; 14
3.Amigos , J 92 30 , David Pritchard , Buford, GA, USA - 7, 4, 3, 1, 2, ; 17
PHRF F HDC2 (PHRF - 8 Boats)
1.Susimi, Sweeden 370 36.5, Michael Carrington , Lighthouse Point, FL, USA - 1, 1, 1, 1, 1, ; 5
2. Passion, Catalina 34 34, Brett Grover ,Jesup, GA, USA - 2, 2, 3, 2, 3, ; 12
3. Mistress, S2 7.9 IB 26, Bryan coon , Hicksville, NY, USA - 4, 3, 4, 3, 2, ; 16
PHRF G Non-Spinnaker (PHRF - 9 Boats)
1. Bliss, Alerion 38-2 38, Randolph Brooks , Cincinnati, OH, USA - 1, 1, 1, 1, 1, ; 5
2.Makani, Catalina 34 WK 34, Keith Gannett , Mt. Pleasant, SC, USA - 2, 2, 3, 2, 4, ; 13
3. Suwannee, Stevens 50 50, Donald Michael , Mt. Pleasant, SC, USA - 4, 5, 2, 3, 2, ; 16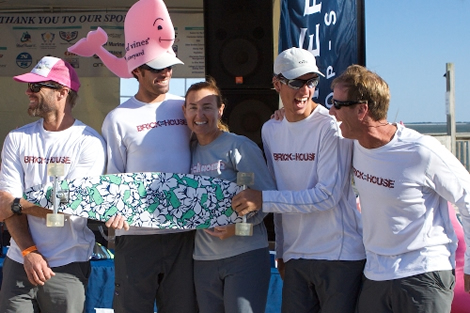 Back to top
Back to top