Brick House ahead in Melges 24s
Charleston Harbor gave sailors at 2011 Sperry Top-Sider Charleston Race Week nearly perfect weather for sailboat racing. "I don't think I've ever had a day with such perfect sailing weather," said Minnesota racer Sean Hendrickson, who sailed offshore aboard Denny Manrique's 40ft Island Flyer. "We had tight racing with 15-18 knots out of the east - perfect wind, perfect waves, and warm sunshine all day." From Lake Minnetonka, Manrique sits in 2nd place in the 'Heavy Displacement' class, one point behind Diana Sea, an Alerion 38 owned by local Bernie Cignavitch.

The brand new 36ft J/111 Velocity finished the day in fourth in a very competitive PHRF B Class. "This was the boat's first day of racing ever, and we're having a good time figuring her out," explained trimmer Dave Malkin of Annapolis. "We're definitely looking forward to even more breeze tomorrow." J/122 owner Doug Shaffer leads the class with just four points in five races aboard Gambler.

In the Melges 24 Class - the largest group at this event with 47 boats - 2009 International Moth World Champion Bora Gulari started the day off with a strong lead, reminiscent of his performance as last year's event in Charleston where he won in this always large and hyper-competitive class. But something went wrong after scoring a 1,2 in the first two races. "The current had really started moving in the third race," explained Gulari, "and we got shut out trying to get to the top mark, losing a big part of the fleet." According to the Detroit native, "That's just Charleston, and we love these exciting short-course, big-fleet races." Gulari ended that race in 10th and came back to win the 4th race, though Tiburon-California-based Kristin Lane's consistency was too much for Gulari, and she leads both Gulari and Chicago skipper Brian Porter by five points.

Lane's racing team is a family affair, as her Brick House team also includes husband Peter at the helm of an identical Melges 24. "Kristin really enjoys these conditions, but it's probably my favorite regatta, too," said Peter enthusiastically after returning to the dock today. "These shorter courses with tides and sandbars and land features are just so much more interesting than 'classic' longer courses - we should race this length course for Worlds."

Forecasts call for even more wind tomorrow - up to 25 knots of colder Northwesterly breeze, with showers and possible thunderstorms later in the day. If Friday's conditions provided a chance for racers to knock the rust off, Saturday will undoubtedly separate the top teams from those who could use a bit more practice.

Racers will battle for up to four more races tomorrow on three inshore and two offshore courses, and racing concludes Sunday, when trophies for the overall champion of Sperry Top-Sider Charleston Race Week - the historic Palmetto Cup and Charleston Cup - will be presented.

Top three results in each class:
J/24 (One Design - 25 Boats)
1. USA 5448, J 24 24, Mike Ingham , Rochester, NY, USA - 1, 3, 1, 2, ; 7
2. Street Legal, J 24 24, Chris Jankowski , Richmond, VA, USA - 3, 2, 2, 3, ; 10
3. Murder Incorporated/Team Layline, J/24 24, Chip Till, Wrightsville Beach, NC, USA - 2, 1, 4, 4, ; 11

J/22 (One Design - 16 Boats)
1. Solid Layer, J 22 22 , Chris Doyle , Kenmore, NY, USA - 1, 2, 1, 1, ; 5
2. USA 1586, J 22 22, Greg Fisher , Mt. Pleasant, SC, USA - 2, 1, 3, 3, ; 9
3. Leading Edge, J 22 22, Todd Hiller , Annapolis, MD, USA - 3, 3, 2, 6, ; 14
Vipers 640 (One Design - 25 Boats)
1. 3 Grins, Viper 640 21, Dave Nickerson / MoiseSolomon ,Noank, CT, USA - 2, 2, 6, 1, ; 11
2. Jackpot, Viper 640 21, Brad Boston / Lee Shuckerow , Point Edward, Ont, CAN - 4, 3, 2, 3, ; 12
3. Black Mamba, Viper 640 21, David Guggenheim , Savannah, GA, USA - 1, 4, 4, 9, ; 18
J/80 (One Design - 26 Boats)
1. Rascal, J 80 26, Henry Brauer / Will Welles , Marblehead, MA, USA - 3, 3, 1, 2, ; 9
2. Tiamo, J 80 26, Bruno Pasquinelli, Dallas, TX, USA - 1, 1, 4, 6, ; 12
3. USA 352, J 80 26, Kerry Klingler, Larchmont, NY, USA - 5, 2, 2, 3, ; 12
Ultimate 20 (One Design - 12 Boats)
1. Slippery, Ultimate 20 20, Jim Pearson , Wheatley, Ont, CAN - 1, 1, 2, 1, ; 5
2. Zulu, Ultimate 20 20, Peter Marriott / Bob McGrath , Charlotte, NC, USA - 2, 7, 3, 2, ; 14
3. Rumbullion, Ultimate 20 20, BJ Jones , Cornelius, NC, USA - 3, 2, 9, 4, ; 18
Melges 24 (One Design - 47 Boats)
1. Brick House 812, Melges 24 24, Kristen Lane , Tiburon, CA, USA - 2, 4, 3, 1, ; 10
2. New England Ropes / West Marine Rigging, Bora Gulari , Detroit, MI, USA - 1, 2, 10, 2, ; 15
3. Full Throttle, Brian Porter , Winnetka, IL, USA - 3, 6, 2, 4, ; 15
Melges 20 (One Design - 23 Boats)
1.Bacio, Audi Melges 20 Michael Kiss , Holland, MI, USA - 3, 1, 3, 1, ; 8
2. Elevation Racing, Audi Melges 20, Anthony Tabb , Chicago, IL, USA - 2, 6, 2, 2, ; 12
3. Red Sky, Audi Melges 20, Paul Reilly, Chicago, IL, USA - 1, 2, 6, 4, ; 13
PHRF A (PHRF - 8 Boats)
1. Dauntless, Beneteau First 47.7 48, Don Terwilliger , Charleston, SC, USA - 1, 1, 1, ; 3
2. Big Booty, Lutra 42 42, Patrick Eudy, Charleston, SC, USA - 3, 4, 2, ; 9
3. Galilée, Beneteau First 44.7 48 Jean-Pierre Turgeon, St-Bernard-de-Lacolle, QUE, CA - 4, 2, 3, ; 9
PHRF B (PHRF - 7 Boats)
1. Gambler, J/122 40, Doug Shafffer , Kemah, TX, USA - 1, 1, 2, ; 4
2. Teamwork, J/122 40, Robin Team , Lexington, NC, USA - 4, 2, 1, ; 7
3. Jubilee, A40RC 40, Cal & Libussa Huge , Summerville, SC, USA - 2, 3, 3, ; 8
PHRF C (PHRF - 14 Boats)
1. L'outrage, Beneteau 34 34'5, Bruce Gardner , Annapolis, MD, USA - 2, 1, 2, ; 5
2. Rock Star, C&C 115 37, Tim Tucker, Alachua, FL, USA - 3, 2, 1, ; 6
3. Tangent, Cape Fear 38 38, Gerald Taylor, Annapolis, MD, USA - 1, 3, 3, ; 7

PHRF E HDC1 (PHRF - 8 Boats)
1. Diana Sea, Alerion 38-2 38, Bernie Cignavitch , Charleston, SC, USA - 1, 1, 2, ; 4
2. Island Flyer, Wauquiez Centurion 40s 40, Denny Manrique , Tonka Bay, MN, USA - 2, 2, 1, ; 5
3. Old School, S2 9.1 30, Paul Jacques ,Charelston, SC, USA - 3, 3, 3, ; 9

Tartan 10 (One Design - 6 Boats)
1. Demon Rum, T-10 33, Mike / Beth Eckstein, Royal Oak, MI, USA - 2, 1, 2, ; 5
2. Wild Norwegian, T-10 33, ArvidEiesland, Glenview, IL, USA - 1, 2, 3, ; 6
3. Silver Surfer, T-10 33, Simon Beemsterboer, Mokena, IL, USA - 3, 5, 1, ; 9

PHRF S Sport Boat (PHRF - 6 Boats)
1. Rhumb Punch, Farr 30 30, John and Linda Edwards, California, MD, USA - 1, 3, 1, ; 5
2. Rented Mule, Viper 830 28', Bryan Taylor , Allen, TX, USA - 7/DNF, 1, 2, ; 10
3. Different Drummer, Azzurs 310 31, John Gaag, N. Charleston, SC, USA - 5, 2, 4, ; 11

PHRF D (PHRF - 10 Boats)
1. For Sail, J/29 MH OB 29, Jim Mackevich , Edison, NJ, USA - 4, 2, 1, ; 7
2. Mighty Puffin, J/29 MH OB 29, Steve Thurston , Bristol, RI, USA - 2, 1, 5, ; 8
3. A Parent Tripp, Tripp 26 26, Brett Harrison / John Yeigh , Annapolis, MD, USA - 1, 3, 4, ; 8

PHRF F HDC2 (PHRF - 8 Boats)
1. Susimi, Sweeden 370 36.5, Michael Carrington , Lighthouse Point, FL, USA - 1, 1, 1, ; 3
2. Passion, Catalina 34 34, Brett Grover ,Jesup, GA, USA - 2, 2, 3, ; 7
3.Tohidu, Benneteau 423 42'3, Dale Cook ,Hanahan, SC, USA - 3, 4, 2, ; 9

PHRF G Non-Spinnaker (PHRF - 9 Boats)
1. Bliss, Alerion 38-2 38, Randolph Brooks, Cincinnati, OH, USA - 1, 1, 1, ; 3
2. Makani, Catalina 34 WK 34, Keith Gannett, Mt. Pleasant, SC, USA - 2, 2, 3, ; 7
3. Cheerio, Morgan 38-2 38.2, Charles Dickinson, Mount Pleasant, SC, USA - 3, 3, 4, ; 10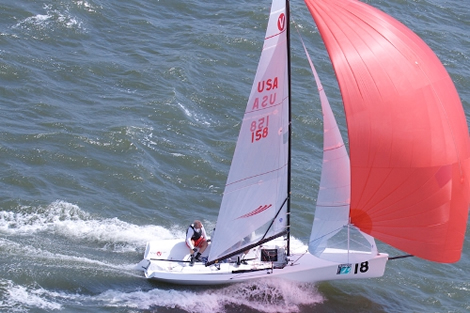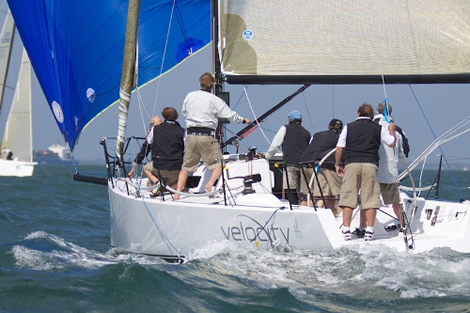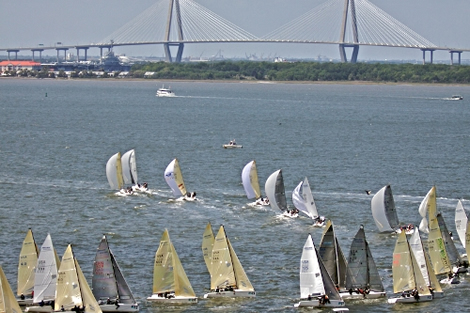 Back to top
Back to top