Why Audi sponsor sailing
Wednesday March 30th 2011, Author:
James Boyd
, Location: none selected
Sailing and the marketing of luxury car brands are a good fit, as born out by the Volvo Ocean Race, BMW's involvement up until recently with Oracle Racing and Audi with the MedCup, the Melges class and various other events around the world.
Audi's involvement with sailing has been growing steadily over recent years particularly with the MedCup where they initially came on board as a sub-sponsor, taking over naming rights from Breitling in 2007. Last autumn they announced that they would be extending their sponsorship of the MedCup for a further three years.
The German car manufacturer is a giant – recording revenues of 35.4 billion Euros in 2010, bucking the global recession with an impressive year on year increase of 18.8% – so understandably their sponsorship portfolio is an extensive one.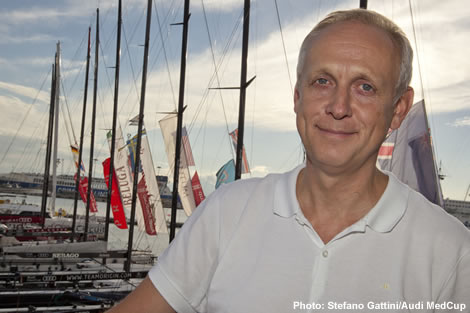 According to Lothar Korn, Audi Group's Head of Marketing and Communications, within sport they focus on four principle areas. Their oldest sponsorship is in skiing which Korn says is particularly important sponsorship for one of their brand assets – the Quattro four wheel drive. They are heavily involved with football and have partnerships with leading European clubs such as Bayer Munich, FC Barcelona, Real Madrid and AC Milan.
Then there is golf. Last year was the 20th anniversary of the Audi Quattro Cup golf tournament, for amateur players organised by Audi dealers around the world. Typically 80,000 people - yes, 80,000 people - participate in this with the tournament culminating in a final which last year took place in Sardinia. The company are also involved with the German bid to host the Ryder Cup in 2018 as, if it proves successful, this will end up being held at Neuberg, just 10km away from their main factory to the north of Munich.
And finally there is sailing where Audi's centrepiece is the MedCup, but their portfolio also includes the Melges 32 circuit, Kiel Week, the German Olympic sailing team plus a wealth of events in Australia including naming rights to Sydney Harbour Regatta, Hamilton Island and Victoria Week, including several where the first prize is a car.
Interestingly Korn does not view motor sport as a sponsorship platform, but an essential "core competence" of their brand. Here they are heavily involved in Le Mans, the Deutsche Tourenwagen Masters and the Audi R8 LMS.
An important feature of Audi's sports sponsorships is that they must have 'an angle', as demonstrated by their massive golf tournament. Another example is Audi's involvement with football, where Korn points out that they don't appear on any shirts, but instead supply cars to top teams and, again, hold their own tournament, the Audi Cup where just four of the world's top teams compete in a knock-out format. This year the event will be held in Munich and will feature FC Bayern Munich, the Brazilian team Sport Club Internacional, Barcelona and AC Milan.
"We can't increase the number or variety of different sports, so you are forced to share platforms, but then it is important to do it differently," says Korn. "So in football we have definitely done it differently with the strategy we have with the top clubs and I think we do have a different strategy in sailing as well so in having a regatta circuit and not having something that is happening every couple of years. It is touring from country to country, so it is international and it is interesting bringing people there.
"We are doing it differently in golf as well because we are not one of the main sponsors. In golf the focus is really engaging our customers and dealers and that is important because in the end we want to differentiate with those communication activities and we wouldn't do so if we were doing the same as our competitors."
When it comes to sailing, Korn says that it represent a counterpoint to skiing, "because skiing is a winter sport and we don't want to have too much emphasis on 'winter'. Also skiing isn't homogenous all around the world – sailing covering the summer and other markets. The Audi MedCup is very popular in France, Italy and Spain, where we're not that strong with skiing. Italy is probably the market where we are strong in both areas."
Typically with their sports sponsors Audi set up the platform internationally and then let their distributors decide on whether they want to take this up at a national level.
"The best example is in skiing," says Korn. "We are the main sponsor of the Audi FIS Ski World Cup. Then we have locally the relationship of our markets with their national ski teams. So we are sponsor of the Austrian, Swiss and Italian ski teams - they drive Audis and this, in the end, roots the activity. The platform as such is only a platform - the important thing is that we make more out of it and that we make it credible for the people. When the skiers themselves drive Audis and it is not an Audi-branded race track, that is a success in the end. We do it similarly with the sailing: there is one platform - the Audi MedCup - which is quite international with teams from the US, Argentina, New Zealand, and a lot from Europe, etc. "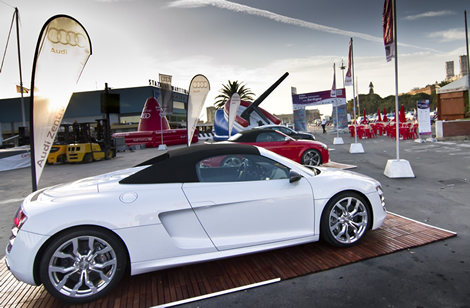 Audi's sailing sponsorship operating at a national level as is demonstrated by the Australian events and in Italy with the Melges 32 class and the Yacht Club Costa Smerelda (where this is usually an R8 parked in their piazza). In Spain they are also involved with Copa del Rey. But from the other side of the fence the Audi MedCup organisers get to talk to Audi affilitates not just in Spain, France and Italy where they hold regattas, but also for example Portugal, UK, Russia, Sweden and Holland where their participating teams herald from.
"There is a lot of things in parallel between sailing and the Audi brand," continues Korn. "If I had to design a sport which perfectly matches with our credo 'Vorsprung Durch Technik', it is very likely that I would end up with sailing. If you look at what Audi stands for, what are our key competencies - technology is a major part, lightweight construction, the sports behaviour of the brand, high quality... Plus a major value of the brand is progressiveness and this is definitely something you find in sailing. With the Audi MedCup we have created a platform which is the leading circuit in the world. If you look on the boats they are all professionals; it is the cream of world sailing."
Korn says that all their sponsorships are 'multi-dimensional': what the sport brings to their brand, a customer care platform while within the Audi MedCup they also have their own boat – last year called Audi A1 powered by All4One. "We are launching the brand new Audi A1, the first time that the premium manufacturer is in small cars. So we didn't just sponsor Jochen Schueman's boat – it is an integral part of the introductory campaign for the Audi A1. We have an Audi platform on the Audi platform! That is the strongest thing you can do."
Then there is the unique opportunity to put their clients on to boats while they are racing. "That is an opportunity money can't buy, so that is something you can give to people and it is an exciting brand experience." Audi guests last year at the MedCup numbered around 400 which both the organisers and Audi hope to increase over the next three years.
As we have seen with Hugo Boss, Audi also cross-promote with their sports sponsorships and so the likes of leading German alpine skier Felix Neureuther have been down to sail on the Audi MedCup and they have had various star guests like French actor Jean Reno.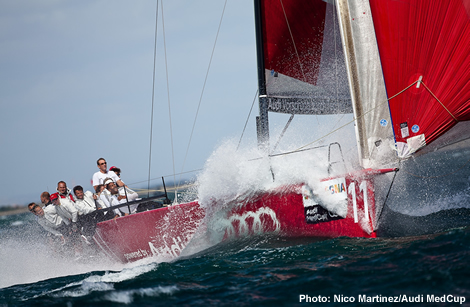 For Audi the demographics of sailing are also an attraction. "That always plays a role when we are in sports sponsoring – sailing, golf and skiing - even football," says Korn. "In football you would say it is a very wide target group. That is the case if you are the main sponsor and if you are on the jersey. But as we are using football, being a partner only of the best clubs in the world, then we have a platform like the Audi Cup this is something that only a premium manufacturer can do."
Korn won't divulge how much they spend each year on sailing, other than their spend is bigger in football and skiing.
One area where he says sailing does fall down is on media coverage, especially television although with the Audi MedCup they are working to improve it and for example last season they introduced live TV coverage on the internet and tracking of the fleet via Virtual Eye.
So with three seasons ahead of them how would Korn like to see the Audi MedCup progress? "TV coverage, making it interesting for the media and we are also going to improve the venues as well. Last year we moved from Portimao to Cascais, Portugal and we moved to Barcelona which was a great event. I have one big dream – one day I want to see an Audi MedCup on Lake Garda. That is exciting and we always think, when we talk about Audi, of progressiveness – doing things in a different way. Seeing the TP52s in front of the mountains of Lake Garda..."
In terms of the value they get out of sailing, Korn says they obviously they can't tell how many cars they sell as a result of their sailing sponsorship but they have very precise media tracking (the results of which have just been published here).
So is sailing good value as a sponsorship? "I think so, but I also do think that we are at the moment not yet getting 100% out of it. In sailing there is definitely room in particular for improvement in terms of media coverage and there in particular TV. With TV it can be exciting - if you are out there with a live camera and you can see how it is going on – that is where you see the dynamism of the sport."
Read the case studies of other sailing sponsors such as Hugo Boss and Groupe Bel here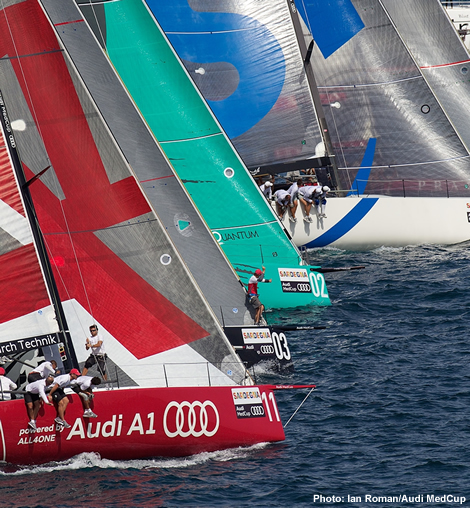 Back to top
Back to top