Melges 32s set sail in Miami today
Thursday made for a perfect day of preparation at the 2011 Melges 32 Miami Championship, hosted by Coconut Grove Sailing Club, sponsored by Melges Performance Sailboats. At the close of registration and weigh-in, 20 of the biggest, brightest and toughest Melges 32 teams were confirmed and deemed ready for fierce competition.
Among those expected to do well include John Porter's Full Throttle (Jonathan McKee, tactician), Lanfranco Cirillo's Fantastica (Vasco Vascotto, tactician), Rod Jabin's Ramrod (Chris Larson, tactician), John Kilroy's Samba Pa Ti (Nathan Wilmot, tactician), Ryan DeVos' Volpe (Ed Baird, tactician) and naturally, much attention has been generated by America's Cup Challenger of record Vincenzo Onorato's Mascalzone Latino (Francesco Bruni, tactician). Every team, in their own right has the ability to win. Question is, who will be able to master the awesome, forecasted big-breeze conditions over the next three days.
A very special thanks to John Kilroy's Samba Pa Ti program as they hosted a successful practice session that many of the teams fully enjoyed. Massive waves of 6-8 feet and occasional wind speeds at the class' top-end breeze limit produced some sensational warm-up sailing. Many teams reported downwind speeds in the high-teens, others reached into the low 20's.
Friday kicks off the first day of racing, more on Saturday, concluding on Sunday.
With two events complete, the 2011 Melges 32 Midwinter Series title hangs in the balance. Series leaders Steve Howe on Warpath, currently first, Joe Woods on Red and Alex Jackson on Leenabarca, respectively second and third are not present for the Miami Championship, leaving all eyes to watch Lanfranco Cirillo on Fantastica, Joel Ronning on Catapult and Phil Lotz on Arethusa advance into the top tier.
Miami Championship Entry List (Owner/Tactician)
1.) Arethusa, Philip Lotz/Dalton Bergan
2.) Argo, Jason Carroll/Charlie Ogletree
3.) Catapult, Joel Ronning/Ben Mitchell
4.) Celeritas, Malcolm Gefter/John Mollicone
5.) Dark n' Stormy, Ed Tillinghast/Allan Terhune, Jr.
6.) Dawn Raid, Oscar Strugstad/Guillermo Parada
7.) Delta, Dalton DeVos/Terry Hutchinson
8.) Fantastica, Lanfranco Cirillo/Michele Paoletti
9.) Full Throttle, John Porter/Jonathan McKee
10.) Heartbreaker, Robert Hughes/Chris Rast
11.) Lake Effect, Bob Hesse/Brad Boston
12.) Mascalzone Latino, Vincenzo Onorato/Francesco Bruni
13.) Ninkasi, John Taylor/Andrew Campbell
14.) Ramrod, Rod Jabin/Chris Larson
15.) roXanne, Kip Meadows/Andy Horton
16.) Samba Pa Ti, John Kilroy, Jr./Nathan Wilmot
17.) Shakedown, Geoff Pierini/Gavin Brady
18.) Volpe, Ryan DeVos/Ed Baird
19.) Yasha Samarai, Makoto Uematsu/Tony Rey
20.) Zetiana, Alexis Michas/Mark Mendleblatt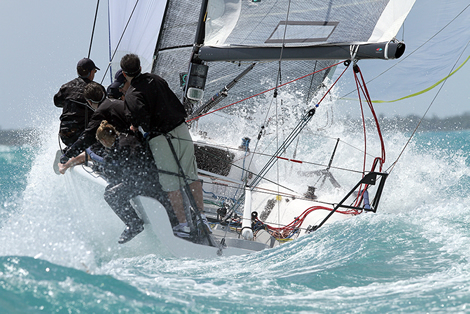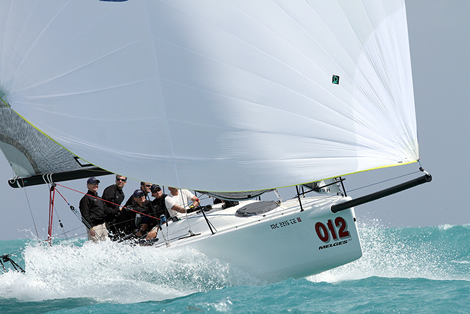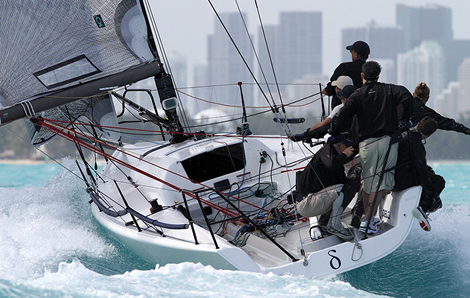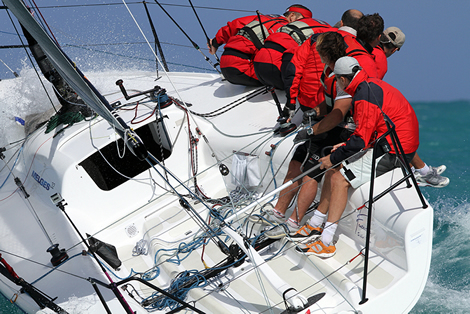 Back to top
Back to top