Barking Mad and Transfusion tied
Sydney turned on a picture perfect day for the first day of racing in the 2011 Farr 40 Australian Championship. Leading the series after three races is American Jim Richardson's Barking Mad . Barking Mad is on equal points with defending 2010 Farr 40 Australian Champion Guido Belgiorno Nettis' Transfusion who finished the day with two second places and a fifth.

20 teams from five countries raced on the offshore course on the Macquarie Circle off the Macquarie lighthouse on Sydney's South Head. The Royal Sydney Yacht Squadron race committee, with Peter 'Luigi' Reggio as PRO, set the course offshore in a southerly breeze that reached 17 knots with a one metre swell to add to the mix.

Typical of this tight one design racing the start line for all three races was hit at full speed and the mark rounding left little to the imagination with centimetres between boats. Every team on the race course is closely observing the competition and taking notes during this event as they prepare for next week and the 14th running of the Rolex Farr 40 World Championship.

"It was a really hard day for everyone out there today and we are a little surprised with our position, it was really tight racing which we were leading at some stages. We had a great race duelling with Barking Mad to the finish and we are working on coming back tomorrow to see what we can do. The swell offshore and the rebound off south head made it very tricky sailing and I hope our international guests had a good first day", remarked Belgiorno-Nettis.

Currently in first position in the Corinthian fleet is Jeff Carter's Edake which Edake won in the 2010 Farr 40 Australian Championship. The Corinthian division has six teams entered for both the Australian and Rolex Farr 40 World Championships.

Racing continues tomorrow with three more raced scheduled on the offshore course with the current forecast for a north to north-easterly breeze of 10 to 20 knots increasing to 20 to 30 knots around midday then decreasing below 25 knots later in the day with seas up to one and a half metres increasing to two to three metres during the afternoon and a one metre easterly swell.
Provisional results:
1. Barking Mad - James Richardson - 9
2. Transfusion - Guido Belgiorno-Nettis - 9
3. Nerone- Massimo Mezzaroma/Antonio Sodo Migliori - 13
4. Flash Gordon - Helmut Jahn - 16
5. Estate Master - Lisa & Martin Hill - 19
6. Edake - Jeff Carter - 20
7. Plenty - Alex Roepers - 25
8. White Cloud - Brett Neill - 26
9. VooDoo Chile - Andrew Hunn & Lloyd Clark - 29
10. Goombay Smash - William Douglass - 29
11. Strunjte light - Wolfgang Schaefer - 29
12. Kokomo - Lang Walker - 33
13. Sputnik - Ivan Wheen - 39
14. Le Renard - Steve Phillips - 42
15. Hooligan - Marcus Blackmore - 43
16. Southern Star - John Calvert-Jones/Damien King - 45
17. Easy Tiger II - Chris Way - 46
18. Wired - Stephen Boyes - 48
19. iMpi - Ivan Resnekov - 55
19. Enigma - David Gotze & Michael Cranitch - 55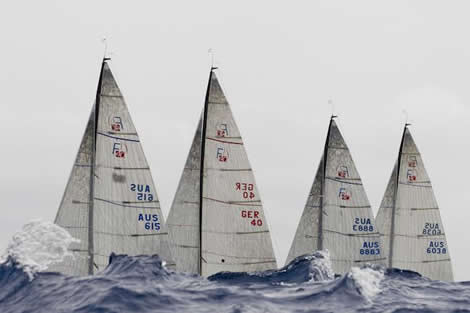 Back to top
Back to top