Creating the AC45 in just 4.5 months
That the new AC45 should come together - not just as a new radical one-off wingsail catamaran, but one set-up for a production run of possibly 10+ - in the space of just four and a half months is nothing short of a miracle. It is perhaps the biggest indication yet of the degree of effort being put into making the groundbreaking 'vision' of the 33rd America's Cup a reality.
Heading the build team at Core Composites' new facility in Warksworth, some 40km north of Auckland, are New Zealanders Tim Smyth and Mark Turner (yes, another Mark Turner...), who originally joined forces at the inception of the (BMW) Oracle Racing team prior to the 31st America's Cup in 2001. They have built all Oracle's boats – USA 71 and 76, USA 87 and 98 ACC monohulls, the mighty AC33-winning USA17 trimaran we saw in action last spring and in the midst of this, the team's briefly-used TP52.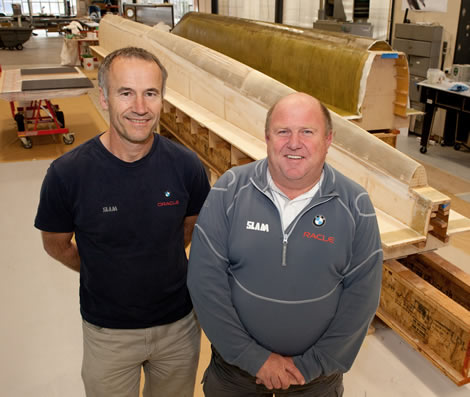 But for Smyth and Turner there is no time even for a momentary pause despite the first AC45 now being launched, as the production line for the new America's Cup one design is in full swing with, as we write, hull #2 half finished, #3 a quarter finished and #4 just started.
Tim Smyth, who prior to joining Oracle worked with Richard Gillies building the Spanish AC challengers of the 1990s as well as Whitbread 60s such as the two EFs, SEB and Galicia Pescanova (and before that built Alan Grey's Jamarellas), says that aside from the monster task building the first AC45 in record time and going into production with it, they also had to set up and equip their new build facility in Warksworth.
"We were still setting up down here," he recalls of how it was in July and August last year. "We didn't have a complete work shop and we certainly didn't have a complete work force. We were only six or seven. Other members of the teams were still scattered around the world doing their bits and pieces."
And at that time of course they still didn't have a design for the AC45. Smyth says that to save time they initially looked at adapting the Extreme 40 so that it could take a wing, but scrapped the idea when it became clear the compression loads from the rig would be too excessive for that platform. "Once we put that to bed, we started to redesign it. Mindful of what we had ahead of us, we were going to use rudders and daggerboards from other existing catamarans, but that also proved too hard to organise and they didn't quite fit. So we ended up making everything from scratch from new. The job was big."
According to Smyth they started ordering materials in July, the design started coming through towards the end of August but the real kick-off date for the build was around 1 September.
Due to time constraints, inevitably getting drawings to the builders was something of a hand to mouth affair and Smyth says that designs for some of the final detailing of the wing only came through as late as two weeks ago. "The wing took a long time to put together design-wise. There were a lot of little details to chase out. There are 450 parts in that wing. It may look simple but it is not."
Smyth says the construction of the AC45 was similar to how they have built their Cup boats. They used ACG T700 carbon fibre unidirectionals with a VTM 264 resin system and Euro Composites commercial grade honeycomb – 20mm thick, 48kgm3 density. While high tech, Smyth says the materials are relatively run of the mill. For example standard modulus carbon was used throughout. There was no point in using high modulus carbon in the rig for example because the skins were just millimetre thin anyway and the weight saving would have amounted to just 0.9kg.
"Where it is non-optimised is that there is not much titanium in it. We have titanium splice bars in the rig, but otherwise stainless steel fasteners. And the parts are chunkier so they are more reliable, so the safety margins are higher on some of these things. But really you can't make too many compromises for production because there are only ten items, so it is not like you are building massive extensive tooling when you are only going to build 10-12 of these things."
Tooled up
Yet another significant step in setting up the Warksworth facility was that they wanted to do as much of their own machining as they could, enabling them to build complex shapes both quickly and very accurately. As Smyth describes the AC45: "There is not a straight line on it. It has quite a complex -shaped hull, with a nice rounded stem - we didn't want it pitch poling - so we took the decision to machine it in our machine centre down here, which was also brand new. That was another big learning curve for us."
The forms for the hulls were produced in three sections from which they produced carbon female moulds so they could improve repeatability and because the hulls are cooked at a reasonably high temperature.
With previous builds, when they were previously based in Anacortes, Smyth and Turner worked with Janicki Industries in Washington state to make their tools. "They are probably the biggest machine tool centre in the world and we have worked with them over 10 years," says Smyth. "We work closely with them and we have developed some stuff together, certain ways of doing high and low temperature tools, etc."
However with their move to New Zealand, Smyth says there was no equivalent company to Janicki in New Zealand, so they had to set up their own 'tooling centre' in house. In fact, Smyth believes that for building major projects where time is inevitably a tight constraint, it is necessary to have such machinery in house.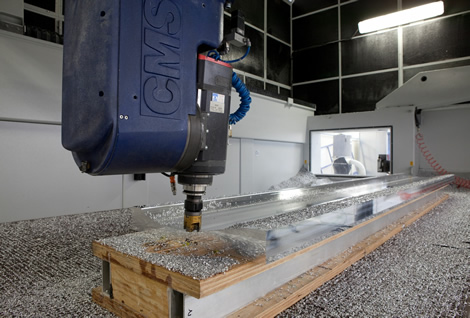 "For example, that big wing [on USA17] probably never would have happened if it hadn't been for the financial crisis which produced the window of opportunity, because Janicki didn't have any work on at the time, otherwise we would have had to wait for months to get in a queue because Boeing is there as well and we wouldn't have had that wing...simple as that."
So having this equipment in house in Warksworth was one of the principle reasons they have been able to churn out the AC45 so fast. "Otherwise it is like trying to get an appointment at the doctor the same day – you might have to wait five days," continues Smyth. "So you need to have your own production capacity and also if you have anything that is of any note that you want to keep secret, well clearly you can't send it out to a third party. You need to have control over it."
This kit also enables them to cut shapes quickly and accurately. "Any simple thing you have to do - just jigsaw cutting out a shape, it might be quicker to plug it on to the machine. And it is not just plywood we are cutting, it is fibre and aluminium – it is everything on these machines, whether it is two dimensional cutting or three dimensional cutting. We cut out all the wing shapes, because there is no way you could build one of these things in anything like the time required unless you were cutting all those things on a machine."
According to Smyth such machining techniques are becoming an ever increasing part of modern day hi-tech composite boat building. "Boat building is all digital these days. The software design tools are evolving as quickly as the machine tools are, so if you are not using them you are in the dark ages."
This kit can cut practically anything including aluminium and carbon but not hard steels, although they do have smaller C&C milling machines especially designed for working stainless steel and titanium .
At present, as Smyth says, they are still using Janicki for creating the larger tools for bigger components, etc as the biggest machine in Warksworth currently measures 6 x 1.4 x 2.2m.
"For example to machine the tools for the AC45, we had to chop it in to three pieces and index it, which is okay, but it would be nice not to have to do that. On the really big tools, you tend to chop them into halves anyway just for handling reasons. The biggest tool we'll generally do is 15-16m long, so there not much point in having a machine any longer than that - it is the height we probably need."
However shortly they intend to acquire a big tooling machine (which they will use to build the Oracle Racing AC72). The dimensions for this machine, says Smyth, will be around 20m x 3 (v) x 6 (beam).
As mentioned one of the benefits of using this gear is just how accurate the end result is. Gone is the boatbuilder's eye in favour of Mr Intel. As Smyth puts it: "The tolerances are as good as anything, because we are using so much machinery. The daggerboards for example are incredibly accurate - that is hi-tech construction. We build the skins in a graphite tool and they are autoclaved at 8 bar, and then there is a fully machined core set, integral with its own shear web, and that is also machined. Then the skins are vacuumed into an aluminium clamping, which is also fully machined, and then the core is put inside and the top is put down and then the whole thing is clamped together with epoxy, so the shape is guaranteed. That is done at ambient temperature when the skins are cooked at 80degC in an autoclave. It is a very reliable, repeatable, guaranteed way of having a constant shape."
While the hulls, the two crossbeams and the fore and aft bowsprit/structural spline were relatively straightforward to build, the headache was in not just building the wing, but productionising it. "I don't think there has been a wing in production anywhere, so we had to think hard about how to repeat it and assemble them all again and again and again. That was a challenge," says Smyth. "If you have seen photos of our shop you'll see there are a number of jigs which we've built to ensure the process is repeatable. But again you can't go too far overboard here because there are only 10-15 lining up to be built and that isn't a big enough order to build two tools or to really automate any more, because they are expensive and there is also the time in which they are required."
To give an idea of the scale of the wing build, Smyth says it involved more than 450 moulds and most of these are female. Among the 450 parts, for example, are moulds for well over 50 frames alone.
While the techniques used at Core Composites made the rapid build of the AC45 possible, the project has consumed (and continues to consume) a large chunk of New Zealand's composite building resource. "The New Zealand boating industry is fully participating in this, and it is thanks to their efficiency and good communications and infra structure down here that it is working," says Smyth.
Mick Cookson has been build the hulls, while Craig Sterling Composites Engineering have built the disappointingly straight daggerboards, C-Tech Carbon Technology have constructed the rudders and Hall Spars New Zealand built the cross beams and sprit. Even tooling has also been farmed out from time to time when there has been a bottleneck in Warksworth.
Part of the wing have been subcontracted too, although Smyth says that once production is in full swing one of their employees will take over its construction on his own premises, so they can start work on the AC72.
Smyth says that due to the ever evolving nature of the AC45 design, no accurate weight estimates were done, but they expected the wing to come out at around 330kg, which it did. The platform weighs 1,130kg: So 1,460kg all up, which compares with 1,200-1,240kg for the smaller Extreme 40.
With hull #1 launched, so Core Composites and the rest of the New Zealand composite builders they work with are ripping into the rest of the fleet. According to Smyth the aim is to be produce 1.3-1.5 boats per month.
Click on images to enlarge them
| | |
| --- | --- |
| | |
| | |
| | |
| | |
| | |
| | |
| | |
| | |
| | |
| | |
Back to top
Back to top