Limit's day
Limit was the star attraction of the Rolex Trophy as Alan Brierty and his superstar crew got a gun start and cleared out on their main rivals, Brierty making good his threat of yesterday that he would make up for the rest of his series and turn the tables on Loki. Helmsman, New Zealander Gavin Brady steered the RP62 to a good midline start to be third boat leaving Sydney Heads and coming home in good time to win the race overall.
Wild Oats XI was the first to crack a kite as she rounded South Head, with the Peter Millard/John Honan-owned super maxi Lahana snapping at their heels. To the surprise of everyone, Alan Brierty's RP62 Limit was hanging off Lahana's transom, leaving her contemporaries well behind her.

Limit's crew kept their heads together to beat nemesis and near-sistership, Loki, the RP63 owned by Stephen Ainsworth, home by 31 seconds, enough for Limit to claim overall honours reversing Loki's defeat of them over the past two days.

The series winner, Hooligan, the TP52 owned by Marcus Blackmore, had a few hiccups on the course and finished the race fourth overall after struggling to get their spinnaker aloft and then tearing it. However, their three wins of the five-race series guaranteed their overall victory and Blackmore was still smiling. "Not our best day, but it doesn't matter, we won the series," he said.

Second overall behind Hooligan was Loki, with Melbourne yachtsman Rob Hanna sailing his TP52 Shogun into third place overall.

Today's win was not enough to give defending champion, Limit, back the trophy (they finished fifth overall), but it has instilled confidence in Brierty. After today's win, he is looking forward to the Rolex Sydney Hobart Yacht Race, as this series has always been an indicator of a boat's performance coming into the 628 nautical mile race.

Sporting what he calls his "Sunday church hat," Brierty said: "If I wear this hat to race on a Sunday, I always win." His crew confirmed the statement. The hat, in fact, is a multi-coloured crocheted beret of sorts, fitting in with Brierty's off-beat humour.

"You're only as good as your last race; it's good to win. It instills a lot of confidence in us going into the Hobart race," he said with his trademark grin. "But everything has to line-up right," he added. "We had a great tacking duel back up the coast with Loki. She was catching up to us, but we got a bit of a puff for longer than they did and beat them home."
Limit may have won the race, but Loki finished the event second overall to Hooligan. Stephen Ainsworth was relaxed aboard his yacht this afternoon. "I think it was a good day. It was nice for Limit to win. They got a fantastic start, whereas ours wasn't so good, so we had to play catch up," he admitted. "Our boat speed is good and I'm happy with everything going into the Hobart race. We'll take the boat out one more time on Thursday to do some safety drills and practice putting in and pulling out reefs in the main. We'll be putting our offshore mainsail on the boat too. We're looking forward to racing Limit to Hobart. We're so closely matched. I'll say again, that Rán is the unknown for us."

Today's 19 nautical mile race and the rest of the Rolex Trophy was an important one. It is an indication of how one's chances might pan out in the Rolex Sydney Hobart at the end of the month and has always acted as a form guide for the race south.

In the two-day Rolex Trophy Passage Series, sailed in conjunction with the Rolex Trophy Rating Series, Darryl Hodginkson's Beneteau First 45, Victoire, was victorious over the Melbourne entry Scarlet Runner, the RP52 owned by Rob Date. The result was reversed to find the overall winner of the series, after Scarlet Runner won yesterday's Race 1.

"I'm pleasantly surprised we won," Hodgkinson said on stepping ashore, "even though conditions suited us better today, because we had more upwind work than in yesterday's race, which we prefer."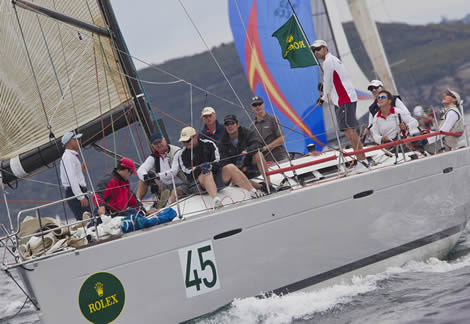 "What's more pleasing is that we were out with our whole Hobart crew. It's a fabulous help having great guys like Phil Eadie (navigator), who has so much experience - and Sean Kirkjian – he's great at the back of the boat," the Sydney plastic surgeon said.

Describing their race, Hodgkinson said: "It was a difficult start, but we managed to get into clear air afterwards and we picked the shifts well. The win has given us a real moral boost on top of winning the CYCA's spring Short Ocean Pointscore Series at the beginning of the month. It means we'll be going into the Hobart on a high note."

Looking at the light seven knot breeze, Principal Race Officer Denis Thompson sent the fleet on passage race that took the yachts on a 19 nautical mile leg-stretcher from the Watsons Bay start area to a laid Rolex rounding mark off Coogee and back to Watsons Bay.

After setting off in the light Harbour breeze, which was just west of north, the yachts enjoyed winds between 13-16 knots and a nice kite ride all the way to Coogee, before rounding the mark for home.
Rolex Trophy Rating Series results:
| | | | | | | | | |
| --- | --- | --- | --- | --- | --- | --- | --- | --- |
| Pos | Boat Name | Skipper | R1 | R2 | R3 | R4 | R5 | Tot |
| 1 | HOOLIGAN | Marcus Blackmore | 1 | 1 | 3 | 1 | [4.0] | 6 |
| 2 | LOKI | Stephen Ainsworth | 2 | 5 | [6.0] | 2 | 2 | 11 |
| 3 | SHOGUN | Robert Hanna | [7.0] | 3 | 2 | 3 | 7 | 15 |
| 4 | RODD&GUNN WEDGETAIL | Bill Wild | 4 | 2 | 4 | [7.0] | 5 | 15 |
| 5 | LIMIT | Alan Brierty | 5 | 4 | [7.0] | 6 | 1 | 16 |
| 6 | GEORGIA | Farmer & Meads | 3 | [6.0] | 5 | 5 | 3 | 16 |
| 7 | LIVING DOLL | Michael Hiatt | 6 | [10.0F] | 1 | 4 | 6 | 17 |
| 8 | LAHANA | Peter Milliard | [10.0R] | 10.0Q | 8 | 8 | 8 | 34 |
| 9 | TERRA FIRMA | Nicholas Bartels | [10.0F] | 10.0S | 10.0C | 10.0C | 10.0C | 40 |
Results - Rolex Trophy Passage Series:
| | | | | | |
| --- | --- | --- | --- | --- | --- |
| Pos | Boat | Skipper | R1 | R2 | Tot |
| 1 | SCARLET RUNNER | Robert Date | 1 | 2 | 3 |
| 2 | VICTOIRE | Darryl Hodgkinson | 9 | 1 | 10 |
| 3 | TERRA FIRMA | Nicholas Bartels | 4 | 7 | 11 |
| 4 | RAGAMUFFIN | Syd Fischer | 3 | 13 | 16 |
| 5 | JAZZ | Chris Bull | 2 | 16 | 18 |
| 6 | ROCKALL III | Christopher Opielok | 15 | 3 | 18 |
| 7 | WOT EVA | Sailors with disAbil | 6 | 12 | 18 |
| 8 | BALANCE | Paul Clitheroe | 14 | 5 | 19 |
| 9 | CHUTZPAH | Bruce Taylor | 10 | 10 | 20 |
| 10 | VAMP | Garry Linacre David | 12 | 9 | 21 |
| 11 | L'ALTRA DONNA | Anthony Paterson | 18 | 4 | 22 |
| 12 | PIRELLI CELESTIAL | Sam Haynes | 8 | 14 | 22 |
| 13 | WILD OATS XI | Bob Oatley | 5 | 19 | 24 |
| 14 | MATRIX | Andrew Parkes | 16 | 8 | 24 |
| 15 | PATRICE SIX | Tony Kirby | 19 | 6 | 25 |
| 16 | PRETTY FLY III | Colin Woods | 7 | 18 | 25 |
| 17 | BRINDABELLA | Justin Cooney | 11 | 17 | 28 |
| 18 | GINGER | Leslie Green | 13 | 15 | 28 |
| 19 | NIPS N TUX | Howard De Torres | 20 | 11 | 31 |
| 20 | NIKON SPIRIT OF THE | Bruce Absolon | 21 | 21 | 42 |
| 21 | PAPILLON | Phil Molony | 17 | 27.0C | 44 |
| 22 | ICHI BAN | Matt Allen | 27.0C | 20 | 47 |
| 23 | INVESTEC LOYAL | Sean Langman | 27.0C | 27.0C | 54 |
| 23 | QUEST | Bob Steel | 27.0C | 27.0C | 54 |
| 23 | YUUZOO | Ludde Ingvall | 27.0C | 27.0C | 54 |
| 23 | FLYING CLOUD | Howard Piggott | 27.0C | 27.0C | 54 |
Back to top
Back to top