Oprah doesn't distract finishers
Supermaxi Wild Oats XI took the gun in today's SOLAS Big Boat Challenge, the fourth line honours win in this event for the Oatley family patriarch, Bob Oatley, who steered his silver-hulled 100 footer around most of the Harbour course.
Oatley took the helm once the 'king of pin', skipper Mark Richards, had put the boat in the box seat following a crowded start at the pin end of the start line, which was crowded by a sizable spectator fleet enjoying their front row seats.
It was essentially a one horse race around the 14 nautical mile course, which had its traditional finish off the Sydney Opera House. Sean Langman and Anthony Bell's 100ft Elliott design Investec Loyal stayed in touch early, but couldn't hang onto Oats' wash and slipped back to finish six minutes 23 seconds behind the leader.

"Bob and his team dictated terms from the first cross," said Langman this afternoon. "Their boat is at the top of its game and every time we get to compare ourselves with them it's a time to refine what we're doing."

The 628 nautical mile Rolex Sydney Hobart could be a different story. Investec Loyal's navigator David Dickson warned this morning that "the Jenny Craig program" is working, referring to the fact the boat has shed 2,400 kilos since last year's Boxing Day outing and is faster than ever.

Alan Brierty's RP62 Limit, with its contingent of New Zealand America's Cup sailors, including helmsman Gavin Brady and tactician Chris Dickson, was crowned overall winner on handicap, beating near sistership Loki, but only just.

"This was our first race in Australia in nearly a year, we didn't break anything, didn't hurt anyone and didn't have any disasters and that's what we went out to achieve, to ease our way back in," said Dickson. "They [Loki] are great honesty keepers. You can't do an average job and get away with it."

Grant Wharington's 98ft Wild Thing finished third over the line today after recovering from an internal oil spill, which meant the crew couldn't cant the keel in the early stages. Overall Wharington was pleased with the boat's performance, once they were able to weave their way back through the fleet to be back in touch with the leading supermaxis.

Conditions were very pleasant on Sydney Harbour with a south to south east breeze of 10-12 knots. Christmas was in the air thanks to Bob Steel's crew on the TP52 Quest who were sporting Hawaiian shirts and Santa hats.

Provision was made for an alternate finish line if there was a flotilla gathered off the Opera House where Oprah Winfrey was filming two shows but, in the end, the only spectator fleet was the one gathered for today's annual maxi yacht showdown in the lead up to the Rolex Sydney Hobart Yacht Race.
While the SOLAS Big Boat Challenge is largely a fun race, it does tell the skippers where they are ranked in the final countdown to the Boxing start of the great ocean classic.

"Like everyone else, we need all the practice we can get, the more the better," said Wild Oat XI's skipper Mark Richards today.

The next lead-in event is the Rolex Trophy which starts this Thursday with two days of short course racing off Sydney Heads. Saturday and Sunday marks the Passage Series, two offshore races both starting in the Harbour at 11am on Saturday and Sunday.

Today's Harbour event was dedicated to the Cruising Yacht Club of Australia's Safety of Life at Sea Trusts (SOLAS) which were established following the stormy 1998 Sydney Hobart Yacht Race and support search and rescue organisations Australia-wide with more than $550,000 donated so far.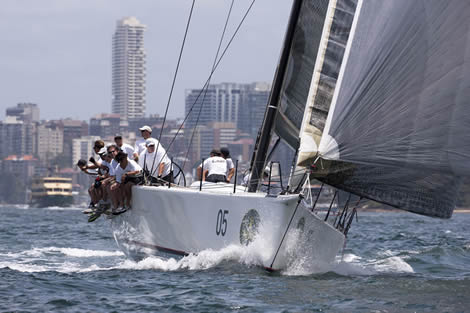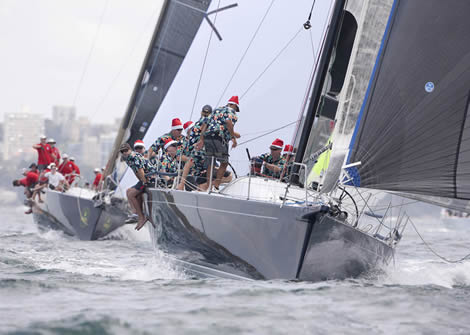 Back to top
Back to top