Winners decided
The final day of the 24th Phuket King's Cup was a blast, as the breeze did all that was predicted and more, and the best boats raised themselves to the top of the list.
Wishes were granted across a number of classes. IRC1 class winner Matt Allen got his three wins in three consecutive cups. Racing class winner Ray Roberts' got his fourth King's Cup win. Premier class winner Peter Sorensen finally delivered on his promise to win this year and a delighted IRC2 class winner, Peter Dyer, did what he worked so hard to achieve in his seventh King's Cup, concentrate on what was happening outside the boat, change gears as required and win.
The day started with a four knot southerly and flat sea. The race committee struggled to set the courses as the breeze swung right. Finally the first races got off. Most boats saw no more than six knots on the course. Holding some of the classes back for two hours for a second race, the breeze then built and built giving IRC2 and Multihull classes a fast final race.
The stars of the series were Evolution Racing, Ichi Ban, Team Sea Bees, Baby Tonga, Sarawadee, Dondang Sayang, Aida, Souay 1, Voodoo and Miss Saigon.
Racing Class

Ray Roberts's, in dramatic circumstances, just held onto series honours today to win the 24th Phuket King's Cup. Missing the start gun put him back behind the other honours contender, Neil Pryde's HiFi. The big boat of the fleet, Frank Pong's Jelik III, along with Song Xia Qun and Hannes Waimer's Team Premier were then called over the line.
Sam Chan's FreeFire came out fighting and with HiFi streaked ahead of the Racing fleet. Ultimately FreeFire took both line and handicap honours in the last race for this class.
An overall win for Evolution Racing is a confirmation of the team's dominance of this year's Asian racing circuit. A hiccup yesterday which saw the Race Committee call in their sails for a measurement check, which confirmed that Australian measurer John Anderson's measurements, done in Australia just three weeks prior to the King's Cup, were correct.
Back on Kata Beach the good sportsmanship between HiFi and Evolution Racing was evident as the team's recognised the enormous effort both had put into the series.
'There was a lot of current carrying us over the line," says Evolution Racing's Ray Roberts. "We got lined up a little bit too early and then we couldn't bail out quick enough. Everybody just kept compressing up because of the amount of current. Then we had to have another go at the start, got out into a little bit of bad gas and then the breeze started to shut down and go quite fickle. We forced off onto one side which was the side that never paid. The HiFi guys sailed really well and so did FreeFire. I take my hat off to FreeFire. They battled all week and this time they got it together."
An exuberant Chan was complimentary of his team's crew work in the tough conditions.'At last we have done it. We had a few bad races before. The crew have done well from the last two races. On the first day we ripped out light jib and our medium jib is not forgiving. You can't move the boat in the light wind without the light jib. We got it back, but we didn't use it today and we were faster. The crew work was perfect; every gybe, every manoeuvre,' Chan said.
Recently arriving into Asia from Dubai, Waimer was delighted with how his team handled the light sailing conditions. The boat had been set up for heavier conditions including changing sail shapes. "In the end we got the boat crew and the crew work. We had a bad start, but we picked the right side and gained a lot of boats back. This is the first time we are happy, for the whole regatta."
Second overall, Pryde was tired, but understanding of his team's result. "It was hard work today. We led for 95 per cent of the race. We lost it on the last run as FreeFire is lighter than us."
The provisional Racing Class top three series results were - Evolution on 12, HiFi on 13, FreeFire on 27 points. A protest is pending on the final race.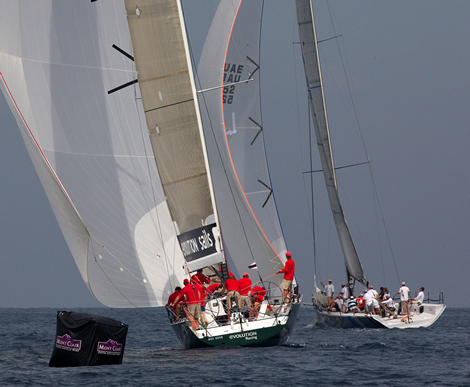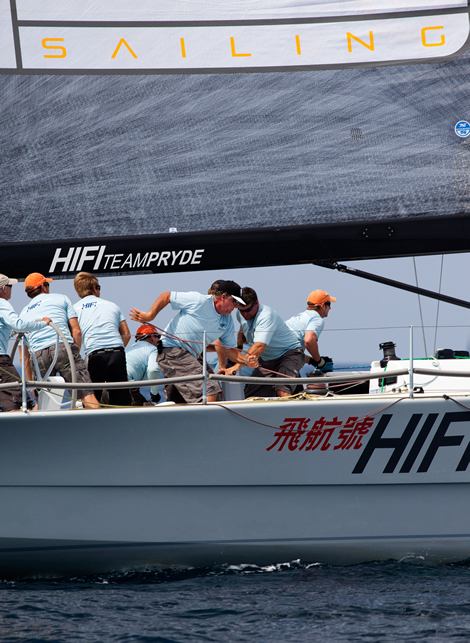 IRC1 Class

It was drama on the IRC1 course as well. With victory in the bag for Matt Allen's Ichi Ban they decided not to race today as it's crew headed back to Australia to get Allen's Volvo Open 70 ready for the Sydney to Hobart Race, the way opened up for Peter Wintle's Koull Baby and Ben Copley's Katsu to fight for second place overall.
At the start line four boats were called over; Rick Pointon's JingJing, Steve Manning's Walawala, Dominic Di Latte's Baci and Katsu. Koull Baby took advantage of the melee on the line to slip through for a clear start. Sailing in about four knots, with current against them, the fleet set of a short windward/leeward race.
Koull Baby led the fleet throughout the race ahead of Sarab Singh's WindSkikher. Katsu made a good recovery from a bad start to run third throughout the race.
At the finish line Koull Baby, avoiding the multihull Skylight, slipped gently across the line in first place. In second place was WindSiker and third was Rick Overton's and Ken Eyears' Kukukerchu.
Even without competing in the last race of the series, Ichi Ban took first place overall for the third year running.
Bridesmaid Wintle of Koull Baby is still pleased with a second overall. "The winds were very light and very shifty. We were able to pick the shifts very well and that is what made the difference. A first today will put us second overall, for a third time. We just have to sort out Ichi Ban."
The provisional IRC1 class top three series results were - Ichi Ban on 12, Koull Baby on 21 and Kukukerchu on 28 points.
IRC2 Class

Race seven and the battle was on. Brent Morgan's Men at Work led the fleet off the start line and away to the top mark. Hot on his stern was Peter Dyer's Team Sea Bees, then Cdr Pornprom Sakultern's Thai Navy 4 with another honours contender, CPO Wiwat Poonpat's Thai Navy 1 out the back. By the second time around the top mark Ray Waldron's Surf Patrol was in the lead with Men at Work slipping back to second with a tack to the mark costing them time. But Surf Patrol held their lead to finish the race first. On handicap Team Sea Bees secured first place to Royal Thai Navy 4 in second, then Royal Thai Navy 1 slipping up into third.
A two hour wait and then the class were sent off on a quick windward-leeward as the final race of the series. In a building breeze from five knots finally gusting up to 19 knots, Royal Thai Navy 1 finished in first place, Men at Work in second and Leif Ho's Carrera moved into their first podium finish of the series in third place.
Team Sea Bees started the final race, had gear breakages and withdrew taking the chance that they would still secure a top placing.
The provisional IRC2 class top three series results were - Team Sea Bees on 14 and Royal Thai Navy 1 on 15. Men at Work and Thai Navy 4 both finished on 21 points, but with a count-back, Men at Work took third place overall.
Multihull Class

Defending champion, Henry Kaye's Thor, was back on form in this morning's seventh series race. Leading the fleet around the course, Thor kept top contenders, David Liddell's Miss Saigon and Alan Carwardine's Sidewinder at bay, finishing one minute, 17 seconds ahead on the line.
At the top mark the second time around a problem with a drifting mark caused Thor to have to tack back chasing the mark. "We went to the mark the second time and it was on the move. The race committee did agree to give us a bit of time," Kaye said. At the finish, it was Thor in first place just one point behind Miss Saigon in second then Sidewinder in third.
A building breeze made it possible for the race committee to get off a second race. Race leader, Thor, finally got the chance to fire up after days of light winds. Kaye described it: "The afternoon race was only 27 minutes long for us. It was a great race. The wind came in around 15 knots and we hit 22 knots (boat speed) on the downhill leg. We were having a lot of fun. It's been a top regatta. All the top four or five boats are optimised; new sails, new crew. It was incredibly close."
The provisional Multihull class top three series results were - Miss Saigon on 16, Thor on 17 and Da Vinci on 18 points.
Premier Class

The postponement flag finally came down at 1034 and the fleet were off on a 22 nautical mile race south around Ko Hi and Ko Aeo. Firmly in the lead at Ko Hi was Peter Forsythe's Xena followed by Jon Wardill's Australian Maid, and the brightly dressed crew on Peter Churchouse's Moon Blue, then Rob Williams' Odin, Bob Yapp's Yo Mo and Don Algie's Storm 2. Back behind this group was Peter Sorensen's Baby Tonga.
But with some clever tactics, good boat speed and a building breeze, Baby Tonga moved up to finish second across the line and claimed first place on corrected time ahead of Xena and Australian Maid. This result was enough to give Baby Tonga with a score card of 2-2-1-1 and Xena with 1-1-2-2, equal points. But on count-back, Baby Tonga had their prized overall win.
The provisional Premier class top three series results were - Baby Tonga on 4, Xena on 4 and Australian Maid on 9 points.
Firefly 850s Class

After a clear start Hans Rahmann's Voodoo stamped his dominance on the Firefly 850 class leading the fleet throughout their final series race. There was little chance of any of the other Fireflys making a dent in Voodoo's results.
The provisional Firefly 850s class top three series results were - Voodoo on 9, Pink Lady on 18 and Twin Sharks on 19 points.
Modern Classic Class

Jean Rheault's Souay 1 delivered another blinder to win on line and handicap in the final series race. In second was Bo Sondergaard's Patrice III and third was Simon Jupe's Waconda.
It was good to see Reinhard Haiber's Pytheas Aura back out on the water today after his crew tragedy at the start of the race on Wednesday.
The provisional Modern Classic class top three series results were - Souay 1 on 3, Patrice III on 5 and Pytheas Aura on 9 points.
Bareboat Charter Class

While Mike Crisp's Venture took line honours, it was Naoki Wada Fidgi's day today in the long passage race taking out handicap honours ahead of series leader, Ilya Ermakov's Sarawadee and Yasunori Osaga's TAI II.
The provisional Bareboat Charter class top three series results were - Sarawadee on 17, Lychee on 22 and Venture on 26 points.
Classic Class

There were only two starters in the Classic class with Simon Morris' Sirius taking his first win of the series ahead of Paul Brunning's Dondang Sayang. Morris' was not enough unseat Brunning in the final overall results.
The provisional Classic class top three series results were - Dondang Sayang on 3, Sirius on 5 and Alondra on 9 points.
Cruising Class

The battle between Richard Macfarlane's 12m Oceanis Aida and Barry Elsbury's Apsara continued today. Apsara took line honours, but it was Aida's day for handicap honours in today's long passage race ahead of Andy Brennan's Jenzmic VI and Roger Harris' Simone. Apsara finished fifth on handicap.
The provisional Cruising class top three series results were - Aida on 3, Apsara on 6 and Linda on 8 points.
Final Regatta Race

Tomorrow morning is the Sail Past to celebrate the King's birthday before the start of the IRC Challenge Trophy and Multihull Challenge Trophy races. All King's Cup Regatta boats will compete in a spectacular event to determine the best monohull and multihull racers.
Back to top
Back to top