Racing class dead heat
It was a matter of 0.49 of a second on corrected time between Neil Pryde's HiFi and Ray Roberts's Evolution Racing at the finish line in race one today of the 24th Phuket King's Cup. Both boats were recorded with a corrected time of 2:10:24 rounded up.
HiFi's mainsail trimmer, Emirates Team New Zealand veteran Tony Rae, was mildly surprised by the result. "Evolution Racing made a big gain on the last run bringing pressure down with them on the left-hand side of the course. We were sort of caught up with Team Premier. Evolution came in on a pretty nice angle on port. I thought it was going to be pretty close looking at them."
Ray Roberts's wasn't sure at the end of the day as he waited on the results. "HiFi got across the line just ahead of us, but he has a one point higher rating than us. It could be equal first. That would be good for us."
There were many other dramas on the course today with a sick crew member taken off Evolution Racing after their first race, another crew member going for an involuntary swim off Strewth during race one, sail damage on Rapscallion, a crew emergency on Pytheaus Aura and another one on Thor at the end of the day.
Racing course officer Jerry Rollin had a tough day keeping the fleets moving. While the winds reached 14 to 15 knots on the course in the first race, by the start of the second windward/leeward races for IRC 2, the last class off, the breeze was swinging 90 degrees. Back to a stead breeze the next challenge for Rollins was a dying breeze with only three of his classes finishing a full course.
Racing class

It was two windward/leewards for the Racing class today. The first race started in 12 knots and held steady for most of the race. Jelik III led the fleet on line honours while Sam Chan's FreeFire, Hannes Waimer's Team Premier, Neil Pryde's HiFi were on the chase and Evolution Racing was trailing behind. A bad spinnaker drop on Team Premier put paid to their chances to shine in race one. Tangled around the rigging, it took quite some time to free the sail.
At the bottom mark for the first time, Evolution Racing tacked away from HiFi, then HiFi covered them and the real race was on. Frank Pong's Jelik III took out line honours, Sam Chan's FreeFire was next then Team Premier. But the excitement was around HiFi on starboard while Evolution Racing powered to the finish line on port. HiFi was ahead of Evolution Racing until they bought more breeze down the course with them quickly closing the gap. The rest is now history as they finished 11 seconds apart and equal on corrected time.
The noticeable admission from the finish line was Geoff Hills's TP52 Strewth. The starboard spinnaker sheet caught behind the crew man's legs and lifted him straight over the side. "I am the jumping over-board expert," the culprit Rob Stubbs said. "It was an involuntary swan dive, apparently fairly spectacular. I think it scored about four out of 10."
At end of race one, Evolution Racing's bowman, Benny Moreson, was quickly assisted off the yacht and onto the media boat for transport to a local yacht where a doctor checked him over. "He was vomiting violently and starting to dehydrate and get a headache so we thought we had to get help," Roberts's said.
In the second windward/leeward race HiFi was powered up at the start with Team Premier and Jelik III on her stern. Evolution Racing chose the boat end crossing in their own clear breeze. As the fleet worked towards the shore the breeze softened. Team Premier struggled with a bad spinnaker drop at the top mark first time around while the rest of the fleet started the struggle to find speed in the softening breeze.
A very tired Neil Pryde at the end of racing when asked about wind shifts, said: "There were plenty. It was a very tough race the last one, very shifty. We actually had a good race. We were in front all the way."
HiFi's Tony Rae added: "The second race we were sailing the race relatively on our own. It was so shifty and bumpy that we made quite a few good gains upwind. It was just a matter of staying in the pressure that was around and work with what we had and not try to cover other boats a little bit. Some of them came in down the run."
The results for the second race of the day delivered another first for HiFi, a brilliant second for Song Xia Quin and her Chinese team on Jelik V. In third was Evolution Racing.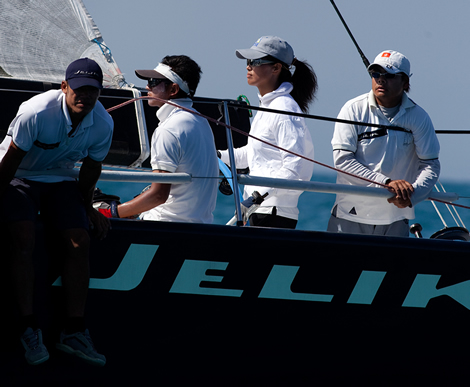 After seven races and one discard, Evolution Racing is first on eight points, HiFi is in second on 11 points and Jelik III, just quietly, in third on 24 points.
IRC1 class

It was two windward/leeward races also for this class today. In the first race Peter Wintle's Koull Baby led Ben Copley's Katsu and Matt Allen's Ichi Ban across the start line. But it was Ichi Ban that again stamped their dominance on the class to take out class honours. In second place was Koull Baby and in third, the little Ker 32, Ken Eyears' Kukukerchu.
In race two Katsu was on her own at the pin end of the start line. Rick Pointon's Jing Jing, Koull Baby, Steve Manning's Walawala and Schle Wood Tan's Pasaya were bunched tight at the boat end. But it was Ichi Ban's tactician, Michael Spies, showing his extensive experience guiding the boat to a perfect start right on the gun. Unfortunately for Jing Jing, they were over the start early and had to make a quick re-start.
At the top mark first time round Koull Baby just sneaked in to the mark on starboard while Sarab Singh's Windsikher slipped into second place. By this time the breeze had softened and the call was made to finish the IRC1 class at the bottom mark. At the finish it was Windsikher in first, Koull Baby in second and Ichi Ban third.
Ichi Ban's owner Matt Allen was very comfortable with his team's performance today. "A win this morning put us in pretty good shape. Did alright this afternoon until the run down and then we gybed off as Katsu was passing us and we just gybed into oblivion. We lost four or five minutes on a lot of the fleet."
Overall results after seven races and one discard leaves Ichi Ban in first on nine points, Koull Baby in second on 20 points and Katsu in third on 23 points.
IRC2 class

In race one Ray Waldron's Surf Patrol was showing the fleet the way. Behind them was CPO Wiwat Poonpat's Thai Navy 1 then Peter Dyer's Team Sea Bees neck and neck. A slow kite drop at the top mark cost Team Sea Bees heavily allowing Thai Navy 1 to get the edge in the race. At the finish it was Thai Navy 1 from Brent Morgan's Men at Work and then Team Sea Bees in third.
The second windward/leeward start was delayed as the race committee watched the breeze swing 90 degrees one way and then swing back again another 90 degrees. "This caused a panic for a moment as I ran around trying to re-set the course and then the wind came back again and then it started to go all over the place," Race Officer Jerry Rollin said.
Off to a slower start, Surf Patrol again led the fleet with Team Sea Bees close behind, then Cdr Pornprom Sakultern's Thai Navy 4, Thai Navy 1 and Men at Work. It was great racing in a dying breeze that saw the fleet finish with a shortened course. Finally Team Sea Bees got the gong finishing first ahead of the little Platu 25, Thai Navy 4 and then Royal Thai Navy 1.
The battle is very hot in this fleet as the overall results, with one discard, places Thai Navy 1 in first on nine points, Team Sea Bees also on nine points and Thai Navy 4 in third with 14 points.
Firefly 850s class

Voodoo had a great day taking out first place in both races today. Hans Rahmann's Voodoo dominated the class in the first race ahead of Roger Kingdon's Moto Inzi and Andrew Marshall's Pink Lady.
In race two the class struggled with the light airs sailing flat to the top mark. Moto Inzi lead Voodoo, just, with Pink Lady bringing up the rear. A shortened course and the fleet had their result; Voodoo first, Pink Lady second and Twin Sharks third.
Overall the Firefly 850s class have completed seven races. With one discard this places Voodoo in first place on six points well ahead of Twin Sharks in second on 15 and Moto Inzi in third on 17 points.
Multihull class
After a disappointing day yesterday, Henry Kaye's Thor returned to form winning the first race ahead of David Liddell's Miss Saigon and Andy Pape's Da Vinci.
But in race two, Thor struggled to retain their form as Alan Carwardine's Sidewinder led the fleet on line and handicap honours. In second was Thor and third was Neil Ayre's Shanghai Baby.
Overall these results leave Miss Saigon in first place on 10 points, Da Vinci in second on 11 points and Thor in third place on 13 points.
'Today was very interesting because there was not a lot of wind in the second part. It started off quite well, but it was already dying in the first race. For us it was very difficult as do better in stronger wind. Racing in the class has been very competitive. I think it is all going to be decided on Friday,' Pape said.
Bareboat Charter class

On the racer/cruiser course, race officer Ross Chisholm sent the five classes north towards Patong Beach. Just prior to the first start signal there was an emergency call from Reinhard Haiber's Pytheas Aura seeking emergency assistance at the shore for one of its crew. Thai Navy crew immediately responded and the emergency dealt with by them.
The postponement flag came down and the Bareboat Charter class were ready to race a windward/leeward course. Series leader, Ilya Ermakov's Sarawadee looked to be having halyard problems before the start, which while quickly rectified may have distracted them as they approached the start. In a battle with Chin Yew Seah's Princess Christina both boats crossed the line early.
Two rules on the start line; don't hit the start boat and keep your radio on until the fleet have cleared the line. Someone on Sarawadee wasn't following rule number two. The team sailed off the start line strongly powering away towards the first mark. It took them about four minutes and after a second race committee call before they turned and headed back to re-start. They finished ninth in this race.
Results for race three of the series are Novoderezhkin's Lychee. Second was Kunio Yamada's Rambutan and third was Mike Crisp's Venture. Overall Sarawadee holds on slimly to their lead on four points, Venture is in second on five points and Lychee moves up to third place on six points after one drop.
Sent off another short course race and with the breeze dying, race officer Ross Chisholm called for a shortened. This was to Lychee's advantage as they won their second race of the day. In second place was Sarawadee and in third, Darren Shipard's Bourgeois Tag.
Overall after four races and with one discard, Sarawadee retains first place with six points, Lychee moves up to second place with seven points and Venture holds third place with eight points.
Modern Classic class

Jean Rheault's Souay 1 took the start boat end of the line and crossed cleanly well clear of the rest of the fleet taking Christopher Edwards's Gaiz with them. Unfortunately Bo Sondergaard's Patrice III struggled to make the start line at the gun. At the finish Patrice III found form to take first place. Souay 1 placed second and Simon Jupe's Waconda finished third.
Overall after three races and one discard, Souay 1 holds the lead on two points, Patrice III is second on three points while Pytheas Aura sits in third place on five points.
Cruising Class

It was a cautious start for the Cruising class for Richard Macfarlane's Aida, Barry Elsbury's Apsara and Roger Harris's Simone. But once of the start line the dramas, as least for Aspara's tactician, Neville Wittey, started. "We had a good breeze at the start, about 11 knots. It's a heavy boat was it was nice to have some breeze. We had a lovely first beat with lots of pressure, but then it slowly eased off during the race as we guessed it would do. On the start line we try to come in a little bit faster and a little bit behind. Because we are bigger we can wrestle around and sail over the top of people.
"We only over-laid the first mark by about 100 metres. You'd rather stick knitting needles in your eyes than tack one of these things. Later we had to alter course to avoid a ship called Legend of the Sea. One ship in the whole ocean and it came at us."
They then had to avoid a fishing boat with long fishing lines at one end and a very long anchor line at the other.
At the finish of series race three it was Jack Woodrow's Linda in first place, Barry Elsbury's Apsara in second and Roger Harris's Simone in third. Overall after three races and with one discard Aida leads on two points, Linda moves to second place with four points and Apsara fills the third place, also on four points.
Classic class

Simon Morris's Sirius led the fleet across the line ahead of Paul Brunning's Dondang Sayang, with a reefed main. Rene Tiemessen's Alondra took the safe option of starting at the pin end. At the finish of series race three in a dying breeze it was Dondang Sayang, Sirius and then Alondra. This leaves no change to the overall placings for the Classic class.
Premier class

Jon Wardill's Australian Maid was buried in the aggressive start while Peter Forsythe's Xena and Peter Sorenson's Baby Tonga got away into clear water. Don Algie's Storm2 also cleared the line nicely looking very much the racing boat with carbon sails and boom. The 50m Perseus was surprisingly on time at the start cruising through and finally showing some speed in the 12 knot breeze.
Australian Maid quickly tacked away gaining good speed and height which Storm2, Xena and Baby Tonga stayed on starboard.
At the finish Baby Tonga got the gong for the first time this regatta. In second was Xena and in third, Australian Maid.
Overall after three races and with one discard, Xena still holds first place on two points. A very competitive Baby Tonga remains in second place on three points and Australian Maid holds third place on six points.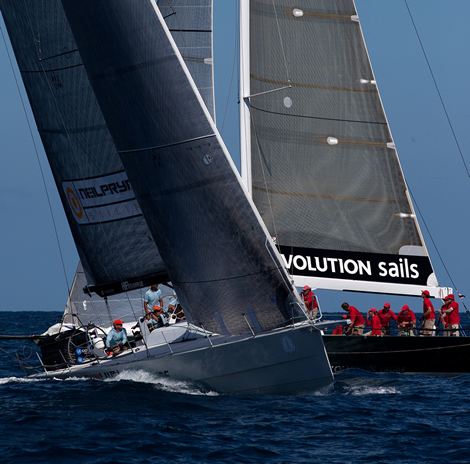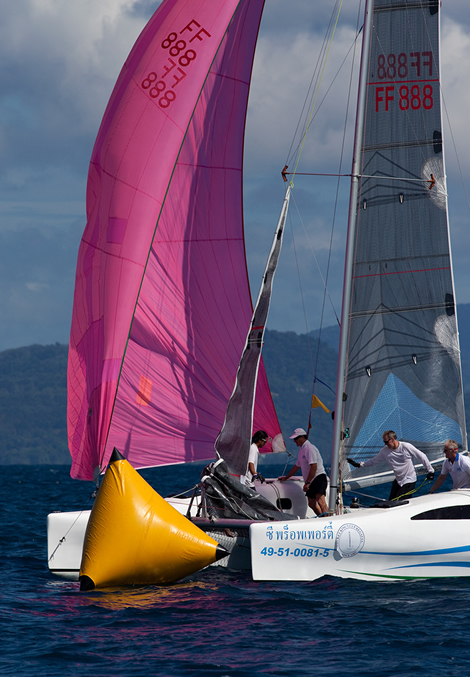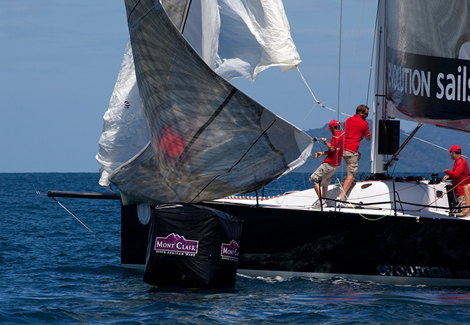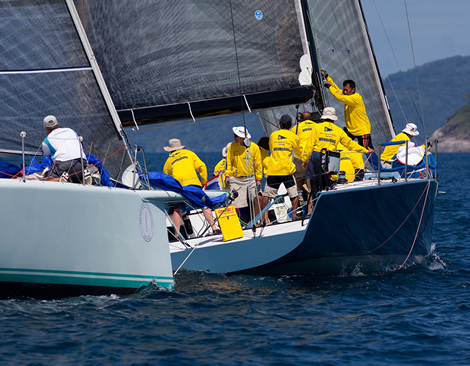 Back to top
Back to top