America's Cup update
Tuesday November 30th 2010, Author:
James Boyd
, Location: none selected
A gathering of the 34th America's Cup clans took place in Dubai last week at a competitor meeting. This provided an opportunity to get up to speed with the latest developments, but of particular interest were the 20 or so teams represented, for they - plus an additional 10 believed to exist, but not evident in Dubai - give some indication as to who might be on the start line come 2013.
At present three challengers are signed up to take on the defender Golden Gate Yacht Club/BMW Oracle Racing:
- Vincenzo Onorato's Mascalzone Latino Audi Team is the Challenger of Record. However at present there is little ostensible progress with this Italian team. Gavin Brady and the Mascalzone Latino Audi Team crew competing in the Louis Vuitton Trophy Dubai were only contracted for the LV Trophy events this year. Former Azzurra skipper Francesco Bruni is hotly tipped to be the helmsman and is competing with Onorato on his RC44 later this month in Miami.
- on 8 November Torbjorn Tornqvist's Artemis team confirmed their participation with a powerful team led by CEO Paul Cayard and with Terry Hutchinson at the wheel. They have signed Juan K as their principle designer and have recently been training on board Extreme 40s in Miami.
- another yet to reveal itself.
Other strong contenders are:
- Emirates Team New Zealand – read more from boss Grant Dalton here
- Synergy – Russian campaign backed by three Moscow-based businessmen, the most high profile being Russian diplomat Valentin Zavadnikov. Competitors on the TP52 circuit and more recently the RC44s
- All4One – Stephane Kandler and Jochen Schuemann Franco-German team. The union of Kandler's K-Challenge and Schuemann's German campaign for the 33rd America's Cup. Have been competing on the Audi MedCup this year and will be again in 2011.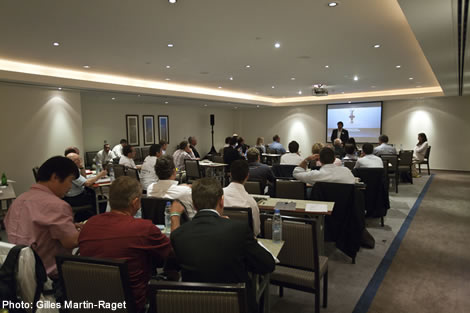 Beyond this are numerous other interested parties in no particular order:
- Korea – Korea Match Cup organiser Dong Young Kim was at the meeting and is said to have backing for a team. This seems to be a serious proposition.
- Aleph Team France – spearheaded by Bertrand Pace, managed by sports marketeer Philippe Ligot
- OC – Charles Derbyshire was at the meeting and, despite speculation, Mark Turner has confirmed to us that this isn't the front for an Ernesto Bertarelli/Alinghi entry.
- Argo Challenge – Lars Grael's disabled team based in Italy
- Herbert Dercksen – Dutch Tornado Olympic sailor, Extreme 40 co-creator and businessman
- China Team – represented in Dubai by Thierry Barot (who skippered the China Team Extreme 40 earlier this year)
- Red Maple Racing. Canadian team – out of Royal Canadian Yacht Club, Kevin Reed, represented i Dubai by former ISAF President Paul Henderson (BMW Oracle Racing recently took the America's Cup on a tour up to Canada)
- Greek Challenge – competed in the Louis Vuitton Trophy Auckland in 2009.
- Luna Rossa – Prada boss Patrizio Bertelli is never one to be second guessed. Despite his team apparently having no interest in a catamaran America's Cup, so Luna Rossa is believed to be entering the Extreme Sailing Series next year with a team led by 2010 winning skipper Paul Campbell-James. What could this mean?
- Baron Benjamin de Rothschild – behind the Gitana team and for more than a decade a top exponent of multihull racing in France.
- Bruno and Loick Peyron – the French multihull kings. Loick has previously attempted to mount a French campaign with Bertrand Pace
- Alain Gautier – was at the America's Cup meeting in Paris
- Olivier de Kersauson – French round the world and offshore veteran was also at the meeting in Paris.
- Australian campaign
- Victory Challenge – Sam Murch was in Dubai, presumably representing Hugo Stenbeck

Finally there is talk of a second US defender with several names being bandied about, the strongest being former Alinghi helmsman Ed Baird and multihull skipper Cam Lewis, who raced on Dennis Conner's America's Cup catamaran in 1988. One wonders whether the possible return of the America's Cup to the USA might not draw Conner himself (now 68) or Bill Koch (now 70) out of the woodwork? If a second US team were mounted then there would be the opportunity for BMW Oracle Racing to mount the first defender series seen in the Cup since it last left the US in 1995.
AC34 venue

Still no announcement. The venue seemed set to be San Francisco and on 9 November an America's Cup Host and Venue agreement was drawn up, all 50 pages of this intense legal docuent can be viewed here.
However progress has slowed. There is strong desire on the part of San Francisco Mayor Gavin Newsom to host the 34th America's Cup, however much political wrangling is taking place between the Mayor's office and critics who suggest that the US$ 43.1 million, plus the loss of earnings from 50/75 year leases granted to the race organisers for several of San Francisco peers is too high a price for the city to pay, despite the race organisers stumping up an estimated $150 million for redevelopment of the site. Since then a 'Plan B' has been conjured up which proposes the event be shifted to a different set of peers to reduce costs for the city. Fresh developments are expected at a meeting of the San Francisco Board of Supervisors' Budget and Finance Committee tomorrow.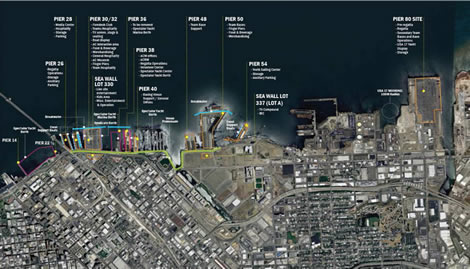 So at present the odds of the 34th America's Cup being held in San Francisco are swinging wildly, hence why a decision date on the venue is now not expected until the end of December.
If the proposed agreement does go ahead it contains some interesting nuggets:
- Tax breaks for those involved in the 34th America's Cup, similar to the 32nd America's Cup
- San Francisco will host one World Series regatta in 2011 and one or two in 2012. It suggests these would be based around Pier 80, next to the proposed site where BMW Oracle Racing's 33rd AC winning tri would be moored
- Possible spectator viewing areas on Alcatraz (plus other islands in San Francisco Bay)
It also includes a schedule:
Challenger selection series
Round Robin – 1-13 July-4 August 2013
Quarter finals - 8-11 August 2013
Semi finals - 16-19 August 2013
Finals - 23 August-1 September 2013
America's Cup (best of nine)
Over 7-22 September 2013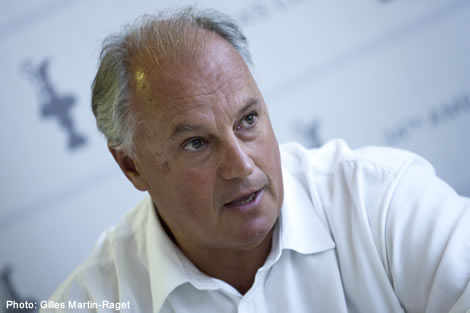 Richard Worth and Iain Murray
In Dubai were also numerous personnel from the America's Cup including the heads of its two main organisational bodies – Iain Murray, Regatta Director and also CEO of America's Cup Race Management (ACRM) and Richard Worth, Chairman of the America's Cup Event Authority (ACEA).
There are probably more exact definitions for their roles, but in essence ACRM deals with the racing side, and their remit includes making the AC45 production line become a reality along with the complex logistics of the America's Cup World Series. ACEA is effectively the commercial wing, dealing with sponsorship, television rights and host city deals for both the 34th America's Cup itself and the America's Cup World Series events. ACEA is also assisting teams in getting to the start line.
The tasks of both entities is immense, particularly so given the impossibly tight schedule. As Richard Worth says: "From the commercial, organisational side, it is literally starting from zero. What we were handed over from Russell Coutts and the BMW Oracle guys is the responsibility to take the event forwards. They gave us a vision but beyond that not much - there was no company, no office, no bank account, people - none of the component parts of what is necessary to make this whole event work. In terms of teams, venue, sponsor partners, broadcaster partners – there were none. It is a very big challenge over the next six to seven months to get to the start line in June next year and to have everything fixed."
The structures and personnel for both ACRM and ACEA have had to be established and, as the Protocol for the 34th America's Cup states, these are being set up so that the winner of the 34th America's Cup is incentivised to carry them onto the 35th event.
The jury for the 34th America's Cup has been announced in conjunction with ISAF and is to be chaired by David Tillett. Last week Chief Measurer Nick Nicholson was appointed and the rest of the Measurement Committee is in the process of being appointed.
Images below by Ivor Wilkins/www.americascup.com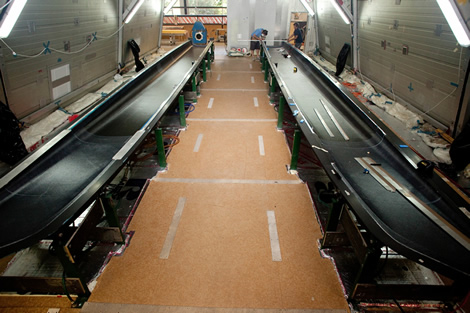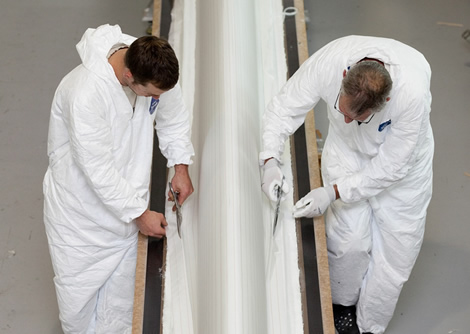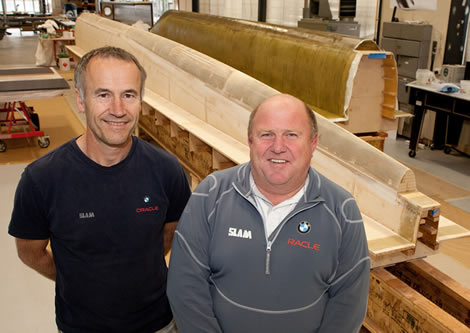 AC45s

Progress on the build of the new one design wingsail catamarans, starting with a production run of 10, is now well underway in Warksworth, New Zealand.
Iain Murray describes the AC45 as having "a hull that looks like a little Alinghi's hull with a wing that has come off BMW Oracle - all in scale from last time."
The build facility in Warksworth is being run by Tim Smyth and Mark Turner (no relation) who have been responsible for BMW Oracle Racing's previous Cup boats, including their AC33 winning 90ft trimaran. The BMW Oracle Racing build facility in Anacortes, near Seattle, is close to the Boeing headquarters and their techniques have benefitted from input from the giant airplane builder.
The Warksworth facility is more aerospace than boatyard says Murray. "It doesn't have particularly high roofs, it has ceiling panels, it is very clean, organised, digital, it is very computer controlled. The end result is that there are some very high quality parts being manufactured there, very much in the aircraft-style way of component manufacture. The good side for us is that I think we are going to have very repeatable and high quality boats and parts coming out of there. To undertake a task of this complexity in a relative short time period, it would be difficult for this to happen any other way. From ACRM's point of view, if we had to manage that process component by component I don't think we could have done it and been able to start the AC World Series by June."
Unfortunately build of the AC45 has been delayed by about one month with the first boat now due to be launched in mid-January. The hold-up, understandably, has been in the design of the complex wing. "It is the detailing of the wing, there are a lot of parts in the wing and it is productionising it," explains Murray. "If you were just building a one-off wing it would be easy, but for every part we have to build a tooling system and a mould and get on top of that so we can make multiples of them all the same."
AC45 no1 is to be constructed entirely at Warksworth. The hulls are at present in the process of being laminated. After this much of the build-work will be subcontracted - hulls will be made Cooksons, the beams by Hall Spars in New Zealand, etc. Most of the wing components will be built in Warksworth, but their assembly is likely to be subcontracted in due course says Murray.
Once AC45 no1 is launched in mid-January this will undergo tests and will then be made available to competitors from the start of February through until mid-March, by which time AC45s nos 2-5 should be afloat. Each team will get a window of around one week to trial the new boat.
The order in which the AC45s are delivered to teams is down to two things says Murray – the sequence in which challenger entries for the 34th America's Cup are received by the Golden Gate Yacht Club and each challenger then contracting to purchase an AC45.
Over April and into May the boats will go through further sea trials in New Zealand and in addition to allowing teams the opportunity to test sail on their boats, the period will give Murray and his ACRM team the chance to try out race courses, race officials and all the various systems. "We'll have a test and then pack it all up and move to Europe in early May," says Murray.
Murray expects 10 AC45s platforms to be ready by the time they leave Auckland, but says they probably won't have the wings finished by then. "We are working on a plan that if the wings aren't built that we'll be air freighting them to catch up with the boats."

In part two of this AC update we look at why there's going to be so much fleet racing in the World Series events, the specialised racing rules, the docking and wing stepping in 30 knots issues and get Iain Murray's take on team budgets.
Back to top
Back to top