Mascalzone su fuoco
Two come-from-behind victories boosted the fortunes of Italy's Mascalzone Latino Audi today at the Louis Vuitton Trophy Dubai, promoting the 34th America's Cup Challenger of Record from fifth equal to third place.
Racing in a light northerly breeze on a soft, late autumn day, Kiwi skipper Gavin Brady guided the Italian team to a comfortable victory against Sweden's Artemis Racing after overtaking them a few minutes into the first beat.
Brady's second match proved tougher after he conceded a start to the Synergy Russian Sailing team and then fought for more than half the race to gain the upper hand.
Mascalzone Latino Audi Team now stand only half a point away from overtaking second-placed Emirates Team New Zealand which lost today after botching a spinnaker takedown in their one match against BMW Oracle Racing.
"We knew the mathematics going into today, so we knew we had to win those two races to keep control of our own destiny. We had a race where we led from start to finish and another one where we came from behind. It was a very tough way to get the job done but it's good the teams is starting to build its confidence that we can come from behind.
"It would have been nice to win the second start but I missed it. We had full control of them but I dropped the ball at the end, at my last decision. I probably had to take 20 decisions in that pre-start. I took 19 good ones and in the 20th one I messed it up. Sometimes it's the 20th that counts. We gave them the opportunity at the start while we should have finished it off. Then Morgan Larson did a very good job and got the shifts perfectly in the run. We passed them at the gate. The gates are great because they give the boat behind a chance and this is exactly what took place.
"We also got the right shift in the last beat as the last 3 days in Dubai have been really tricky. We have the sea breeze build but not the way it normally would. We don't know why that happens but it does. These boats need a steady 12-knot breeze to be fully powered up. In a 7-9 knot breeze these boats feels like small yachts all of a sudden and you can have big differences in boat speed."
The two boats at the top of the leaderboard raced today and the USA's BMW Oracle Racing, skippered by America's Cup winner James Spithill, took control at the start and fended off attacks from his Kiwi rival Dean Barker.
New Zealand's chances of a victory plummeted when a messy takedown saw them flying their spinnaker like a giant out-of-control flag from the top of their mast before they were able to cut it free.
"It was a disappointing loss," said Ray Davies, tactician for the New Zealand boat. "It was a very close race and we made nice gains down the run. We gybed for the right-hand gate, feeling pretty comfortable but then the breeze lifted 15 degrees. It changed the bottom mark rounding for us and we ended up with a very difficult rounding because we had to change the call for the bowman. It was a pretty bad situation for us. When we let the spinnaker go it got caught inside the mast so we had to cut it free."
BMW Oracle Racing's Dean Phipps commented: "We made a nice powerful rounding for the left-hand gate and they got into what we call 'no man"s land. When you get into that place, which side the sail comes down becomes an issue for the foredeck crew. It didn"t look like they had a takedown string setup, and from there it just snowballs. The only way to get rid of it is to cut the halyard and let it all go."
With only one day left of Round Robin 2 so BMW Oracle Racing and Emirates Team New Zealand and Mascalzone Latino seem assured of their berths in Friday's semi-final matches. However the fight is on for the remaining spot. With RR2 races counting for two points and the possibility two penalty point deductions for collisions, nothing is certain.
Blow by blow
Flight One, Race One, Synergy Russian Sailing Team def All4One, 00:05 – Francesco Bruni and his Russian team conceded the start to Sebastien Col and the French/German team All4One, only to be penalized for tacking too close when they converged in the middle of the course. Bruni had a narrow edge up the rest of the leg and rounded the top mark 13 seconds ahead. Col threatened on the second beat but the Russians eked out a 125 metre edge that provided the narrowest of margins to unload their penalty with a 270 deg. turn on the finish line.
Flight One, Race Two, Mascalzone Latino Audi def Artemis Racing, 01:55 – The Italian team scored a runaway victory against Sweden in light air. Cameron Appleton, steering Artemis Racing, won the start and chose to go right but it was Gavin Brady who came from behind and crossed ahead on port tack, half way up the weather leg to secure a crucial two points.
Flight Two, Race One, BMW Oracle Racing def Emirates Team New Zealand, 00:25 –
The intensity of this match was signaled by a protest by New Zealand at the beginning of the dialup for tacking too close. It was green-flagged. They came off the line together on starboard with the Kiwis in a safe leeward. James Spithill, steering Oracle, almost immediately tacked away and ETNZ's Dean Barker tacked to cover, conceding a one boat-length advantage. BMWOR led at the next two marks. Disaster struck for the Kiwis when they lost control of their spinnaker at the bottom gate takedown and they set off to windward with the chute flying like a giant flag for agonizing seconds before they could cut it free. Game over!
Flight Two, Race Two, Mascalzone Latino Audi def Synergy Russian Sailing, 00:21 –
This was anyone's race. Gavin Brady chased his opponent all over the ocean above the layline before they returned 40 seconds after the gun to make even starts. However Francesco Bruni enjoyed a tiny edge and was able to push the Italian boat well beyond the port layline to round the top mark just three seconds in front. The Russians still led, by just eight seconds, after a close run but Brady chose the left-hand gate to claim the favored right-hand side for the next beat. He bounced the Russian team away twice and then crossed clear ahead before consolidating his lead with a 23-second margin at the top mark.
Provisional Results after Day Three of RR2:
1. BMW ORACLE Racing, 12-2, 15 pts
2. Emirates Team New Zealand, 7-6, 8.5 pts
3. Mascalzone Latino Audi Team, 6-8, 8 pts *
=4. All4One, 5-8, 6 pts
=4. Synergy Russian Sailing Team, 6-8, 6 pts *
5. Artemis Racing, 5-9, 5 pts
* A scoring penalty has been assessed by the umpires
From Gilles Martin-Raget/BMW Oracle Racing: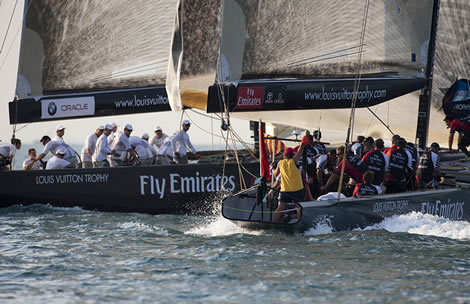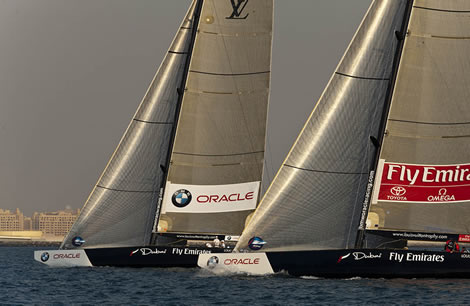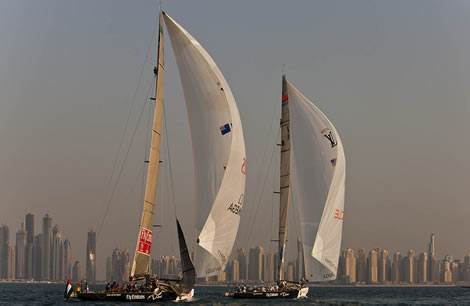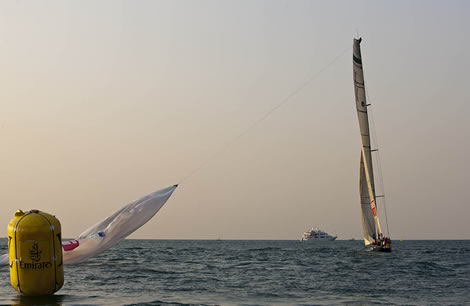 From Sander van der Borch/Artemis Racing

| | |
| --- | --- |
| | |
| | |
| | |
| | |
| | |
| | |
Back to top
Back to top