Back to school
Terry Hutchinson is to go catamaran racing. That is to say after a few weeks pondering whether or not to continue with Quantum Racing, which has a brand new TP52 in build for the 2011 Audi MedCup, he has instead chosen to commit to Artemis' campaign for the 34th America's Cup.
Hutchinson admits he is not yet a catamaran sailor but points out that neither was the helmsman aboard the winning boat in the 33rd America's Cup. Just as James Spithill did, he intends to fast track his learning.
"Two months ago I did an A-Class regatta at home," says Hutchinson, who resides in Annapolis. "About five minutes from my house there is a fleet of about 20 A-Class cats, so I went out and sailed around.
"I think the unique thing about the America's Cup is that it has always been an event of technology and an event where the team that best adapts to the current environment is the team that has the best chance. And for me if the ultimate goal is to win the America's Cup. If it is in a Laser, then I'd better be a really good Laser sailor: That is my approach and my thought process for it. So it is in multihulls, so to go forward we have to collectively upscale ourselves and make sure that we do the best possible chance we can on the sailing side to learn as much as we can."
To this end Hutchinson has now purchased his own A-Class catamaran. This is perhaps an odd choice as a learning platform as it is una-rigged, but he points out that they are high performance boats and as it is also a singlehander, he can sail it whenever he wants. Significantly he can also afford to make mistakes on it. "A lot of the guys you talk to about sailing them – you pay a penalty if you screw it up. Who knows with a 72 footer, but at some point you are going to have to find the threshold of the edge, so if I can do it in a 17ft boat where the consequences of capsizing are simply having to right the thing, then that is a pretty good place to learn the lesson. Because the bigger you get, the more catastrophic it will be."
Helping indoctrinate him in all things two hull is none other than Athens Olympic Tornado silver medallist Charlie Ogletree, who happened to go to the same university as Hutchinson.
In addition to the A-cat, Artemis have also signed up to compete in the Extreme Sailing Series in 2011. To get up to speed prior to this Hutchinson is sitting out November's Louis Vuitton Trophy regatta in Dubai in favour of carrying out some Extreme 40 two boating in Miami. For this they have bought one Extreme 40 and have another chartered. "We are going to do two weeks of 40 sailing in November and then another session in December," he says. "We are going to have a little bit of a two boat program and then we'll spend a couple of weeks prior to the first event in Oman sailing and then we'll do the regatta and we'll get the whole thing started."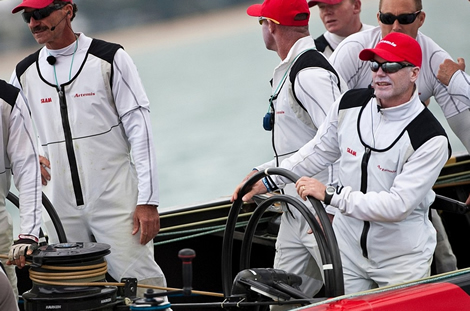 According to Hutchinson they may be getting additional help from existing Extreme 40 sailors, "but not just multihull sailors - Moth sailors and 49er sailors, who've sailed high performance sailboats, guys that have a lot of experience and striking the balance between that and America's Cup experience, because it is so different. There are certain things that will apply to a traditional America's Cup that won't apply here, but there are things that will and we just need to capture that with the sailors and with the team that we've got."
In Miami Hutchinson will be lining up against another valuable member of the Artemis team – Santiago Lange, the double Olympic Tornado bronze medallist, who is now part of the Swedish team's design group. The design group is still being finalised but Juan Kouyoumdjian is leading it with involvement too from ex-Team New Zealand/Alinghi Cup design guru Tom Schnackenberg.
Hutchinson is well aware that it will be, as he puts it, like 'going back to school'. "But going back to school isn't necessarily a bad thing, because you get so entrenched in certain ways of doing things, so without question this experience will open your eyes to a lot of different things."
In the professional sailing world the announcement that the 34th America's Cup will be held in solid wingsail catamarans was much anticipated. Nonetheless many have still been in a state of shock as they come to terms with having to master a whole new discipline of sailing, the going back to school Hutchinson refers to.
"How could you not be impressed watching Oracle in the 33rd match? I think it is just an unbelievable opportunity and challenge, probably to a proportion none of us are really prepared for yet, and as we delve into the problem solving of the whole thing, it is a monumental effort."
But the move to such a radical beast is only one part of Russell Coutts' masterplan and while learning to wrestle these monumental beasts around the race track will be one issue, the plans Coutts has in store for changing the race track itself are likely to be equally challenging for those used to conventional match racing.
So does Hutchinson subscribe to what Coutts is doing? "It goes back a little bit of my philosophy of what I have been trying to do since I was 10 years old: to drink champagne out of the America's Cup. In my mind, if that is what I have to do to do that, then so be it. Clearly Russell has made a life of the America's Cup and probably more so than ever his reputation is at stake with this one and if he is willing to put his reputation on the line for it, then that's probably good enough for me." Probably the most profound statement anyone has made to date on the subject.
"I know there are a lot of sailors that say 'shouldn't it be in monohulls? It's always been in monohulls' and it is hard to argue that the 2007 match wasn't a really good match, but I don't think Russell or Oracle is really trying to appeal to the sailing crowd. It is not the sailors he wants to bring into the thing. If we ever expect the sport to be main stream we have to make it edgy enough that the X-Games generation flips it on and says 'holy Cow – that's cool' - how can that be a bad thing for our sport?
"But sailors as whole – and I am one of them, I am firmly set in my ways, so it has taken a little while to come around to that, but I have a huge amount of respect for Russ and what he's trying to do. The stakes for him personally are probably fairly high and he doesn't want his mark to be 'what he did to the sport' in a negative way, so I think we all have to trust him a little bit."
One gets the impression, perhaps wrongly, that Artemis is going to be one of the biggest dogs among the Challengers to go up against the mighty BMW Oracle Racing, but Hutchinson says that they won't have the same apparently limitless resources. "Artemis is going to try and deliver the best value for the financial restrictions that we have. It is definitely not an open cheque book. There has to be some fiscal responsibility within our team and actually there is a lot and that is something that is always on my mind and with Paul [Cayard] being the CEO of it, it is firmly in his mind and that philosophy rolls down hill. It is about being smart with every dollar that we have and making the most of every opportunity."
So a 100 million Euros budget as TeamOrigin were forecasting? "I think you can probably do it for whatever you want. The interesting one with TeamOrigin, if you follow our logic, is that you wouldn't have done all they did before the rules were concrete. But they came out of the box firing cannons and you are not going to be able to endure a burn rate like they had for that period of time. They didn't keep their powder dry, that's for sure. Without a doubt we're going the other way - we are getting certain pieces of the puzzle in place, but until it is absolutely clear, we are keeping full control of the reigns."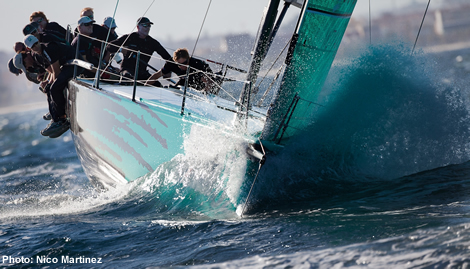 TP52

Meanwhile Hutchinson heading for the Cup means that he feels he has to stand from a role he has held for the last three years as Quantum Racing's TP52 skipper. In this position his team won the Audi MedCup in 2008 with their Botin & Carkeek design and have been runner up in two successive seasons since then on both occasions to Emirates Team New Zealand. However week before last Hutchinson had a fine swan song with the class, winning the TP52 World Championship.
"To do what we did with the age of our boat is a credit to the team and to Quantum and to the product that they deliver and to the whole program," says Hutchinson in retrospect. "I think it is an overwhelming sense of relief and accomplishment. Everyone puts in so much effort and work to make all this happen."
This season Quantum Racing fitted a new deck to their TP52, more akin to the 2009 generation Emirates Team New Zealand boat (also a Botin & Carkeek design). "We also improved our sails a lot over the winter in the design work that Quantum did. That and the deck modification made a huge improvement to the performance of the boat."
Now the new Quantum Racing TP52 is under construction at Longitud 0 and with Hutchinson's departure a successor will have to be found. Ed Baird was lurking around in Cagliari in a Quantum Racing shirt at the final Audi MedCup event of this season and is certainly a candidate. Baird won the US Melges 32 Nationals with Ryan de Vos.
"It is about what fits the best structure for Quantum Racing and what the bigger picture is for Quantum, because it is their avenue to market their product and they just have to make sure there are good parallel agendas with everyone involved," says Hutchinson.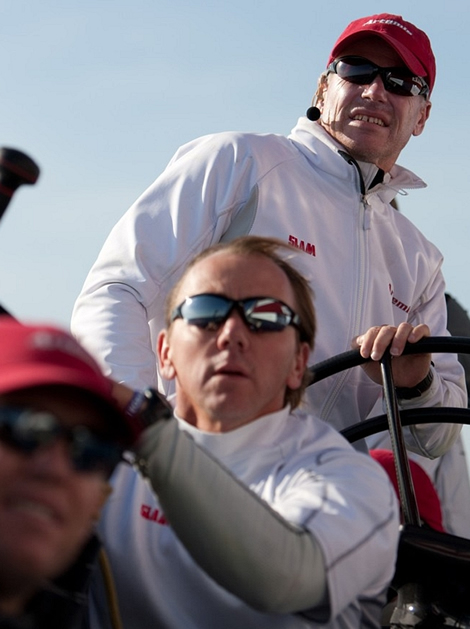 Back to top
Back to top