Four British TP52s on the Audi MedCup 2011?
While TeamOrigin may be out of the Audi MedCup next year, 2011 could see as many as four British boats racing. In addition to John Cook's Cristabella, London-based Swede Niklas Zennstrom, who's Tim Powell-run team is largely from the UK, recently announced their participation next year in a brand new Judel-Vrolijk designed, Green Marine-built Ràn TP52. But at the TP52 World Championship in Valencia recently there were two additional entries both of whom look set, at the very least, to dip into the Audi MedCup during 2011. Interestingly the individuals behind both campaigns are successful businessmen, who have come to competitive sailing relatively recently. Both are also keen owner-drivers.
Tony Langley is Chairman and CEO of Nottinghamshire-based Langley Holdings plc, an engineering group that in 2008 employed 2500 people and turned over 500 million Euros.
In fact Valencia, where Langley campaigned Weapon of Choice, was not his first World Championship. Having acquired the 2008 generation Matador in September last year, the 2009 TP52 Worlds was Langley and his team's first regatta in their new boat.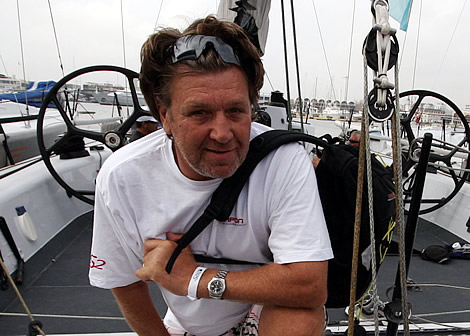 Langley says he sailed dinghies occasionally during his childhood, but came to big boats during Antigua Sailing Week back in 1994 when he raced on the ancient Whitbread maxi Creighton's Naturally. He was an irregular participant in regattas following this in chartered boats until 2005 when he bit the bullet and acquired the Farr 45 Atomic. He has been competing in the UK Farr 45 fleet ever since.
"2006 was our first season," says Langley. "I won IRC Zero in Round the Island. It was a light airs day and we had a bit of luck, but that was one of our great milestones."
Longley still actively campaigns the 45 and says that despite now owning a TP52 he is loath to shed the older boat because he enjoys racing it so much. "It is a very good fleet and logistically it is easy, it is great weekend sailing, very competitive fleet racing, etc."
2010, he says, has been a transition year between his two boats. With his TP52 this year he and his team competed in Hublot Palma Vela at the beginning of the year, Copa del Rey in August and finally the Worlds.
As to the 2011 program for Weapon of Choice, Longley says he plans to compete in five events, although the exact schedule isn't finalised. "The first one will be Palma Vela – it's a bit warmer than the Red Funnel! And we'll do Copa del Rey and we'll dip into the MedCup with one or two events. I'd like to do a bit in Italy and move around a little bit."
Having his family with him is important and for the Worlds they all resided on a 35m motor yacht Langley chartered. "They have enjoyed it a lot, which is important for me, that it doesn't get too selfish! But it is all about balance. I enjoy business and I am still very involved with it. I enjoy family life and I have teenage children. My daughter is here [in Valencia]. She is taking a year out to decide what she really wants to do. She comes sailing with me. So it is a bit of a transition. I don't want to commit to a full MedCup program because I wouldn't have any family life left if I did, so it is all about balance."
In terms of his crew, Graham Sunderland runs the show and among his regulars are Tom Wilson, Matt Adams, Chris Warmsly and Geoff Poevy. For the Worlds the imported extra talent including Stuart Childerley and Dave Lenz.
Longley says that with his TP52 he wants to keep his crew as a mix of amateurs and professionals. "You can very easily get sucked down the fully-pro route and you just end up enjoying it differently. I enjoy keeping a Corinthian mix in our crew. I don't limit the number of pros, but I like to keep a mix of amateurs in there too. The pros are among their piers and the ams are very lifted to be among this company and they knock themselves out on the boat."
Longley admits his crew has been quite inconsistent this year and this is something he wants to address for next season. "For next year we are looking to get a fixed team for the 45 and for the 52, but they won't be the same crew because the amateurs can't get that much time off work."
However when it comes to the TP52, their last place result at this year's Worlds highlighted that they still have a long way to go. "The boat is faster than the crew at the moment, but we are well in the mix in the early stages," says Longley. "We have had some good starts and have been third at the third [mark] rounding and then the wheels have fallen off, because if you make one mistake in this [the TP52 fleet] and you're dead. These guys are the best in the world."
Racing the TP52 has been a great experience, even if he hasn't been winning. "I helm and I enjoy a lot the benchmarking, because you know there's no one better. For us it is not about results it is about sections of races and how we handle that. We took a penalty in one race and mistakenly made two turns rather than one but we were 59 seconds behind the last boat a good half way into the race and we crossed the line six seconds behind. We are certainly taking away a lot from this, I am at least."
Over the winter the plan is to bring Weapon of Choice back to the UK where it will undergo a keel change putting it in line with the 2011 rule for the TP52 fleet.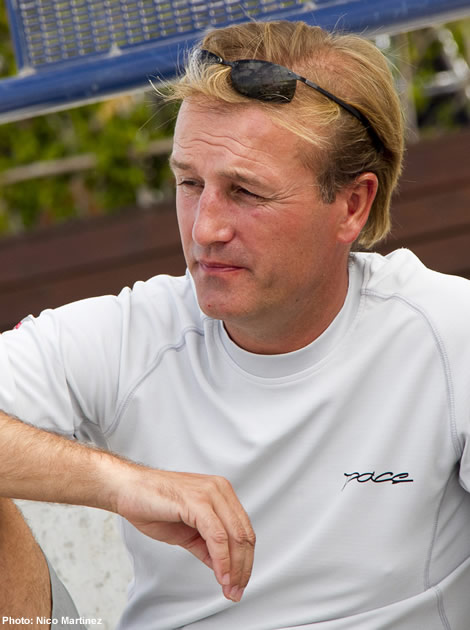 Pace

Ancasta Managing Director Nick Griffith can perhaps be congratulated for his part in not only introducing Niklas Zennström to yacht racing but also Johnny Vincent, owner of the yacht the TP52 Pace. Both Zennström and Vincent started out in Marten 49s for which Ancasta is the UK agent, before progressing into competitive race boats.
Apart from some dinghy sailing during his youth in the West Country and some Sigma racing, Vincent is also new to yacht racing. From his Marten 49, Vincent last year chartered the TP52 Panthera for Cowes Week and the Vice Admiral's Cup..."and that lit the touch paper," he admits. "Then this [the TP52] came up and it had a good season with Niklas before. So my helming in a race situation is just 18 months old."
Pace started life as Eamonn Conneely's Reichel Pugh-designed Ian Walker-run Patches 2, before it was acquired by Zennström, IRCed and turned into Ràn. Vincent bought the boat at the start of this season.
As far as his racing career paralleling Niklas Zennstrom's any further than here, Vincent is reticent. "It's a nice coincidence, though I'm not sure I will be doing a 72 quite yet! The comparison begins and ends there! The Marten 49 was fun, but it was all IRC and cruiser racing and you know if you have a boat that tries to do two jobs it is not brilliant for either."
The name Pace comes from Vincent's business Pace Investments that he describes as a property, investment and development company that is mostly involved in commercial building in the southeast of England. We mention ICAP Leopard and her flamboyant owner Mike Slade who runs another property development company, Helical Bar. "Mike Slade's boat is about twice as long, Helical Bar are a public company and very high profile. My company is small and private and we quietly get on and do what we do," Vincent points out.
As to the TP52, Vincent enthuses about the racing: "They are great boats to sail, they light up downwind very nicely. It is a very competitive fleet and the idea was to come down and see how it happens on the Med circuit."
Since the Worlds, Pace has been delivered to Malta where this week she will be competing in the Rolex Middle Sea Race. Vincent has already experienced some offshore racing in the RORC races and competed in the Rolex Giraglia Cup in 2009 with the Marten 49. "We managed to win that one, that was the highlight of the year. I haven't done a lot of offshore sailing, but I love it."
The crew of Pace for the Worlds included Nick Griffith and Robert Bicket in the afterguard plus a wealth of pros such as Rob Greenhalgh, George Skuodas, Guy Salter, Kelvin Harrap, Simon Clark, Jerry Eplett, Andy Hemmings, Dick Parker, Andy Oliver, etc.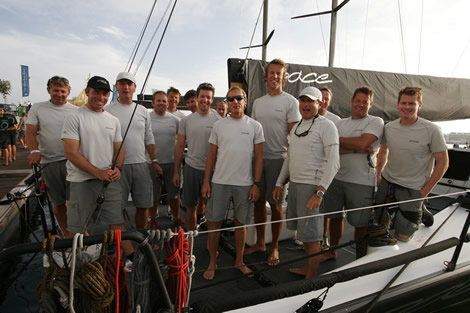 Like Longley, Vincent says he is keen to dip into the Audi MedCup next year but hasn't yet finalised his plans. He is also uncertain whether Pace is the best tool for the job. "I am not sure we have quite the right boat to be super competitive, but it is fantastic experience and it is a very competitive environment and a great challenge. If one was to come and do a full MedCup program it is about having a new boat and building a boat into a program. I don't know if I am ready to do that. That is certainly an aspiration."
For 2011 Vincent mentions Palma Vela, Copa del Rey and in fact a program that sounds similar to Longley's. Over the winter, Pace, like Weapon of Choice, will have a new keel fitted to her back in the UK.
"It is hard to move away from boats like this. It is very exciting," he concludes.
Click on the images below to enlarge:

Back to top
Back to top