Near perfect scoreline for Ramrod
It didn't take long for Rod Jabin and his Ramrod team to show who was boss at the 2010 Rolex Farr40 North American Championship. On Friday, the first of three days of racing, Ramrod won two races straight off the bat, in each case leaving second to defending champion Helmut Jahn on Flash Gordon. When the two teams traded finish positions in race three, it left some hope that the next day could see Flash Gordon or one of seven other teams rebounding for a lead change, but it was not to be.
Ramrod, with Jabin at the helm and fellow Annapolitan Chris Larson calling tactics, was unstoppable, winning not only all three races on day two but also the final two races on Sunday. In the end, Ramrod posted a mere nine points to Flash Gordon's 20. Kevin McNeil's Nightshift finished third with 28 points.
"It's pretty remarkable to have won; we've never done so consistently well," said Jabin, who has owned Ramrod since 2005, is a member of the Chesapeake Bay Farr 40 Fleet and most recently won the Annapolis NOOD Regatta. "We had a solid crew; the rig was good, the sails were just right," he added, pointing out that his crew has been together "for some time," with Larson joining it early this year.
While the first two days of racing challenged teams with high winds (18-25 on Friday, increasing to 20-30 on Saturday), Sunday served up a more moderate 10-15 knots of breeze. Ramrod showed slick crew work throughout, sometimes making winning look like a piece of cake by leading at all marks. At other times, however, it wasn't so straightforward. "In both races (Sunday) we got pushed back pretty hard by Flash Gordon," said Jabin. "We were lucky to sneak out from under them and be able to weave our way back through the fleet. Then it was like a big rubber band; we'd go forward and come back, forward and come back, and whoever got the last shift won."
Kevin McNeil's Nightshift also demonstrated great crew work, leading the crew on day two to two strong second-place finishes as well as a third in a photo-finish with Flash Gordon.
While Ramrod's Jabin took home a Rolex Submariner for his performance, Nightshift was awarded the Corinthian Trophy as the top finisher in a class-designated category that limits sails and number of professional crew.
On Sunday, young Opti sailors from the Annapolis Yacht Club Junior Program, who were being rewarded for their excellent sportsmanship as well as sailing ability, joined the Farr 40s for racing. It was smiles all around as the kids waved at the photographers and eagerly anticipated each next tack
In addition to title sponsor Rolex were sponsors Liljenquist & Beckstead, Vineyard Vines, Van Gogh Blue Vodka, Noble Vintners, Appleton's Rum, Flying Dog, The Boatyard Bar & Grill, 360 Automation, and the Chesapeake Bay Farr 40 Class.
Final Results - 2010 Rolex Farr40 North American Championship
1. Ramrod, Rod Jabin, Annapolis, Md., 1-1-2-1-1-1-1-1, 9
2. Flash Gordon, Helmut Jahn, Chicago, Ill., 2-2-1-3-4-2-2-4, 20
3. Nightshift, Kevin McNeil, Annapolis, Md., 4-5-3-2-2-3-3-6, 28
4. Endorphin, Erik Wulff, Washington, D.C., 3-3-8-5-5-4-4-5, 37
5. Tsunami, Preben Ostberg/Todd Olds/Bud Dailey, Annapolis, Md., 5-6-5-6-3-7-6-3, 41
6. Yellow Jacket, Bulman/Scholz Syndicate, Annapolis Md./Washington, D.C., 6-4-6-10/DNF-7-6-8-2, 49
7. Sundance, Gary Beer, Washington, D.C., 8-8-4-4-8-8-7-7, 54
8. Seawolf, U.S. Naval Acadamy, Annapolis, Md., 7-7-10/DSQ-7-6-5-5-9, 56
9. Bellerophon, Rick & Skip Sinclair, Greenwich, Conn., 9-9-7-8-9-9-9-8, 68
More images from Daniel Forster/www.yachtphoto.com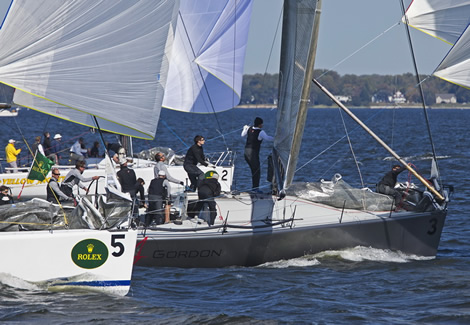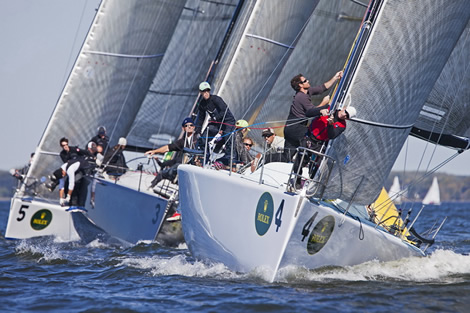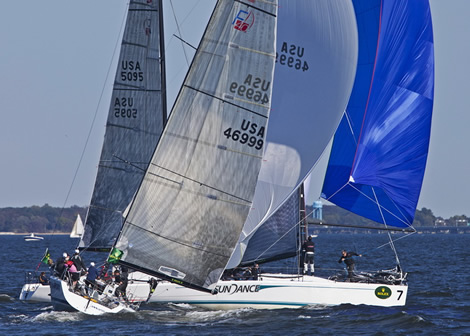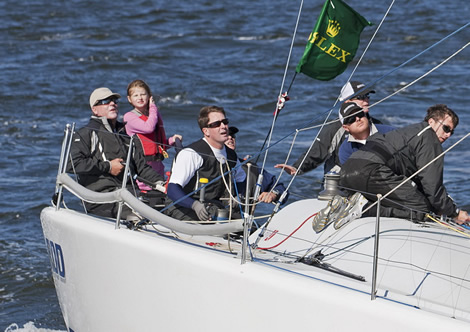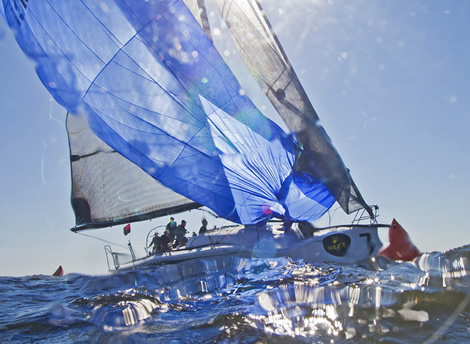 Back to top
Back to top