TP52 Audi MedCup season wrap part two
This article follows on from part 1
In terms of new boats for boats for 2011 at present it looks like there will be a minimum of four, but we understand it could also be up to six or seven.
Quantum Racing have already announced their going ahead with a new Botin & Carkeek design for next season, while new to the Audi MedCup is Niklas Zennstrom's Ràn team, which has another Judel-Vrolijk design and construction has already started on this at Green Marine in Lymington.
Waiting in the wings is the announcement of a new Matador, almost certainly a Judel-Vrolijk design too. The Matador team is believed to be joining forces with Azzurra. However the Yacht Club Costa Smerelda-backed team were supposed to be competing in the Volvo Ocean Race, but pulled the plug of that campaign. Since Nice in 2009 they have been participating successfully in the Louis Vuitton Trophy series, with Francesco Bruni at the wheel, and ultimately seemed to be heading for the America's Cup, but again this no longer seems to be the case. So...
A game of musical chairs is going on with the second hand boats with Jose Cusi's Bribon team believed to have scooped up the present Matador, with Quantum Racing and Artemis, and now TeamOrigin, other hot properties in the TP52 brokerage market.
Others looking to change up or build new at All4One, while there is also a possibility of German Harm Muller-Spreer returning with a new Platoon. Muller-Spreer competed in the 2006-2008 Audi MedCup seasons with a crew in 2008 staffed by members of the United Internet Team Germany America's Cup team.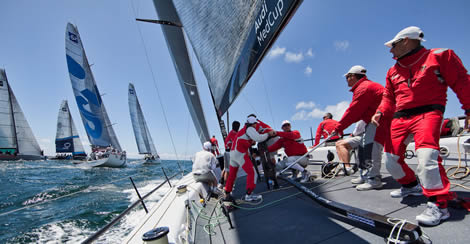 Further TP52 turboing

The reason for the number of new boats for next season is that it will see the introduction of the second part of the amendments to the TP52 class rule that were announced at the end of last season.
For 2011 the primary change is the colossal amount of internal ballast will be shifted south to the bulb. Typically at present these correctors range from 500-850kg according to how well/lightly the boat has been built. So while a present TP52's solid steel fin weighs 1,000-1,200kg and the bulb is 3,000-3,350kg, from 2011 the maximum bulb/fin weight will be limited to 4,800kg, with a maximum of 3,800kg in the bulb.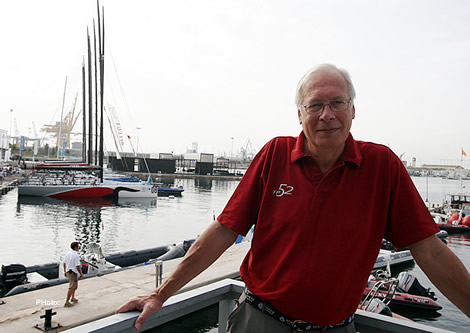 "It has the effect that all the existing boats need a new keel," states Rob Weiland (above), the TP52 Class Manager.
The overall weight of the boat will come down to 7,300kg, or roughly 270kg lighter than the present generation and, according to Weiland, this, combined with the higher stability, means that the 2011 TP52s will be faster than the old generation on all points of sail above 6-7 knots of wind. Should boats come out lighter than this, which will now be a real struggle, then they will still have to carry lead correctors, but according to Weiland this may help reduce pitching but the performance advantage would be tiny.
An added headache, as experienced by last winter by Juan Kouyoudmjian when he and his team designed the TeamOrigin TP52, are the new design requirements. In addition to the TP52 rule, new designs - from whole boats to mere modifications to old boats - must now be built to exacting requirements of the ISO standard 12215 Category A ('Small Craft Hull Construction' which is now typically being used instead of ABS) and the Germanisher Lloyd's Guidelines for TP52 boats, which according to Rob Weiland makes up the short falls in the ISO standard that was never written for race boats. In addition all new designs must now be submitted for approval by Germanisher Lloyd's. Plan approval for new OSR Cat 0, 1 and 2 boats, was a requirement introduced at the end of last year by ISAF.
"We applaud this move because now it is not up to the designers anymore whether they [their boats] conform to ISO requirements but there is an independent body looking at them as well," says Rob Weiland. "In the end it should result in boats that are more equal in construction weight than they are now. I know it is a pain in the neck [for designers] to have to send your plans somewhere and get someone you don't know to comment on them, but I think for both safety and also for the class, it is a bonus."
All boats built prior to 2010 are grandfathered.
The GL additions to the ISO standard include for example minimum panel weights and the new requirement for a crash bulkhead. Also the grade of Nomex core material has been reined back – so effectively Kevlar Nomex is now prohibited.
So in fact some parts – typically the stiffer rig and lighter deck – of an existing TP52 will be preferable to those of a 2011 generation boat.
Being lighter, the new generation boats will float a whole centimetre higher in the water and will therefore have longer waterlines. Rob Weiland says in comparison: "The old boats will have a shorter waterline length than you'd design a new one to, and you can compensate that by trimming the thing at the stern, but it isn't perfect. So the few advantages of grandfathering old boats have been put in place intentionally to make the older boats still quite even on the water. As it will turn out, theoretically, the old boats optimised for the new rule will be a few metres/mile faster than the new boats in under 10 knots of wind." Shorter waterline equals less drag.
However what teams cannot do is to replace the hull of their boat while keeping the superior deck and rig as now only up to 70% of hulls can be replaced.
In terms of general design trends, Rob Weiland reckons that in addition to having a longer waterline, 2011 generation TP52s might become slenderer due to the increased stability from the keel.
Boats will adopt the new lower-profile cabintops now allowed by the rule and Weiland wonders whether we might see a boat with a smaller more prominent deck house but an otherwise flush deck (as this solution, while not as attractive, would lower the CoG still further). He also reckons that there will be further minimising of deck gear, again in an effort to lower the CoG.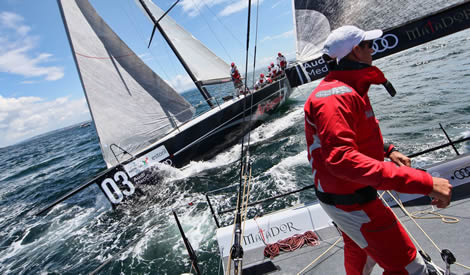 IRC-friendly TP52s
Aside from a performance boost, the real advantage of the latest iteration of the TP52 rule is that it will produce boats that are competitive under IRC.
"The boat that the new rule produces aims to be the optimum for IRC as it is right now," confirms Weiland. "Basically the new rule produces a boat that is very close to Ràn/Pace which is the most optimised boat and has had the most variations trying to find out what IRC does with a TP52." He has been liasing with Ràn skipper Tim Powell and also yacht designers and the RORC Rating Office's Mike Irwin to keep tabs on this. Of course this relies on the stability of IRC.
However there are a few compromises and a good IRC boat in northern Europe or Australia, for example, might not necessarily be so flash in the typically lighter winds of the Mediterranean. For example Weiland reckons with the TP52 rule they could have shed an extra 450kg from the fin had they allowed them to be hollow rather than solid steel. This weight could then have been added to the bulb, but this would make for a boat that was too stable for racing in the Med's typically sub-12 knots. However it might be a smart choice when racing under IRC in windier venues.
While he is closely attached to the Audi MedCup circuit, Weiland represents the interests of the TP52 and there are now pockets of boats all over the world, but particularly in the USA and Australia. Marcus Blackmore, the new owner of the Emirates Team NZ TP52, is attempting to get class racing going down under, although this will be under IRC rather than boat on boat. However Weiland is attempting to encourage those not racing on the Audi MedCup circuit to get their boats in line with the 2011 class rule, so for example that they don't go longer than the bowsprit or bigger with the sail area. Boats being 'in class', he hopes should improve with their resale value.
If this did come to pass then there is the possibility of even more boats competing internationally at events like, for example, a revitalised Admiral's Cup (should it come to pass) or for more entries to come and play at future TP52 World Championships.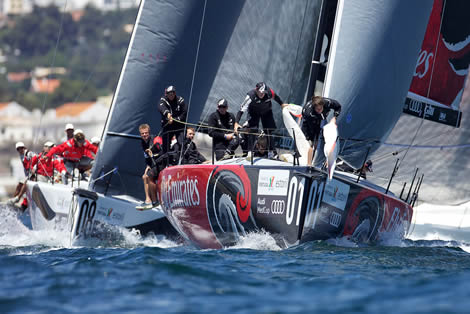 Back to top
Back to top