Oman Sail 1, 2
Day three of the Extreme Sailing Series in Trapani and the seven professional teams were faced with a strong northwesterly wind which saw the boats scream downwind at over 45 km/h, as they performed spectacular handbrake turns around the marks, drawing gasps from the public. The two Oman Sail boats come out on top tonight, The Wave, Muscat remaining in the lead, 16 points ahead of Oman Sail Masirah, while Groupe Edmond de Rothschild has dropped to third.
The teams sailed seven races this afternoon, a mix of triangle courses and the more traditional windward/leewards.
The Sicilian waters were tough on the two French teams today with Yann Guichard's Groupe Edmond de Rothschild struggling in the 17-knot breeze that gusted up to 25. Starting the day with an OCS and posting a disappointing seventh the current circuit leaders finished in virtually every available position, unable to find the consistency needed to remain on the top. But at times the Frenchman showed brilliant tactical strength; his aggressive choices demonstrated in the fifth race as he chased his fellow French skipper, Loïck Peyron snatching the first place spot as they cut inside at the leeward mark before Peyron was caught in a match-racing duel with his stablemate, and dropping to fourth, with The Wave, Muscat taking second.
Paul Campbell-James was pleased with his performance today. "Another good day. The wind was up and The Wave was on fire again! It always helps to round off the day with a win. We just seem to start well and keep out of trouble and I quite like being in trouble and having a bit of a mix up but we have managed to avoid it all this week and that is kind of key to why we are doing well.
"Every day I am pretty surprised we are doing so well in this breeze because we are so light, but we seem to be fairly conservative and we don't really, touch wood, seem stick it on the end as much as everyone else so we can push hard, if not harder and don't run into trouble. Sixteen point lead - it's nice isn't it? But not huge, especially with the double pointer as the last race of the day tomorrow. Similar to Cowes, we have to have a good day and take as few risks as possible."
Ecover's helmsman, Leigh McMillan was on fantastic form on the penultimate day of racing. After starting the day in fifth position, seven points off the podium, they opened with a fifth position, before the former Tornado Olympian posted two wins, one second and a third, demonstrating brilliant tactical calls, stealing positions from his opponents. Devastatingly, a broken rudder meant they had to drop out of the last two races, finishing 5th overall tonight.
Skipper Mike Golding commented: "It was a very good day, but ultimately a disappointing end for us. It looks like we're going to be able to get up and running again for tomorrow. The most annoying thing is to have missed the final two races and there isn't much we can do about that, accept try and stay as positive as we can based on earlier performance and just get focused again for tomorrow."
Frustration is the overwhelming feeling onboard. "It's one of those things, but doesn't make it any easier to accept. The reality is we've lost valuable points from this incident but looking at the leaderboard we are still in touching distance of the third so we'll just have to come out fighting tomorrow."
Franck Cammas, the fastest man around the planet non-stop, gradually warmed up after a difficult start and posted a win in the penultimate race. Commenting on today's racing, he said: "We sailed a bit less well than yesterday, in roughly the same conditions. Maybe I was a bit less aggressive, I preserved the boat in those conditions and probably lost a few places that way. But we're still fighting for the podium tomorrow, so we'll see."
An official visit...

During today's prizegiving, overall leader Paul Campbell-James was presented with a bottle of champagne offered by Mr Turano, President of the Province of Trapani, who declared: "I love the sea and I own a very fast motor boat, but to be onboard these fast catamarans is not something that happens every day. Moreover I'm proud have done a race on Province of Trapani's boat."
Full results here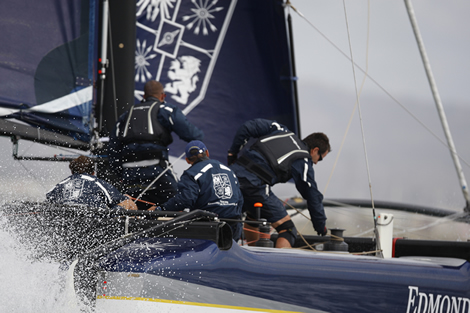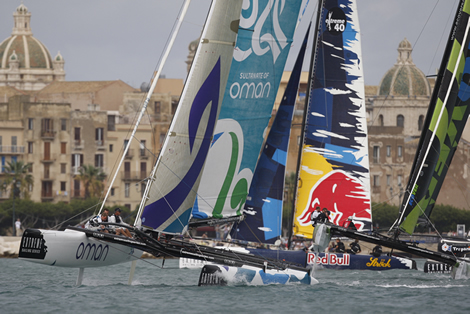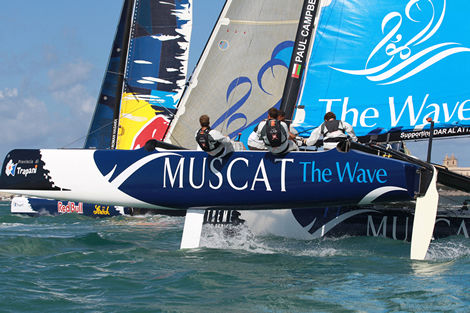 Back to top
Back to top