TP T-bone
The first beat of today's final race at the Audi MedCup in Cagliari, one of the worst T-bone incidents we can remember occurred when Franco-German Audi A1 powered by All4One buried her bowsprit deep into the port side of the Spanish TP52 Bribon after she had unsuccessfully tried to duck her stern. The bowsprit impaled itself the deck and into the cockpit before the bobstay snapped, the tip of the bowsprit crashing down on to the deck almost 1m inboard...
After managing to separate themselves both boats managed to make it back into Cagliari port under their own steam, the penetration into Bribon's port quarter fortunately above the water line.
"There's not much to say," said a downbeat Jochen Schuemann, who had been on the helm of Audi A1 powered by All4One, once they had docked. "Obviously we misjudged the situation. We were fighting for second and third place with Bribón and they seemed to be not very decided if they wanted to tack to leeward of us or were crossing, with the motion, and obviously we tacked too close and got too much helm and heel, and couldn't avoid it in the end. There is no excuse for that - stupid in the end...and obviously both boats lost two very good places in this race. I think there's quite serious damage in Bribón."
The only ostensible damage to Audi A1 was her bowsprit hanging limply off. This can be replaced with relative ease over night and see is likely to be racing tomorrow. Bribon will not be so lucky. She will need a large part of her port topsides replaced, including some of her internal structure (the impact was just aft of a bulkhead) and also some of the hull below the waterline.
Ian Walker, tactician on Bribon told their side: "Nobody likes to see any boats damaged and I think the Germans were just trying to duck us into the top mark. We were on starboard and I think they must have stalled and didn't get behind us and literally came straight through us. It was a big crash, one of the bigger crashes I have been involved with.
"We all go out of our way to make sure we don't crash the boats but every now and then circumstances create these incidents. It was quite complicated – there were three or four boats involved and I think they thought we were going to tack and we didn't tack and it was very late for them to duck so it was a difficult situation for them."
Walker himself was the close to being injured in the collision as just moments before he had fallen to leeward into almost the exact same place as the subsequent impact. Stepping ashore he had badly grazed, bloodied knees as "I was spreadeagled on the floor trying to stop myself falling," he recounted.
"Obviously it is 'regatta over' for us. Fortunately the damage stopped above the waterline and we quickly made sure the boat was watertight and we are able to motor in under our own steam. There are a lot of structural fibres that run through here to take the loads in the boat so it is a big repair you need a boat yard, ovens and the right materials. The real race for Bribon is to get the boat ready for the World Championship."
Walker reckoned the speed of the impact was around 10-12 knots, as the Franco-German boat was bearing away to avoid the contact. "Jochen is one of the best sailors in the world, he has a world class crew, I'm sure they did everything they can. Somewhere along something went wrong, communication or a mistake by someone. I'm sure they were doing their beset – it was just a mistake."
Photos from James Boyd/www.thedailysail.com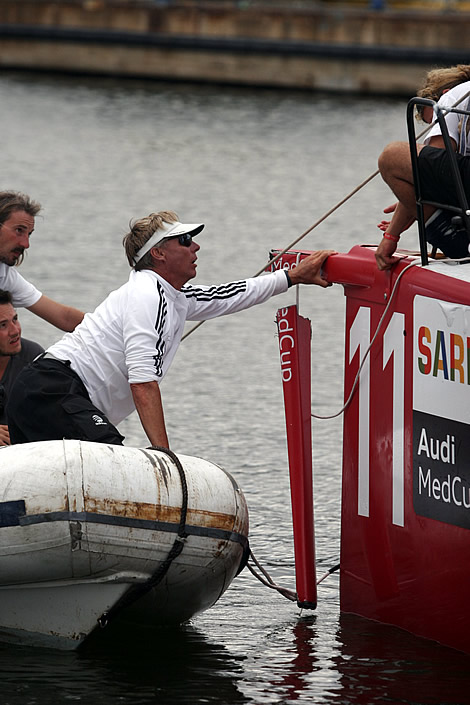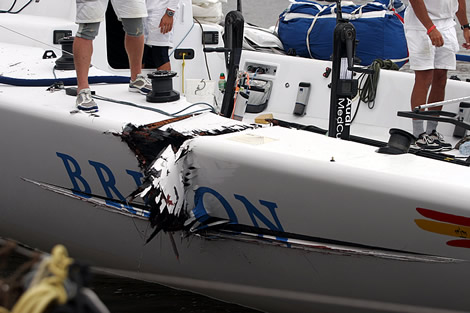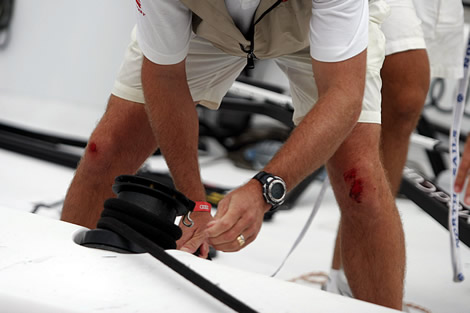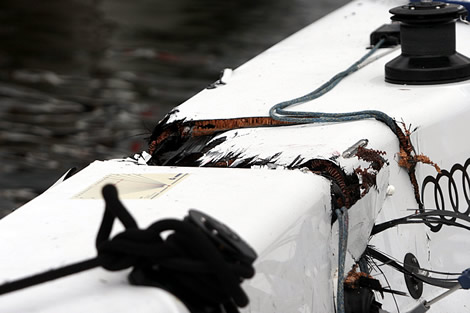 From down below on Bribon...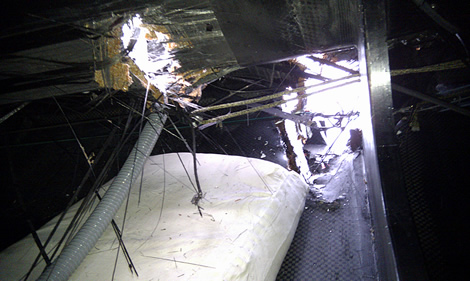 Back to top
Back to top