Kiwi famous four inducted
Under a star-lit sky, hundreds of sailing's luminaries gathered on Saturday for the 17th America's Cup Hall of Fame Induction Ceremony, presented by Rolex Watch USA. Harbour Court, New York Yacht Club's on-the-water clubhouse in Newport, R.I., set the scene as over 650 guests, including many legendary America's Cup sailors, witnessed the induction of six new members – Simon Daubney, Warwick Fleury, Murray Jones, Dean Phipps, Mike Drummond and Halsey Herreshoff – into the Hall of Fame.
Master of Ceremonies Gary Jobson brought Cup legends Ted Turner, Dennis Conner, Russell Coutts and Malin Burnham to the stage to introduce the inductees, share anecdotes, and discuss the importance of the America's Cup Hall of Fame. New Zealand broadcaster PJ Montgomery, renowned for his America's Cup coverage, recounted the careers of Daubney, Fleury, Jones and Phipps. The ceremonies also included film highlights of the careers of the inductees, and after the guests raised glasses of Moët to toast them, each was presented with a custom-made barometer by Maximum Instruments.
"I came up with this idea that it would be a good idea to go up to the jumpers or well up the mast and have a look for the breeze," said Jones recalling his first America's Cup experience in 1995. "The last 15 years, I've regretted having come up with that idea, although sometimes it's actually quite nice to get off the deck and away from these guys."
Acknowledging what an honor it was for him to be there, Daubney made some of the most humorous and touching remarks of the evening. "I was lucky I was around at the very end of 12 Metre sailing and I got to sail with wire sheets and bolt cutters. Kids today they just don't get to do that stuff. The good thing for sailing in the America's Cup, for a person like me who is uneducated, is you get to sail and work with a lot of really smart people. And it's true. I hear people laughing [in the audience]. I made a career out of just pulling the jib onto the top spreader. I spent my whole career just looking at the thing. And then you sit around with people from the fields of Formula One and scientists, people who paid attention in school, and they ask 'what do you think' and I'm like 'what do you mean, what do I think?' "
Herreshoff explained that there needed to be an organization to bridge the gap between Cup campaigns, and that the genesis for the Hall of Fame took place on a foggy night after sailing during a conversation about relationships, careers, and the privilege of being involved in the Cup. "So for me it's a thrill to be one of those inducted. It is very special to me and I thank the selection committee."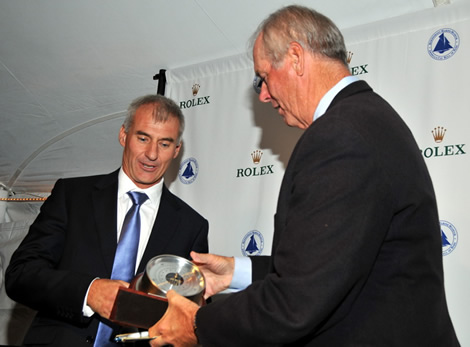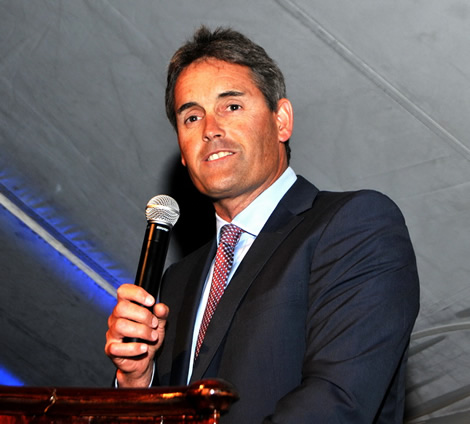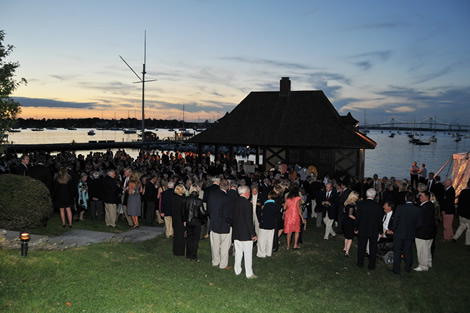 Back to top
Back to top