80ft race boat with four (carbon fibre) heads
Irvine Laidlaw's Highland Fling may have stunned the fleet at the Maxi Yacht Rolex Cup with her 26-28 knot bursts reaching off Porto Cervo yesterday, but this performance has come at a high price.
The boat is technically a Wally, but last weekend was ousted from the Wally division and thus now finds herself racing in the strangely named 'Racing Cruising and Racing' class against the likes of Esimit Europa 2 (the former Alfa Romeo supermaxi), Danilo Salsi's heavily campaigned Swan 90 DSK Pioneer Investments, Leonardo Ferragamo's sistership Solleone and the new Russian-owned Bouwe Bekking-steered Lutra 80, Singularity.
The latest Highland Fling, Laidlaw's 11th, follows a canting keel Wally 80, a Swan 112, a 12m (used for the AC Jubilee), a Carroll Marine 60 and a succession of Swans.
At a first glance the boat, a Reichel Pugh design, built mostly by Goetz in Rhode Island, resembles a VO70 but with a teak deck and a lot less offshore clutter. She is sleek and sexy, built from female moulds in order to accomplish her filler-free clear coat carbon fibre finish. Unlike a VO70 she has a fixed keel and being roughly 10ft erlong has a displacement of 25 knots of which 14 (the all-up weight of a VO70) is in the bulb.
So what is the reason for this boat? "With the canting keel on the other boat [the Wally 80], when Wally adopted IRC we found there was no way we could be competitive," states boat captain Xavier Mecoy. "The boat wasn't a fast boat at the best of times and with a canting keel it was penalised way too much. If there was no way to win there was no point in keeping the boat, so then we decided to build something new. We had a chat with Wally and Reichel Pugh. Wally couldn't build a boat for us because all their slots were full, so we decided to build in the States because a slot became available.
"Wally has always been an innovative class. They have always been driving change and progress. We thought that the boats had become a bit stayed for a long time and it was time to pick up the pace a bit. There is no reason why you can't charge around at 20+ knots on a daysailer and have some fun with it rather than pushing 60 odd tonnes around." Compared to the Wally 80, their latest Highland Fling is the same size, but half the weight with roughly 40% more sail.
A cursory glance at the interior and it appears to be pure race boat with a large open area to move sails around. But this is in 'race mode' and upon closer inspection, there is a fully fledged galley complete with double fridge/freezer and cooker. Bizarrely there are also four head/shower compartments on board, each fitted with a carbon fibre toilet. But four??? A desperately incontinent crew???
At this point Mecoy starts to explain the Wally politics and what is required of a boat to carry the badge of Luca Bassani's company. "When we are in cruise mode we do have four cabins and four heads. We have met all the Wally criteria – that includes teak decks, two airconditioning coils, four staterooms, refrigeration, etc"
At various stages through construction and since her launch, Highland Fling has been inspected by both the Wally Class Secretary and the Class Measurer and according to McCoy on each occasion they either met the criteria for being a Wally or made subsequent modifications in order to comply. He explains: "We had a design that had been approved by Wally and we started building that. We had a nice comfortable owner's stateroom forward and a crew cabin and nav station aft and half way through the build we were told we were required to have four cabins and four heads. So we had to modify the interior for that. We were consistently told to keep changing and we have made the changes and again it is not enough..."
On Sunday the Wally owners convened an emergency meeting to discuss 'the Highland Fling issue' and at first wanted to impose a 4% penalty on her, but this was subsequently increased to 8% and duly turned down by Laidlaw. After the amount of time they had put in attempting to comply, Highland Fling owner and crew were incensed.
"Even though none of the other owners have stepped foot on the boat or inside the boat, they decided that the boat isn't cruisey enough," states Mecoy. "It doesn't meet their criteria even though we have sailed this boat 8,000 miles which is more than most other boats will do in a season. But they got together and without saying as much, the boat is too quick for them and they don't like to lose." He adds that there is precedent – in the past Wallyno and Alexia have also suffered ejection from the class. "As soon as a boat comes along that is a bit faster and they can't win, they throw them out," says McCoy.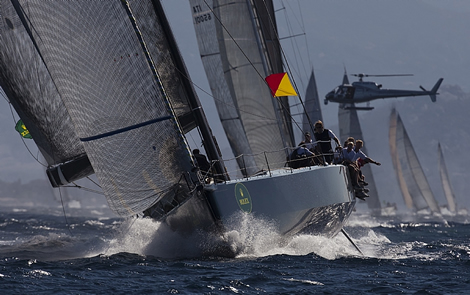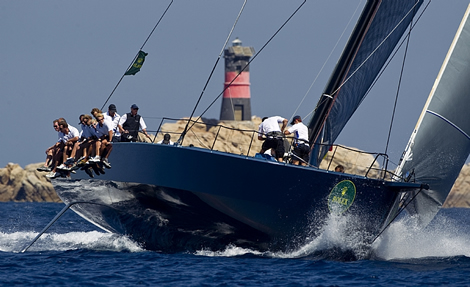 In fact while Highland Fling was built to rate under IRC (as much as this is possible) and is a weapon off the breeze, it not so great upwind. In the first race on Monday at the Maxi Yacht Rolex Cup, Mecoy reckons that with no penalty they would have only finished third in the Wally class.
Surely IRC should level the playing field? "You would have thought so. Unfortunately all these guys have spent a lot of money building fat heavy boats," says Mecoy. "I don't think IRC accounts for planning conditions and this boat will get up on the plane pretty easily. Oddly enough the two people who are the driving force behind throwing us out are the two are the same two people that have won this regatta for the last five years."
He adds: "It is very disappointing because we have put a lot of effort in. And every time someone from Wally has seen the boat we have made the changes they asked for."
Mecoy reckons the issue is purely Highland Fling's speed. "Had this boat been slow there wouldn't have been a single murmur about this interior or whether or not it is a Wally. It is only because the boat is fast. There are a bunch of criteria for being a Wally and actually if you were to push the boat to the letter of it most of the other boats here wouldn't qualify." He cites in particular safety equipment and non-compliance with Cat 3 specifically use of titanium stanchions, open transoms and liferafts being carried on deck. "And that is just what you can see from on deck," he continues. "So they are happy to be very strict with us, but very lenient with everyone else in the class, which is very disappointing. If there is going to be a rule it should be across the board."
At the meeting at the weekend, Highland Fling offered to fit a full Wally interior to their boat. However Mecoy reckons that while this will add maybe 400kg to the hull weight, it won't affect the performance and they will simply remain expelled. At present they are considering their options – looking forwards they might leave the boat as is and simply race it under IRC. While it is too large to be a Mini Maxi there are a number of other boats that fall into the 72 to 100ft category and there remain many opportunities to compete outside of the Wally class.
Back to the boat herself and Highland Fling has already completed a season on the east coast of the USA and in the Caribbean before coming to the Med. Cork Week was also on the schedule, but this was canned when Laidlaw broke his leg. The program purely involved inshore races but Mecoy points out that the 8,000 miles she has already done since launch are substantially more than a typical Wally would sail.
In terms of design the new Highland Fling came at the end of a rotten crop of Reichel Pughs that included the likes of Bella Mente, Moneypenny, Alfa Junior and Titan XV where according to the heel of the boat, the chines would dig in and create excessive lee helm. By the time these serious problems had come to light the moulds had already been built for Highland Fling but they decided to press on. In the event Mecoy says the boat is fine, although this is due to her having more buoyancy forwards and a chine that is higher up.
The design was not to the only potential issue. During her construction Mecoy says Goetz went bust three times. Fortunately they were able to continue building and despite subsequent issues such as not being able to get warranty work carried out, the build was only delayed by three weeks and was still on budget.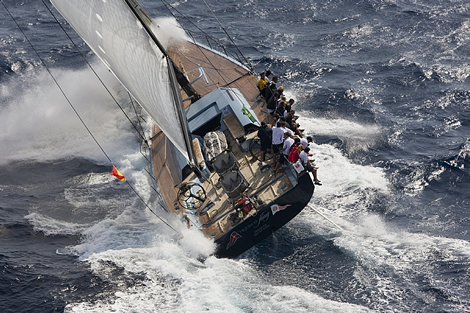 Like most boats of her type, Highland Fling is fully push button, and uses a hydraulic package supplied by Australian company Central Coast Hydraulics. Their hydraulic set-up features 28 functions. Mecoy says he is very happy with this and the positioning of the hydraulic manifold that allows easy access for maintenance and to make adjustments. For example at present they only have their winches running at 70% - any faster and they would throw out rope faster than a mere human can tail it.
Unusually the hydraulic pump is mounted on the main engine in line with the prop shaft. The engine is a fully marinised VW five cylinder 165hp diesel. According to Mecoy this has a better torque curve than the Yanmar equivalent and it is lighter and quieter (the prop is direct coupling and isn't a hydraulic drive). However there is a downside to this arrangement when using engine and winches simultaneously: "As you use the powered winches, the revs ramp up according to demand, so if I am backing into a dock and someone uses a winch and I go back at 9 knots! We have kill switches to prevent that."
Due to her wide 6m beam Highland Fling has twin rudders, which Mecoy is thoroughly impressed by. "It doesn't matter what angle of sail or how much pace we have got on, it is still fingertip driving: Really nice."
The cockpit is shallow with the traveller submerged into a lateral trench in the cockpit sole (as seems is the present trend – this comes with a cover fitted when at mooring to prevent the crew breaking ankles). There are primaries aft for the topmast backstays.
Forward of this are the twin steering consoles, made by Al Fresco Composites in Bristol, RI (who also made the carbon fibre heads), the smart carbon fibre wheels made by McConaghys, who seem to have cornered this market. "We are also the only Wally to have cup holders at the helm," observed McCoy. "We are truly a cruising boat."
Between the wheels and just forward there is a central island for the main sheet winch. The primaries and pit winches are aft of a seating area, in turn immediately aft of the companionway. While the lines running aft from the mast are all hidden inside fairings either side of the cabintop the headsail sheets run along the deck through two substantial black fairleads.
The mast is a beefy looking affair from Southern Spars, which is some 6m taller than the rig on their previous Wally 80. It has three spreaders, swept back by 20 degrees.
Standing rigging is Southern's carbon EC6 which Mecoy gives the thumbs up to. "You can burn through a cover on this - it is not a big deal. You can break 40% of the rods before there is failure. There is zero stretch in them. And I can pick up the whole standing rigging by myself." The chainplates are external and not hidden below decks as is the modern trend. All the halyards are on Southern Spar locks.
The sail inventory Mecoy describes as 'standard' for a bowspritted boat (there is obviously no pole) and was created at North in the US by Mike Toppa. In yesterday's big reaching conditions they used a fractional A3 featuring the Beau Geste-style top down furling system, which Mecoy was impressed by. "We had experimented in the past and had no joy with the furlers but Future Fibres came back with a better cable for us and it works a dream. Again you can furl within a boat length of the mark, so we can carry these sails a lot further than anyone else does."
There is a giant foredeck hatch (complete with pneumatic seal) for dropping kites into and beneath this on the rear side is a giant roller for the take down system (the drop line runs aft to the transom and then up on deck and forward to the lazy runner winch).
"That is another thing the Wally guys don't realise. They think the boat is just fast, but we also sail it exceptionally well - it has been set up for it," states Mecoy. "We are not taking spinnakers down six or seven boatlengths from the mark, we are taking them down at the mark which saves a lot of time. And all of our hydraulics work, we can run every function simultaneously. Our sail handling and our ability to control our sails is far superior to any of the other Wallys and they are not accounting for that. They think it is pure boat speed."
The forestay is also EC6 but they use a Head Foil 2 which Mecoy says is lighter than a Tuff Luff. "The only problem is that with inside gybes ropes cut straight through it. Modern rope technology is great on the drums, but hell on everything else."
Down below as mentioned with her cruising 'furniture' entirely removed (this came out on Saturday once they'd been flicked from the Wally class) the interior is spacious and, apart from the galley, what furniture there is is minimalist. Other than the two head compartments forward there isn't much to suggest two staterooms normally reside here each with a double bunk. "There is a bulkhead that goes across the front but we take that out for racing," says Mecoy. "Initially we had canvas separating the two cabins, tying in with the rest of the theory behind the boat. Wally decided that wasn't sufficient so we put in extra bulkheads in – 40lb."
Under Wally rules 80% of the living area must be covered by something other than paint. So rather than having teak panelling as this rule presumably anticipated, instead the ceiling lining is in canvas that is stuck on by Velcro. Interior lighting his hidden behind this cover. Down either side of the saloon at lengthy seats built like pipecots and fitted with cushions.
Structurally to date Mecoy says they have had no problems. Interestingly this is the first boat that Reichel-Pugh have engineered in house, so no doubt they erred on the cautious.
It is of course not the first time a boat has been expelled from a class for being different. The counter argument to Highland Fling's case is that potentially they are 'ruining it' for everyone else. Whichever side of this argument you stand, there is no question that Laidlaw's latest steed is one of the coolest among a very expectional fleet down here in Porto Cervo.
Photos below by James Boyd
Back to top
Back to top