Mike Golding's 50th birthday present
Mike Golding's Ecover Sailing Team have managed to hold on to the top spot at the Extreme Sailing Series Kiel event going into the penultimate day tomorrow: Two 1st places, a 4th and a 5th in the fleet racing plus a win in the match racing gave them 67 points.
"It is great to be at the top at the end of today – a nice birthday present!" said Golding, who is 50 today. "The reality is that we still look behind us and see the same boats finishing at the top of the fleet so it is very, very close… We keep hoping that one of the other boats at the top will have a really disastrous race but there is none of that."
With only 8 points separating the top 3 boats, the British team are being closely shadowed by their French rivals… Yann Guichard and his crew on Groupe Edmond de Rothschild may not have claimed any race wins today but three second places and a third saw them steadily claiming points to move into second overall today, ahead of Loick Peyron's Oman Sail Masirah: "We were really consistent today… It's great and it's paying in the end," said Guichard. "We took some great starts and we are happy with the speed of the boat. We will have to keep the same pace – as usual every point is important."
In this star-studded class, every point is hard fought for and no team can feel secure with their advantage. Nearly every Extreme Sailing Series event goes to the wire and with a double points final race on Sunday, the skippers know how important it is to secure every point they can now.
The racing began in a steady 9 knots of breeze and the nine-boat fleet was speeding around the short race track, flying their hulls in front of the crowd. Each race lasting on average 12 minutes, covering each 800m leg in just 2-3 minutes.
Double Olympic Gold Medallist, Roman Hagara, at the helm of Red Bull Extreme Sailing had a far more satisfying day today on the water, scoring their first race win of the regatta. Obviously inspired to perform well under the gaze of German top model Miriam Holler who raced on board in the 5th man guest spot: "Even if we had some bad results at the beginning of the afternoon, we got better after a win," said Hagara. "We have to be a little bit more aggressive to catch up on the leaderboard. This light wind makes everything really hard." They continued in that vein with a second place in the penultimate fleet race with Red Bull Air Race World Champion, Hannah Arch spurring them on in the 5th Man spot. Their performance today has moved Red Bull Extreme Sailing up a place to 5th overall with 46 points, just two points behind The Wave, Muscat.
Despite being the lightest crew by about 40 kilos, it didn't help their performance and Paul Campbell-James will be disappointed to have dropped a place overall, although Peyron can be comforted to have an 11-point lead over his counterpart. With Groupama skipper Franck Cammas competing in the Sevenstar Round Britain & Ireland race on his Volvo Open 70, Tanguy Cariou is driving here in Kiel and will be pleased to have scored their best result of the regatta so far with a 4th place in the second race of the day to help elevate the team from 8th overall to 7th, two points behind Mitch Booth's The Ocean Racing Club.
By the penultimate fleet race the wind had dropped to just 5 knots and the rain became a more consistent feature that, thankfully, didn't seem to deter the spectators. A round of match racing then followed but by this time the wind had dropped to less than 3 knots, then almost nothing, proving a painfully slow exercise for the teams.
The German 'wild card' teams are not surprisingly finding the going tough against this experienced field but their objectives for competing are being met as Audi Sailing Team Germany skipper, Johannes Polgar, confirmed: "Every single race when we leave a competitor behind at the finish line is a great success for us. Our learning curve is steep but we're looking forward to the breeze that is supposed to pick up over the weekend."
The action continues tomorrow, Saturday 28 August from midday with foiling Moth demonstrations before the main act, the Extreme 40s take centre stage at 2.30pm.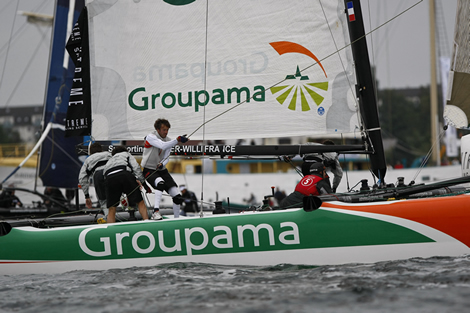 Back to top
Back to top