12 metre reunion
The members of sailing's royal court – to large extent – include any veteran of the storied 12 Metre era of America's Cup racing that stretched from 1958 to 1987. With 80 teams competing as contenders or defenders, there is a cadre of sailors whose involvement in the Cup – as skipper, crew, afterguard, designer, builder, syndicate member, race manager or press – has earned them admittance into sailing's version of Burke's Peerage: the 2010 America's Cup 12 Metre Era Reunion presented by Rolex.
Since the call went out in January heralding the September 16-19 event, numerous icons of the sport with vetted connections to the 12 Metre Era have confirmed their attendance at this event. They will enjoy, among other things, sailing on the Twelves, glamorous social events, and the film premier of Gary Jobson's '12 Metre Era Retrospective', all of which take place from Harbour Court, the New York Yacht Club's (NYYC) on-the-water clubhouse in Newport, Rhode Island.
For those who are simply fans of the Twelves, there is ample opportunity to live the glory days vicariously.
Starting on Wednesday, September 15, the 12 Metre North American Championships will bring the glamour of racing these elegant sloops – preserved for their historical significance and simple beauty – back to Narragansett Bay. There will be three days of racing (September 15-17) for the North American title with luminaries sprinkled among the fleet including Ted Turner and Gary Jobson sailing on American Eagle - US 21.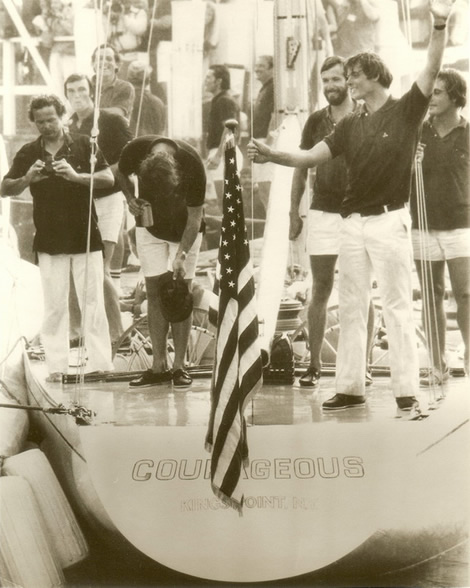 Bill Ficker, who skippered Intrepid - US 22 through its successful defense of the 1970 America's Cup over Australia's Gretel II - KA 3, will lead a Legends Panel at the Newport International Boat Show on Thursday, September 16, that will be free and open to the public (entrance is through Gate 3, with the forum taking place in the E Lot area starting at 5:00 p.m.).
On Saturday, September 18, the Twelves will have a start off Fort Adams for a Reunion Sail around Newport Harbor that will provide observers prime viewing into a window on the past with a glimpse of icons such as Malin Burnham, Dennis Conner, Syd Fischer, Sir James Hardy, Ted Hood, Halsey Herreshoff, Pelle Petterson and Bruno Trouble sprinkled across the fleet.
The highlight of the weekend will be the 17th America's Cup Hall of Fame Induction Ceremony presented by Rolex Watch U.S.A., during which five New Zealanders (Simon Daubney, Mike Drummond, Warwick Fleury, Murray Jones and Dean Phipps) and one American (Halsey Herreshoff of Bristol, Rhode Island) will join the 69 legends of the Cup who have previously been selected for membership in the Hall of Fame. For more information on the Saturday evening event, please visit The Herreshoff Marine Museum website.
Closing out the weekend will be the second Legends Panel which will be moderated by Gary Jobson and Tom Whidden, on Sunday, September 19, preceded by a brunch that starts at 11:00 a.m.
Back to top
Back to top