Team Aqua into the lead again
Chris Bake's Team Aqua stood up to challenging conditions today and find themselves the new leaders of the fleet racing at the RC 44 Valencia Cup.
Team Aqua added 9 points to its scoreline today and leads overall with 23 points. Close behind and itching for a fight is Torbjorn Tornqvist's Artemis, which won today with a 1-3-2-1. Artemis has 27 points overall.
With a minimum of three races expected, the fleet racing title is up for grabs.
"Aqua is very solid, they've had a fantastic week," said Torbjorn Tornqvist. "But I feel we chipped away at them today."
"It was full on today," said Chris Bake, a Canadian living in the U.A.E. "We managed to stay clear and clean, and our crew work was flawless."
Day 1 leader, Anders Myralf and Team 17, slipped to third with 32 points today. "The difference between good and bad in this fleet is this close," said Myralf, holding his thumb and index finger less than an inch apart. "We just didn't feel … we just weren't lucky. It's very aggressive sailing."
Today's conditions were widely described as challenging by the crews. The southeasterly sea breeze came in early at 20 knots and stayed there, kicking up the short, sharp chop that throws about the light-displacement RC 44s. With the opening leg of the race course set at 1.3 nautical miles, about twice the length of the match racing course, the conditions made for a tough time hiking over the rail.
"We've had every condition these past two days. Yesterday was light with huge shifts. Today was breezy and challenging with quite big waves. They were very nice conditions," said Bake. "Once we were locked in and truckin', we made good progress upwind."
Aqua and Artemis were easily the most consistent crews todayday. Neither team scored worse than a fourth. Other teams, such as Pieter Heerema's No Way Back, scored two seconds but they bookended an eighth and ninth.
Rene Mangold's AEZ RC 44 Sailing Team faced a similar scenario. They placed 11-7-11-9 today, but were fourth and sixth at two windward marks only to see the spinnaker fall under the boat during the set.
Mangold said his crew is hardly discouraged, but added that they need more practice. "We had some small mistakes, but a small mistake in this class is a big mistake. We are all amateurs and have jobs at home. Sailing is our avocation and we don't have the time to practice. With practice time we can improve."
Three races are scheduled tomorrow the final day of the regatta. The first warning signal is scheduled one hour earlier, 12:00 pm CET. No warning signal will be made after 3:00 pm.
RC 44 Valencia Cup - Fleet racing provisional results
1. Team Aqua / Chris Bake (UAE) 2-3-5-4-3-1-1-4, 23 points
2. Artemis / Torbjorn Tornqvist (SWE) 5-7-2-6-1-3-2-1, 27 points
3. 17 / Anders Myralf (USA) 1-4-1-1-5-4-5-10, 32 points*
4. No Way Back / Pieter Heerema (NED) 8-2-7-5-2-8-9-2, 43 points
5. BMW ORACLE Racing / Maxim Logutenko (USA) 10-6-4-2-4-6-6-5, 43 points
6. Katusha / Guennadi Timtchenko (RUS) 9-1-8-3-10-9-3-6, 49 points
7. Team Sea Dubai / Harm Mueller-Speer (UAE) 7-8-11-9-7-2-7-3, 54 points
8. Ceeref / Igor Lah (SLO) 6-11-3-7-8-10-4-7, 56 points
9. Islas Canarias Puerto Calero / Daniel Calero (ESP) 3-9-9-10-6-5-8-8, 58 points
10. AEZ RC44 Sailing Team / Rene Mangold (AUT) 4-10-10-8-11-7-11-9, 70 points
11. Mascalzone Latino Audi Team / Vincenzo Onorato (ITA) 11-5-6-11-9-11-10-11, 74 points
(* includes 1 point penalty by International Jury)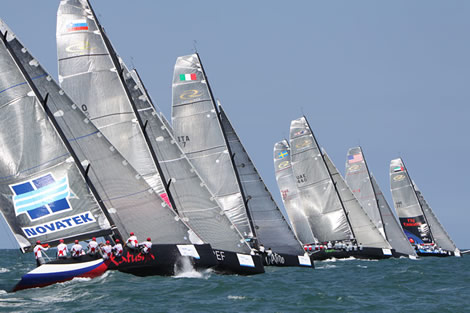 Back to top
Back to top