Vela Veloce claims title
After four days of racing in a variety of conditions across a mix of around-the-buoys and distance, New York Yacht Club's seventh biennial Race Week at Newport presented by Rolex came to an end this afternoon.
Light winds threatened to cancel the last day of racing for the 35 competing boats, but by 1400 Newport's classic southerly sea breeze filled in against a stubborn northerly and offered suitable conditions for racing. All classes raced on a four-leg windward/leeward course, and at the end of the day the Southern Cross 52 Vela Veloce was determined the best performing boat and was named the 2010 Rolex US-IRC National Champion. Its owner and skipper, Canadian Richard Oland, was presented with a specially engraved Rolex Yacht-Master at this evening's Rolex Gala and Awards Party held at Harbour Court.
"This is a tremendous thrill for us," said Oland, who won his IRC class in March's International Rolex Regatta. He pointed out that competing against all of the boats in the fleet is exciting. "That's the secret of IRC. The reason it's become so good is because it allows for innovation. If you look at the results, and you look at boats you see how close they are. Like in our class, class 2, we were all within 50 feet."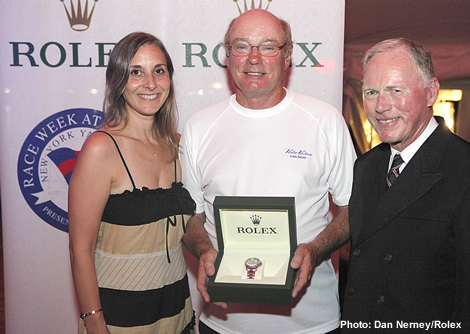 The overall winner was calculated by comparing all entries based on a formula of average seconds per nautical mile. In determining the overall winner, the NYYC Sailing Office noted that the time separating winner Vela Veloce from the second-place overall was 13/100s of a second.
Winning the class wasn't enough; it was the overall performance that counted. Not much of a consolation to Steve Benjamin and his team onboard his Tripp 41 Robotic Oncology, which won IRC Class 3 and finished in second place overall.
"We knew we won our class quite easily," said Benjamin. "We knew we had a good shot at the overall title. Today was great, but we were nervous because there was so much on the line. We have been trying to win with this boat for the past five years, and although we have had some success there was all this added pressure."
Vela Veloce won IRC Class 2 with an impressive score line of four first places and two seconds. In second place was Captivity, George Sakellaris's Farr 60, 10 points back. Although Blair Brown's 55ft Sforzando won today's final race, it wasn't enough to move up in the standings, and it finished in third. Robotic Oncology finished the regatta with five wins and one fifth-place finish in six races. After racing, Benjamin's oncologist Dr Samadi of Mount Sinai Hospital, who was on the water watching today's race was clearly impressed with his patient's racing skills. "The way that he worked with his team is the same as when you do robotic surgery. You have to work together with your team in the same way. Steve did an amazing job."
John Cooper's Mills 43 Cool Breeze placed second in IRC Class 3, while Philip Lotz's NYYC Swan 42 Arethusa finished in third.
Dan Meyers's J-V 66 Numbers took a second in today's only race and held onto the lead in IRC Class 1 leaving George David's Rambler in second overall ahead of Australian Ray Roberts's STP65 Evolution Racing.
IRC Class 5 winner was Storm, Rick Lyall's J/109 that moved up to win the overall class by placing third in today's race. "We only started racing in IRC, and this is our fourth or fifth IRC event," said Lyall. "It's a very good measurement and rating system. We seem to have a competitive boat. We worked really hard at making sure we had a good configuration in the sail plan, and we sailed really well. To have beat Carina, the winner of Newport Bermuda Race, in the Annual Regatta and now here. Well, that's top-notch competition. You know, Rush beat us earlier this year, and it's been back and forth with them. They put in a really good effort."
Bill Sweetser's J/109 Rush finished in second, while Nordlys, Robert Schwartz's J/109, finished in third by winning the last race.
Lyall went on to give credit to the split-format of Race Week. "The first half of the week was our J/109 North American championship," he said. "And that was very tough and competitive racing. Coming into it I was the defending champion. I was disappointed we didn't' defend, but Gut Feeling is a bunch of great sailors and we take no shame in losing to them. In the IRC event, we had a really terrific distance race. You can't ever beat a race like that with 25 knots of wind. We were going 14 knots; it was fantastic racing!"
Christopher Dragon held onto its IRC Class 4 lead going into today's final race, finished second and held on to win overall. "To tell you the truth, we were hoping for no race," joked owner and skipper Andrew Weiss. "It turned out pretty well. The breeze filled in, and the wind wound up being steadier than yesterday."
The J/122 won by one point over Craig Albrecht's Farr 395 Avalanche. "All we did for today was cover Avalanche and the other J/122, Partnership," said Weiss. "We sailed more conservatively, after being over the line early yesterday. To win the series was our goal."
Final Results

Overall Rolex US-IRC National Championship
1. Vela Veloce, Southern Cross, Richard Oland, Saint John, Maine
2. Robotic Oncology, Tripp 41, Stephen Benjamin, South Norwalk, Conn.
3. Numbers, JV 66, Daniel M. Meyers, Boston, Mass.
4. Christopher Dragon, J122, Andrew Weiss, Mamaroneck, N.Y.
5. Storm, J/109, Rick Lyall, Wilton, Conn.
Class Winners
Class - IRC 1
1. Numbers, JV 66, Daniel M. Meyers, Boston, Mass, 2-2-1-1-1-2, 9
2. Rambler, Custom 90, George David, Hartford, Conn., 1-1-2-3-3-1, 11
3. Evolution Racing, STP65, Ray Roberts, Alexandria, AUS, 3-3-3-2-2-3, 16
Class - IRC 2
1. Vela Veloce, Southern Cross, Richard Oland, Saint John, Maine, 1-1-1-1-2-2, 8
3. Captivity, Farr, George Sakellaris, Framingham, Mass., 2-2-8(DNF)-2-1-3, 18
2. Sforzando, Kerr 55, Blair, Brown, Padanaram, Mass., 4-3-4-3-4-1, 19
5. Snow Lion, Ker 50, Lawrence Huntington, New York, N.Y., 3-4-6-5-3-7, 28
4. Privateer, Cookson 50, Ronald O'Hanley, Boston, Mass., 5-6-2-7-5-6, 31
6. Rima2, R/P 55, John Brim, New York, N.Y., 6-7-3-4-6-5, 31
7. Anema&Core, JV52, Ennio Staffini, Annapolis, Md., 7-5-5-6-7-4, 34
Class - IRC 3
1. Robotic Oncology, Tripp 41, Stephen Benjamin, South Norwalk , Conn., 1-1-5-1-1-1, 10
2. Cool Breeze, Mills 43 Custom, John Cooper, Springfield, Mo., 2-2-4-3-2-2, 15
3. Arethusa, NYYC 42, Philip Lotz, Newport, R.I., 3-4-1-2-3-3, 16
4. The Cat Came Back, NYYC Swan 42, Lincoln Mossop, Bristol, R.I., 7-7-2-4-4-4, 28
5. Devocean, Swan 45, Stephen DeVoe, Jamestown, R.I., 4-3-3-6-6-6, 28
6. Big Booty, Lutra 42, Pat Eudy, Charlotte, N.C., 5-5-7-5-5-5, 32
7. Temptation, Taylor 45, Arthur Santry, Arlington, Va., 6-6-6-7-7-8(DNF), 40
Class - IRC 4
1. Christopher Dragon, J/122, Andrew Weiss, Mamaroneck, N.Y., 1-1-1-3-4-2, 12
2. Avalanche, Farr 395, Craig Albrecht, Sea Cliff, N.Y., 2-2-4-2-2-1, 13
3. Partnership, J/122, David & MaryEllen Tortorello, Fairfield, Conn., 5-4-2-1-3-3, 18
4. Act One, Sloop, Charlie Milligan /Tom Roche, Newport, R.I., 3-7-3-4-7-5, 29
5. Alliance, Summit 35, Dominick Porco, New York, N.Y., 7-3-8-5-1-7, 31
6. Indra, Beneteau First 44.7, Thomas Linkas, South Hamilton, Mass., 8-8-6-6-5, 33
7. Settler, Cust. Peterson 42, Thomas Rich, Middletown, R.I., 4-6-7-8-6-6, 37
8. White Gold, J/44, James D. Bishop, New York, N.Y., 8-5-5-7-8-DNS, 42
Class - IRC 5
1. Storm, J/109, Rick Lyall, Wilton, Conn., 1-4-3(RDG)-2-4-3, 17
2. Rush, J/109, Bill, Sweetser, Annapolis, Md., 3-2-4-1-3-4, 17
3. Nordlys, J/109, Robert Schwartz, Port Washington, N.Y., 4-7-6-3-1-1, 22
4. Carina, Cstm Sloop, Rives Potts, Essex, Conn., 7-1-1-6-7-2, 24
5. Cowboy, N/M 46, Isdale/Cochran, Greenwich, Conn., 2-5-8-4-2-6, 27
6. Good Girl, J/100, Robert W. Armstrong, Christiansted, St. Croix, USVI, 5-6-2-5-5-10(DNS), 33
7. Eclipse, Corby 33, Dave Kellogg, Oyster Bay, N.Y., 6-3-9-8-8-5, 39
8. Out of Reach III, X-35, Louis Nees, New York, N.Y., 8-8-5-7-6-10 (DNS), 44
9. Blue Rider, J/109, Eric Kamisher, Norwalk, Conn., 9-9-3-9-9-10 (DNC), 49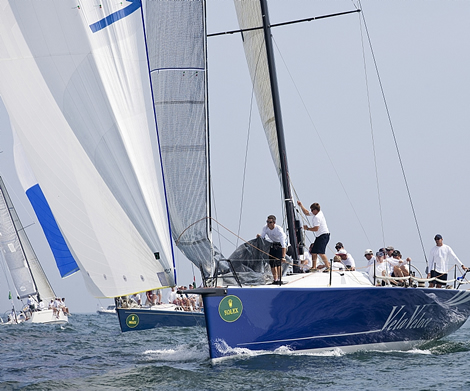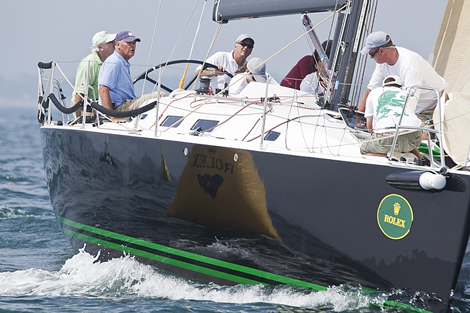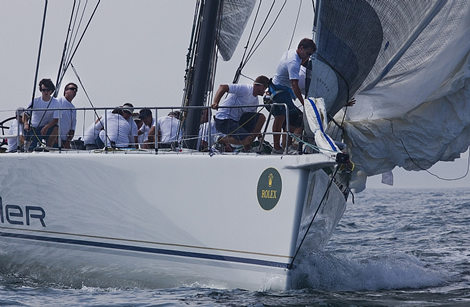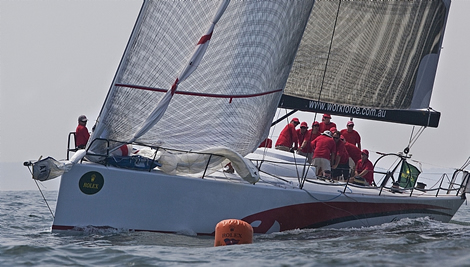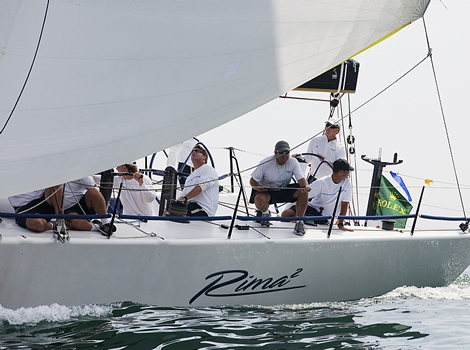 Back to top
Back to top