Rambler ahead
The second half of New York Yacht Club Race Week at Newport presented by Rolex began as many New England summer days do with fog, humidity and light wind. By the 11am starting time, the NYYC Race Committee reported 6-8 knots of wind, which held steady for today's two races. Since this half of the regatta is doubling as the Rolex US-IRC National Championship, all 35 boats are being scored with a handicap rating – IRC – that allows dissimilar boats to compete against each other.
In IRC 1, the largest entry was also the fastest. George David's 90ft Rambler, under the guidance of tactician Tom Whidden, gobbled up the first and second race, taking line honoUrs in both. Once the IRC handicap rating formula was applied to the elapsed time in both races, Rambler was determined the overall leader.
With David called away at the last minute, Peter Isler took over the helm, a role he clearly relished: "I'm super happy any day that we get two firsts," said Isler. "It's challenging. Rambler is a big boat and the size makes it a challenge for the helm. I've sailed on it a lot with only a bit of time on the helm during distance races. George usually steers all the around-the-buoy races."
Although Isler has raced in Newport many times, the foggy conditions still give him pause. "It's always a tough place to sail because visibility isn't always so clear," he explained. "The sun will come out on one side (of the course) and it looks glassy because of the sun. Visually on a day like today it's harder than normal. You're always looking for visual cues. Tom did a really good job on tactics."
He went on to explain that Rambler owes time to Dan Meyers's Numbers and Ray Roberts's STP65 Evolution Racing, and it is not always clear which boat is leading during racing. "They have a great team on Numbers, and they always give us a good battle. It's good to see Dan Meyers back on the helm." During the first race Numbers caught a lobster pot line during a mark rounding and lost valuable time. Numbers is in second overall. Evolution Racing is in third.
Many sailors might recognise Evolution Racing by its former name, Rosebud/Team DYT. Designed by Bruce Farr, she won the 2007 Rolex Sydney Hobart Yacht Race and has claimed victories across the US, Mediterranean and at Cowes Week in England. The pedigree was not lost on Roberts, who purchased the boat with the intention of winning the 2010 Rolex Sydney Hobart Yacht Race. "I have tried to win on many occasions with third- and fourth-place finishes," said Roberts of the notorious annual distance race that has eluded him for 17 years. "It's one of those things that hangs out there and you keep fighting to try and win it."
Those who follow international racing may recall that the boat had suffered rig and hull damage in the Rolex Middle Sea Race. "I bought it in its damaged state, sent it to NEB (New England Boat Works, based in Portsmouth, R.I.) and we completely stripped it," said Roberts. In addition to repairing the damaged bow section, Hall Spars was commissioned to build a new mast. "We feel it's a little innovative and different and are hoping it has a technical edge," continued Roberts.
In IRC 2 George Sakellaris's Farr 60 Captivity took line honours in the first race, but finished in second behind Richard Oland's Vela Veloce. The Southern Cross 52 Vela Veloce corrected to first place for both races. "Today went really well," said navigator Geoff Ewenson who grew up sailing in Newport. "We've got a pretty darn good team with Richard Clarke driving the boat and Stu Bannatyne doing tactics. They work really well together, and they trust each other. It makes my job easy."
Ewenson explained that Vela Veloce and Captivity were neck and neck throughout the day with Sforzando in strong contention. "You have to look at who the players are in the starting area," he said. "Peter Bromby was driving Sforzando. I've never seen someone who can win the pin like he does. We felt the pin was favoured by as much as 15 degrees, in our book. As we came off the line we looked up and there's Bromby. He has made a living for years and years owning the pin end of starting lines, and today was no exception. He won both times. Thankfully we're a little bit quicker than they are and if he gets a good start he gets swallowed by the faster boats."
Blair Brown's 55ft Sforzando and Lawrence Huntington's Ker 50 Snow Lion split third and fourth finishes to tie for third overall.
Steve Benjamin's Tripp 41 Robotic Oncology won both races and leads the seven-boat IRC 3 class, while Andrew Weiss's Christopher Dragon leads the eight-boat IRC 4 class. The nine-boat IRC 5 class is headed by Rick Lyall's J/109 Storm.
All told, 35 IRC-rated boats are entered in this second half of Race Week. Last weekend saw 107 yachts competing in Race Week's first half. Racing continues through Saturday where the best performing boat will take the Rolex US-IRC National Championship title and its skipper will be presented with a specially engraved Rolex timepiece at the Rolex Gala and Awards Party on Saturday evening.
After the post-racing refreshments in the Hospitality Villa, the New York Yacht Club will host an owners' dinner this evening at Harbour Court.
Class - IRC 1
1. Rambler, Ctm 90, George David, Hartford, CT, 1-1, 2 points
2. Numbers, JV 66, Daniel M. Meyers, Boston, MA, 2-2, 4
3. Evolution Racing, STP65, Ray Roberts, Alexandria, (AUS), 3-3, 6
Class - IRC 2
1. Vela Veloce, Southern Cross, Richard Oland, Saint John, CAN, 1-1, 2 points
2. Captivity, Farr, George Sakellaris, Framingham, MA, 2- 4
3. Sforzando, Kerr 55, Blair, Brown, Padanaram, MA, 4-3, 7
4. Snow Lion, Ker 50, Lawrence Huntington, New York, NY, 3-4, 7
5. Privateer, Cookson 50, Ronald O'Hanley, Boston, MA, 5-6, 11
6. Anema&Core, JV52, Ennio Staffini, Annapolis, MD, 7-5, 12
7. Rima2, R/P 55, John Brim, New York, NY, 6-7, 13
Class - IRC 3
1. Robotic O€€ncology, Tripp 41, Stephen Benjamin , South Norwalk , CT, 1-1, 2 points
2. Cool Breeze, Mills 43 Custom, John Cooper, Springfield, MO, 2-2, 4
3. Devocean, Swan 45, Stephen DeVoe, Jamestown, RI, 4-3, 7
4. Arethusa, NYYC 42, Philip Lotz, Newport, RI, 3-4, 7
5. Big Booty, Lutra 42, Pat Eudy, Charlotte, NC, 5-5, 10
6. Temptation, Taylor 45, Arthur Santry, Arlington, VA, 6-6, 12
7. The Cat Came Back, NYYC Swan 42, Lincoln Mossop, Bristol, RI, 7-7, 14
Class - IRC 4
1. Christopher Dragon, J122, Andrew Weiss, Mamaroneck, NY, 1-1, 2 points
2. Avalanche, Farr 395, Craig Albrecht, Sea Cliff, NY, 2-2, 4
3. Partnership, J 122, David & MaryEllen Tortorello, Fairfield, CT, 5-4, 9
4. Alliance, Summit 35, Dominick Porco, New York, NY, 7-3, 10
5. Act One, Sloop, Charlie Milligan /Tom Roche, Newport, RI, 7-3, 10
6. Settler, Ctm. Peterson 42, Thomas Rich, Middletown, RI, 4-6, 10
7. White Gold, J/44, James D. Bishop, New York, NY, 8-5, 13
8. Indra, Beneteau First 44.7, Thomas Linkas, South Hamilton, MA, 8-8, 16
Class - IRC 5
1. Storm, J109, Rick Lyall, Wilton, CT, 1-4, 5 points
2. Rush, J/109, Bill, Sweetser, Annapolis, MD, 3-2, 5
3. Cowboy, N/M 46, Isdale/Cochran, Greenwich, CT, 2-5, 7
4. Carina, Ctm. Sloop, Rives Potts, Essex, CT, 7-1, 8
5. Eclipse, Corby 33, Dave Kellogg, Oyster Bay, NY, 6-3, 9
6. Nordlys, J 109, Robert Schwartz, Port Washington, NY4-7, 11
7. Good Girl, J/100, Robert W. Armstrong, Christiansted, USVI, 5-6, 11
8. Out of Reach III, X-35, Louis Nees, New York, NY, 8-8, 16
9. Blue Rider, J109, Eric Kamisher, Norwalk, CT, 9-9, 18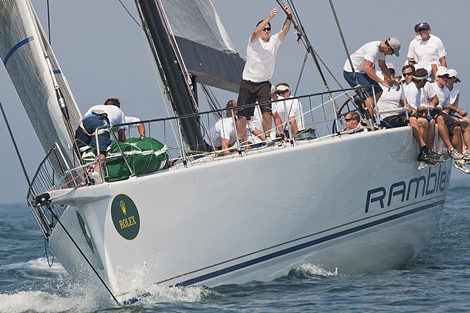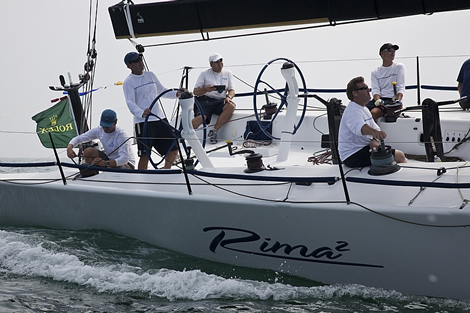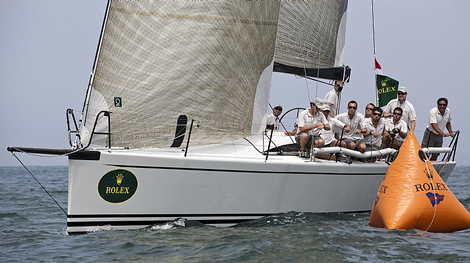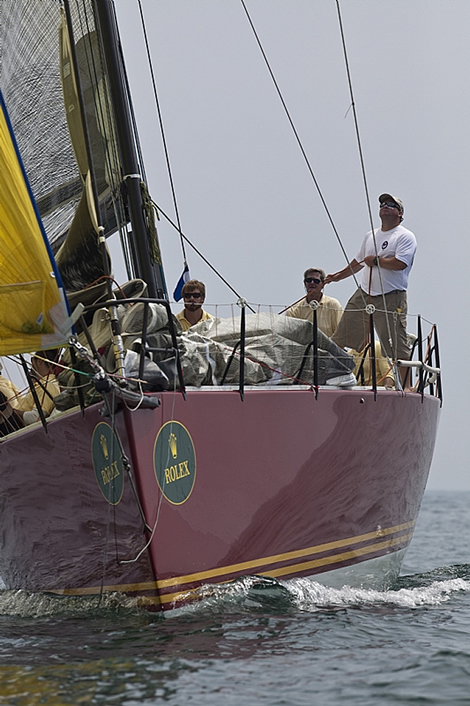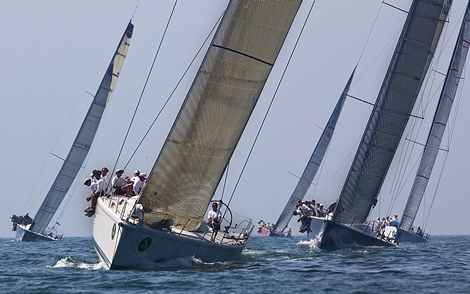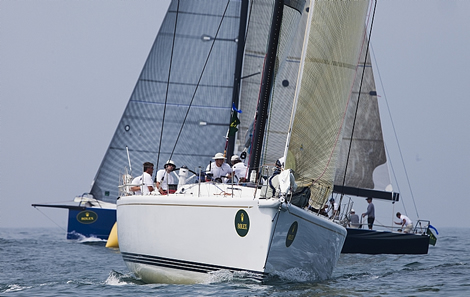 Back to top
Back to top