Thundery Newport
The first half of the biennial New York Yacht Club Race Week at Newport presented by Rolex has also now concluded for five more one-design classes that have been racing since Saturday. The catch, however, was that today's first race had to be abandoned and then competition cancelled when severe thunderstorms passed over Rhode Island Sound, leaving winners to be determined by cumulative standings posted yesterday.
The circumstances left J/105 skipper Damian Emery sailing his J/105 Eclipse in the largest class here (20 boats), very happy. He is now the 2010 J/105 East Coast Champion, a title he also won in 2008 at this regatta, coincidentally under similar circumstances when a storm aborted racing on the last day. "The difference was that then, we shredded all of our sails because we didn't get them down fast enough," said Emery at the early afternoon Rolex Awards Ceremony where the sky had returned to sunny blue. "This time, we could see the front coming through and we were the first to drop our sails."
According to Robin Wallace, Principal Race Officer for the White Course, where the J/105s and the Beneteau First 36.7s sailed, "It had looked as if the initial storm cell would track north of the course, but then a knuckle developed right across the sailing area, with heavy, heavy rain and winds up to 27 knots." Since the Race Committee had forewarned everyone to keep their radios on, both fleets--which by then were approaching the first leeward mark on a twice-around course--knew to change course for home.
Eclipse's tactician Dan Neff explained that his team only needed an eighth or better in both races to win. "Based on our previous performance (victories in four of six races), we felt reasonably comfortable that we'd do that," said Neff, "but the stress was still on." Joerg Esdorn's (Katonah, N.Y.) Kincsem, which finished second overall, "was capable of posting two bullets if we weren't there."
In a similar situation, but with less of a winning margin was Ted Herlihy, skipper of Gut Feeling in the 13-boat J/109 Class, which was sailing for its North Americans. Second-placed Caminos, owned by Don Filippelli and skippered by Ryan Dempsey, had only four points to make up, and Herlihy was "worried about what could happen." In fact, in the pre-start time frame, the 10-12 knot breezes dropped to almost nothing, and Gut Feeling had a hard time getting to the line. "After the first mark we weren't looking good," said Herlihy, "and then the thunder storms roared in." Caminos bow-woman Kristen Robinson said her team accepted that Gut Feeling out-sailed them over six races, "but we really wanted to battle it out today; I wish Mother Nature would have given us just 30 more minutes...."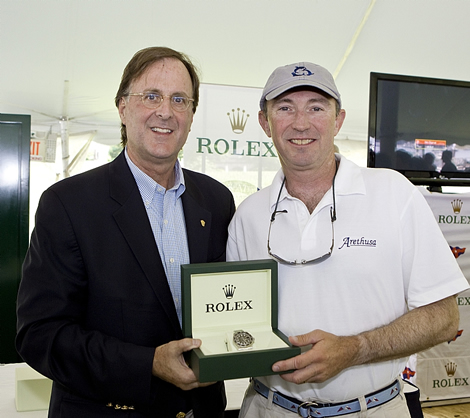 Phil Lotz, skippering Arethusa, seemingly trounced the competition in the 15-boat NYYC Swan 42 class to become that class's National Champion for a second consecutive year. His team posted four victories in six races to lead Glen Darden/Phillip Williamson's Hoss by 16 points in overall scoring. Lotz, however, was philosophically proud of his third- and fourth-place finishes in races four and six, respectively. He had had to fight back for the fourth from deeper in the fleet, and about the third, he said, "We all finished within a few feet of each other, and that sums up how racing went the entire weekend."
Emery, Herlihy and Lotz all won Rolex Oyster Perpetual Submariners for their performances.
Two more teams won their classes by never losing their early leads. Thomas Boyle's Wings topped the seven-boat J/122 class and took the North American title home after a hotly contested battle with second-place finisher Pugwash, owned and skippered by David Murphy, while John Hammel's Elan won in the eight-boat Beneteau First 36.7 class, winning all but one of six races.
The second half for the New York Yacht Club Race Week at Newport presented by Rolex officially starts Wednesday and serves as the Rolex US-IRC National Championship. Over all days, the event will have catered to 145 boats and 1200 sailors over seven days of competition.
Final Results for First Half – Top three in each class
Position, Boat Name, Skipper, Hometown, Finishes, Total points
Blue Fleet – 6 races completed
Class 1 – NYYC Swan 42 (15 boats)
1. Arethusa, Phillip Lotz, Newport, R.I., 1-1-1-3-1-4, 11
2. Hoss, Darden /Phillip Williamson, Fort Worth, Texas, 2-6-5-4-5-6, 28
3. Daring, John Hele Newport, R.I., 5-8-3-5-7-2, 30
Class 2 – J/122 (7 boats)
1. Wings, Thomas Boyle, Irvington, N.Y., 1-1-1-2-1-1, 7 points
2. Pugwash, David Murphy, Westport, Conn., 4(SCP)-2-2-1-2-2, 13
3. Christopher Dragon, Andrew Weiss, Mamaroneck, N.Y., 3-4-3-3-3-3, 19
Class 3 – J/109 (13 boats)
1. Gut Feeling, Ted Herlihy, South Dartmouth, Mass., 2-1-1-1-2-4, 11
2. Caminos, Dan Filippelli, Amagansett, N.Y., 3-2-2-3-3-2, 15
3. Gossip, Steve Kenny & Greg Ames, Wainscott, N.Y., 1-3-4-2-3, 17
White Fleet – 6 races completed
Class 1 – PHRF 1 (10 boats)
1. Good Girl, J/100, Robert Armstrong, St. Croix, 1-1-1-2-2-1, 8 points
2. Settler, Peterson 42, Thomas Rich, Middletown, R.I., 2-3-2-1-1-2, 11
3. Act One, Summit 354, Charlie Milligan & Tom Roche, Newport, R.I., 2-3-3-3-3, 18
Class 2 – Beneteau First 36.7 (8 boats)
1. Elan, John Hammel, Arlington, Mass., 1-1-1-2-1-1, 7 points
2. Whirlwind, William Purdy, New York, N.Y., 4-4-1-2-6, 21
3. Kea/Slipstream, Chick Pyle, San Diego, Calif., 3-3-5-6-4-2, 23
Class 3 – J/105 (20 boats)
1. Eclipse, Damian Emery, Shoreham, N.Y., 1-1-4-1-3-1, 11 points
2. Kincsem, Joerg Esdorn, Katonah, N.Y., 6-2-1-4-5-7, 25
3. Savasana, Brian Keane, Weston, Mass., 3-3-5-12-1-5, 29
Green Fleet – All classes completed two races today
Class 1 – CRF 1 (3 boats)
1. Black Watch, Trevor Fetter, Dallas, Texas, 2-1-1, 4 points
2. Bolero, Edward Kane, Concord, Mass., 1-2-2, 5
3. Sumurun, Robert Towbin, Camden, Maine, 3-3-3, 9
Class 2 – 12 Metre (5 boats, Two races)
1. Courageous, Ralph Isham, New York, N.Y., 2-4-1-1-, 8 points
2. Victory 83, Dennis Williams, Hobe Sound, Fla., 1-1-2-4, 8
3. USA 61, Guy Heckman, Newport, R.I., 3-3-4-2, 12
Class 3 – CRF 2 (5 boats, Two races)
1. Chips, Jed Pearsall, Newport, R.I., 1-1-2, 4 points
2. Sonny, Joseph Dockery, Newport, R.I., 2-2-1, 5
3. Fortune, Don Glassie, Newport, R.I., 3-3-4, 10
Class 4 – 6 Metre (6 boats; two races)
1. Ranger, Thomas Rodes, Cambridge, Mass., 1-4-1-1, 7 points
2. Syce, Bob & FarleyTowse, Stamford, Conn., 2-1-2-2, 7
3. Madcap, Thomas Fair, N. Kingstown, R.I., 6(DNC)-2-3-3, 14
Class 5 –S Class (10 boats, two races)
1. Firefly, Alan Silken, Newton, Mass., 1-1-1-4, 7 points
2. Osprey, Mike McCaffrey, Newport, R.I., 2- 4-3-3, 12
3. Argument, Stephan Sloan, E.Greenwich, Conn., 3-5-8-1, 17
Class 6 – PHRF 2 (5 boats, Two races)
1. Park Place, O'Day 34, Richard Mentelos, Guilford, Conn., 1-1-1-4, 7 points
2. Wolverine, Frers 33, David Nauber, Higganum, Mass., 2-2-3-1, 8
3. Showdown, Bijan Rasadi, Groton, Conn., 3-3-2-3, 11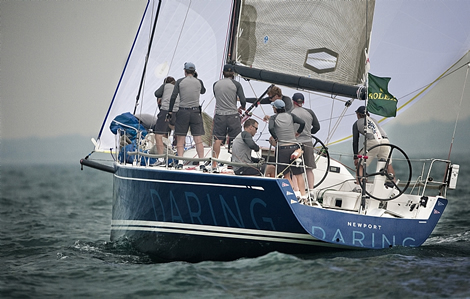 Back to top
Back to top