Three of the four semi-final places assured
The World Match Racing Tour contenders have now settled into daily winds of 12–15 knots running the length of the fjord off Marstrand. Stena Match Cup Sweden's race course looks as though it was modeled on a match racing amphitheatre and has provided the best conditions yet experienced on this year's Tour calendar.
Mathieu Richard, Torvar Mirsky and Ian Williams headed back into buzzing Marstrand safe in the knowledge that they have a place in the quarter finals combat. These three sailors are on a roll with Mirsky at 6-1, Williams at 5-1 and Tour leader Richard at 5-2. Also with a confident charge at joining the quarter finals fray are TeamOrigin's Ben Ainslie sitting snugly on 5-2 and France's Damien Iehl who has found his feet quickly and sits on 5-1.
Mirsky who is now based out of Sweden was quick to mention the lay day scenario for Stage 5, "Last year and also this year we've got the same problem - we have a day off before the quarters because there are two regattas at once - the men's and women's. This is a unique thing to Sweden it doesn't happen anywhere else, you get lots of breaks so we are going to have to try and stay focused and not get too distracted with all the island distractions out here in Marstrand and make sure we are ready for the boys. We'll probably be racing someone who has sailed on Thursday and that's going to be really tough for us".
Williams is really enjoying the new-look World Match Racing Tour format this year, "I'm pleased to be guaranteed into the quarters now with five wins - that's a great spot to be in and if we win tomorrow then we should win the round robin which is something to push for. It's a shame about our match against Magnus, we were leading and then made a couple of bad decisions up the beat and he snuck past so in all credit to him he put the pressure on so we are going to have a think about this and try to not make the same mistake again and learn from it".
Magnus Holmberg added: "It was a bit rough this morning and I don't think we sailed very well and then during our break in the third flight of the day we talked through things and tried to understand what we needed to do differently. We've only been sailing with each other for 4 Tour events now and Jimmy got injured on the way here so we have one new crew. We need a bit of time to get things running properly and struggled in the breeze a little bit this morning as we're not that used to each other on the boat. But we are looking to improving again and win some more matches".
For New Zealander Adam Minoprio it was a 'must win race day'. After a frustrating start to the round robin yesterday he favoured a 'no comment' approach to pre-race media queries. The fun and mischievous side of this New Zealander's personality was firmly masked behind deep pre-race concentration and ambitious analysis. This was due to the realisation the he had to pull his team straight into defensive style racing and guarantee three straight wins to last another round into the quarter finals. Minoprio managed to transform his anger built-up from day one's disappointment into positive quick impact energy and fired in two wins.
Minoprio was then hampered during flight 8 in his last match against the experienced Dane, Jesper Radich. As he commented: "Yesterday we made mistakes. Today we knew we had to win all 3 to guarantee the quarter finals. We won the first 2 and then got given a penalty in the match against Radich during a water call which I still don't understand as we tacked straight back. We need a lot of luck to be able to squeeze through it's a bit disappointing really with this 2 group format. I'm going to work it out this evening and see if we still have a chance to go through".
Peter Gilmour also had an anxious day watching the quick fire racing from the shore as he was not scheduled to race. Having been quoted yesterday saying, "We need a big improvement to go through to the quarter finals', this has not been a relaxing day off for the Stage 4 champion. Gilmour like Minoprio today now has to get his head down and just go for broke to have any chance at making the quarters.
Going into day three tomorrow of Stena Match Cup Sweden the torment will continue as the atmosphere electrifies. The top 5 skippers are all now looking yet again at the overall Tour ladder results and gauging who they need to close the gap on. Mirsky is now looking at the overall picture all of the time, "We need to catch Mathieu up for sure, he's quite far ahead on the Tour at the moment and he's sailing well in the other group so in one way we want to race him so we can knock him out and in another way we don't want to because he's sailing so well".
Round robin results:
| | | | |
| --- | --- | --- | --- |
| Group A | | Group B | |
| Damien Iehl (FRA) French Match Racing Team | 5-1 | Torvar Mirsky (AUS) Mirsky Racing Team | 6-1 |
| Mathieu Richard (FRA) French Match Racing Team | 5-2 | Ian Williams (GBR) Team GAC Pindar | 5-1 |
| Adam Minoprio (NZL) ETNZ/BlackMatch Racing | 3-4 | Ben Ainslie (GBR) TEAMORIGIN | 5-2 |
| Jesper Radich (DEN) Rudy Project Sailing Team | 2-0 | Peter Gilmour (AUS) YANMAR Racing | 1-3 |
| Francesco Bruni (ITA) Azzurra | 2-2 | Magnus Holmberg (SWE) Sigma Racing Team | 1-2 |
| Staffan Lindberg (FIN) Alandia Sailing Team | 1-2 | Reuben Corbett (NZL) Black Sheep Racing | 0-2 |
| Björn Hansen (SWE) Hansen Global Team | 0-4 | Keith Swinton (AUS) Black Swan Racing | 0-3 |
| Mattias Rahm (SWE) Stena Bulk Sailing Team | 0-3 | Johnie Berntsson (SWE) Berntsson Sailing Team | 0-4 |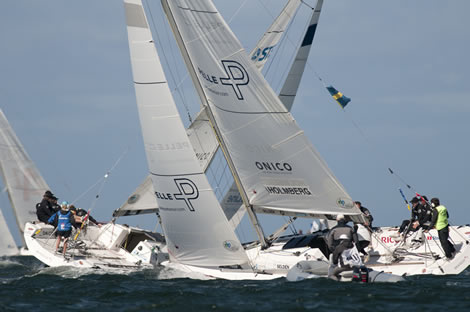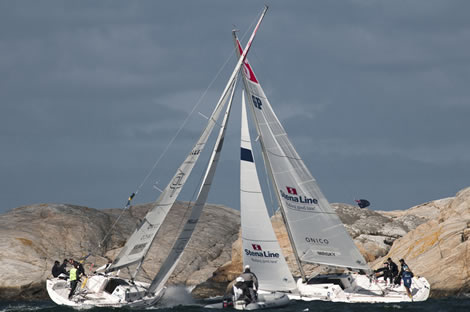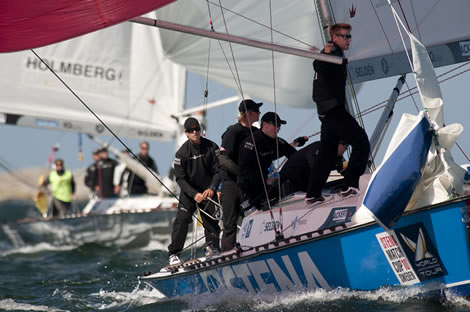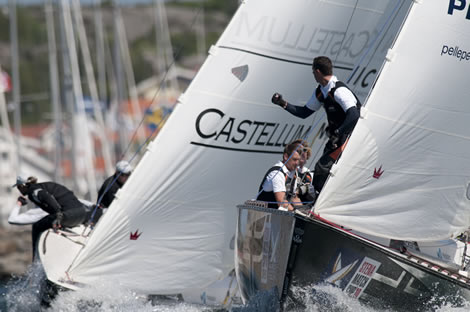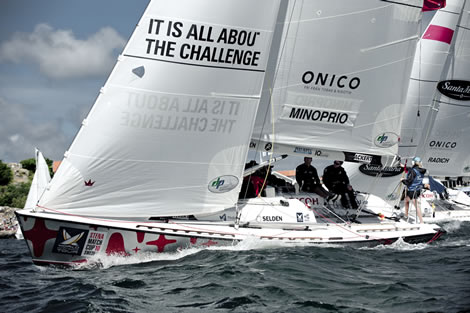 Back to top
Back to top