Norway's Fever moves into pole
The third day of the 2010 Dragon Edinburgh Cup, supported by Aberdeen Asset Management, may have featured only one championship race, but that race proved to be as eventful as any. The Solent is always a challenging place to sail and that was never truer than for this morning's fifth race with a massive wind shift on the first beat and then a thrilling second beat that shuffled the pack once again.
Man of the match was Klaus Diederichs crewed by Andy Beadsworth and Simon Fry in NOR282. Diederichs led the race from start to finish crossing the line with an impressive 200m ahead. Going into the final day he takes the overall lead by just one point from Poul Richard Hoj-Jensen, sailing GBR745 Danish Blue with Theis Palm and Andrew Norden, who had his worst race of the regatta finishing ninth and now carries 10 points overall. Lawrie Smith, racing with Ossie Stewart and Bill Masterman in GBR751 Alfie, has moved up into third place, ten points behind Hoj-Jensen thanks to a fourth place in today's race. He overtakes Simon Brien, sailing IRL212 Kin with Stephen Milne and David Gomes, who drops down from third to fourth on 22 points having finished fourth on the water.

Russia's Olga White may have had a disastrous race finishing 26th, but fortunately for her Andrew Craig and Len Jones's had an even worse race enabling her to leapfrog over them into fifth place overall on 24 points. Craig drops down from fourth to ninth having been called OCS while Jones now lies tenth thanks to a 20th place, forcing him to count a previous 20th.
In the Corinthian Division for the all-amateur crews the leading Corinthian team going into the final day is Simon Brien. Eric Williams, sailing GBR682 Ecstatic with Joanna Richardson and Rory Patten, is second Corinthian with Richard Cullen, sailing GBR559 Supremacy crewed by Alex Dobson and Matthew Hill, third and GBR722 Avalance sailed by Mark and Mandy Wade and Duncan Grindley fourth.

As the boats sailed down to the start area off Hill Head in preparation for race five there had been a nice 12-15 knots from the southwest, but going into the sequence the wind dropped off to 5-6 knots. With a strong tide running down the course the boats struggled to cross the line and once underway the fleet quickly split into two distinct groups with half going left and half going right.

It was slow going, but for a long time all looked pretty even until a massive right-hander shut the door completely on those out to the left, which included Julia Bailey, Len Jones, Andrew Craig, Jamie Lea and Louis Urvois. Up ahead Klaus Diederichs had got the measure of the shift and came into the weather mark just ahead of Eric Williams with Lawrie Smith third, Olga White fourth and Simon Brien fifth. Although the leaders got away cleanly the strong tide was pushing the boats onto the mark and as the traffic level increased so did the risk of being pushed down onto the mark. Among those who fell foul of this were Richard Cullen in Supremacy, who had a nightmare of a rounding, and Poul Richard Hoj-Jensen and Japan's Bocci Aoyama who ended up doing elegant synchronised penalty turns much to the entertainment of the spectators. Hoj-Jensen didn't have a good day when it came to mark roundings as he also lost out at the leeward mark when his kite fouled on the drop.
The first run was something of a procession with little place changing at all, but it was on the second beat that things got really interesting. Gavia Wilkinson-Cox, sailing GBR716 Jerboa with Mark Hart and Henry Bagnall, who had managed to get a new rig in her boat after yesterday's dismasting, rounded the first mark in sixth, pulled up into fifth on the first run and then sailed an excellent second beat to round second behind Deiderichs who had built up an impressive 150m lead. Williams rounded the second weather mark third with Smith fourth.

Without doubt the most impressive second beat came from Louis Urvois. He had rounded the first mark in 17th and gained a single place on the first run. At the leeward gate everyone else took off for the right hand corner but Louis bucked the trend and headed left. After racing he gave credit for this decision to his crew explaining that they had spotted that without the big shift the left would have paid on the first beat and with the wind now settled back to the left it was the way to go. It was a brave move, but as he closed the second weather mark the decision paid off handsomely as he rounded in fifth behind Smith. On the final run there was no place changing among the leaders and the finish order was Diederichs, Wilkinson-Cox, Williams, Smith, Urvois.
The Edinburgh Cup Crews Race also took place today, but after the long and mentally gruelling championship race entry numbers were somewhat reduced and just nine boats came to the line. That said the competitors enjoyed a great five leg windward leeward race in a freshening sea breeze. First to finish was Quentin Strauss aboard Gorgeous Worgeous, Rory Patten sailing Ecstatic was second and third was Richard Bailey in Neride.

This evening the crews will attend the Edinburgh Cup Gala Dinner, to be hosted by the Royal Yacht Squadron. One single race remains to be sailed tomorrow and all eyes will be on the battle between Klaus Diederichs and Poul Richard Hoj-Jensen who are separated by just one point, Diederichs currently discards a fourth and Hoj-Jensen a ninth. Equally tight will be the battle for third place which remains wide open with Lawrie Smith, Simon Brien, Olga White, Gavia Wilkinson-Cox, Mikhail Muratov and Louis Urvios technically all still capable of claiming the final podium position.
Overall Top Eight After Four Races

1. NOR272 - Fever - Klaus Diederichs - 9 pts
2. GBR745 - Danish Blue - Poul Richard Hoj-Jensen - 10 pts
3. GBR751 - Alfie - Lawrie Smith - 20 pts
3. IRL212 - Kin - Simon Brien - 22 pts
4. RUS69 - Murka 7 - Olga White - 24 pts
6. GBR716 - Jerboa - Gavia Wilkinson-Cox - 28 pts
7. RUS96 - Murka 8 - Mikhail Muratov - 30 pts
8.FRA365 - Ar Prim - Louis Urvois - 31 pts
Full results here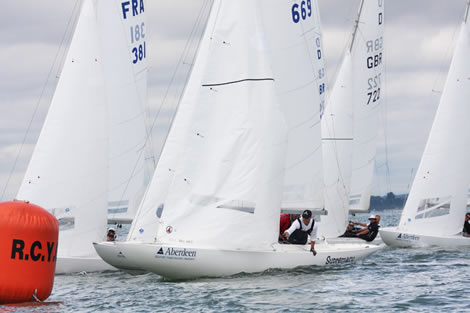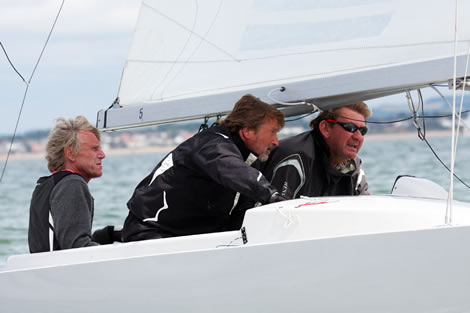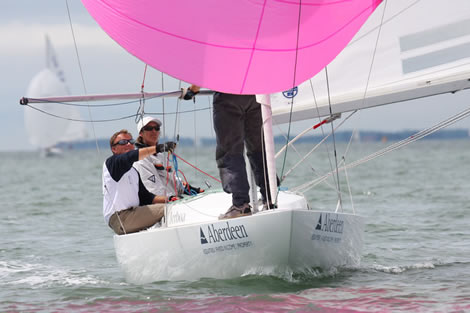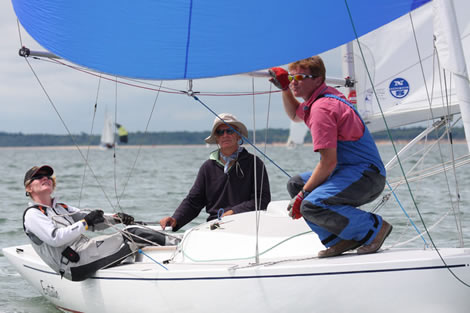 Back to top
Back to top