Stena Match Cup Sweden on the iPhone
An innovative new iPhone app has been launched just in time for Stena Match Cup Sweden. The new app features a complete guide, free to download, with news information, results, calendar, maps, nearby restaurants, public transportation, hotels and much more - everything to maximize the experience at the World Match Racing Tour event in Marstrand. The event starts on Monday, 5 July throughout the week.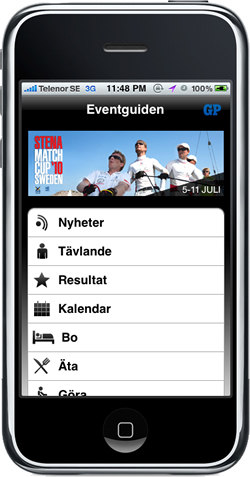 The Event Guide is the first application launched to help visitors to get the most out of their experience. Behind the development of the app are Sigma, Göteborgs-Posten and Brandspot. Stena Match Cup Sweden will therefore be the first event in Sweden to offer the guide.
"We hope that a couple of thousand visitors will get to enjoy the Event Guide in Marstrand," said Marie Carlsson, Communications Manager for digital media at Göteborgs-Posten. "The application is flexible and easy to customise and our goal is to make it a complete guide to all types of events in Sweden."

Examples of services and information you find in the Event Guide:
· News and results
· Event calendar
· Maps of the event
· Hotels and hostels
· Restaurants and cafes
· Public transportation and parking

Download the Event Guide for Stena Match Cup Sweden on App Store, free of charge. Search for "eventguiden".
Back to top
Back to top