The 3Di revolution - part 2
Tuesday June 29th 2010, Author:
James Boyd
, Location: none selected
This article follows on from part 1...
An unanswered question at present is 'how long will a 3Di sail last?' Bill Pearson says that they are aiming for a similar lifespan to 3DL – typically three years for race boat sails, but at present they are guessing because no 3Di sails have been around that long. Sails sold to date have been to teams where they have had the understanding that 3Di remains a development product.
North are also working on an offshore version of 3Di, based on an aramid-Dyneema composite (the aramid fibre North typically use is high modulus Twaron) and we can expect to see this being used on boats in both the next Vendee Globe and Volvo Ocean Races.
According to Pearson their aramid-Dyneema sails will have both pigments and UV inhibitors added to the resin when they are making the pre-preg tape. Plus these sails, as well as future offshore 3DL sails, will also have a new clear UV varnish applied to them.
"One of the frustrations from the last Volvo was that not only was the race longer, but it was four times across the Equator instead of two. The aramid-based sails after four times across the Equator, it was beyond the UV limit that the fibre could stand," says Pearson, a former competitor in the fully crewed round the world race.
While 3Di is still in its development phase North have been quite conservative in their approach and the sails supplied to date weigh the same as their 3DL equivalent with the goal at present of producing longevity.
"The first bridge you have to cross is to make a better product that lasts as long as 3DL," says Pearson. "Right now we are trying to make something better that lasts the same time, for the same weight. Once you have that, then you'll try to make lighter sails." He reckons potentially the weight saving of 3Di sails over their 3DL equivalent are similar to those of 3DL over panelled sails – around 15%. But already, even without a weight saving, Pearson says 3Di sails are measurably faster than 3DL.
In terms of cost, 3Di sails are at present 7% more expensive than 3DL, but this is to be expected as North have to recoup the millions of dollars they have invested in the new technology.
One wonders where the sail development side of this technology will go once America's Cup teams start throwing their own R&D time at it. Apparently when Gautier and Kessi were working on it for Alinghi, the brief was for a sail that could last just 20 hours...
At present in Minden, Nevada, North have nine 3DL moulds in operation plus they have another three smaller ones at their newer facility in Sri Lanka, where typically one design sails are manufactured. They produce 5,000 3DL sails a year, the Minden plant running 24/7 in their enormous 89,000 sqft main building (and three additional 25-30,000 sqft buildings have been added to accommodate the 3Di manufacturing facility).
End of the road for 3DL?
So does 3Di mark the end of 3DL for North? "That would depend on who you ask in the company," says Pearson diplomatically. "Obviously the people running the company, their view of life is that the new technology has to cannibalise the old, but being one of the guys down in the trenches I don't think life is that simple. Eventually maybe. It would be 5-8 years out if it was going to do that."
It should be remembered that 3DL failed to destroy the traditional panelled sail market and in fact today Pearson says this is bigger than it was when 3DL was introduced in the early 1990s (judging by the size of our sailcloth business).
In practice

Once a 3Di sail has been completed in Minden the finishing process is substantially easier than it is with 3DL.
"Even with 3DL there is an exterior patch sewn on and reef points and batten pocket ends and things like that, but with 3Di they are put on the inside," says Pearson. "The finishing of a 3Di sail is more or less running taps around the edges and webbing the rings on. Any secondary patching or reinforcing will be done on the moulds with the tape laying heads."
Out in the field North UK's Simon Fry, who races regularly on Ràn and Alberto Roemmers' TP52 Matador, both featuring 3Di headsails, allowed us a look at their heavy jib at the Audi MedCup event in Marseille last week. He reckons that most of the TP52 teams this year will be using 3Di upwind headsails, particularly for their heavier sails, as presumably the nature of 3Di allows it to retain its shape better than 3DL, even in heavier conditions.
"You have to get used to it effectively being slightly stiffer and less conducive to change," says our man Fry. "So you have to set it up slightly differently. We find that these sails fly with the draft slightly further forward, so you use less tack down or less halyard. And I think because they fly a little flatter in the back they are much more susceptible to sheet tension."
Matador's heavy jib: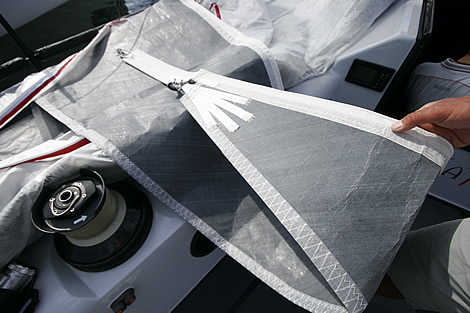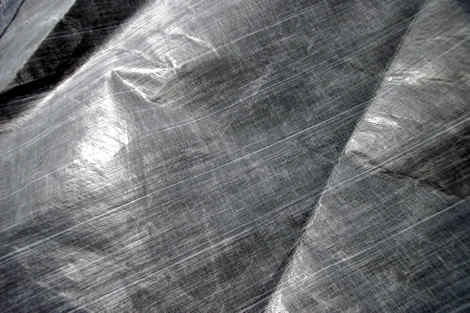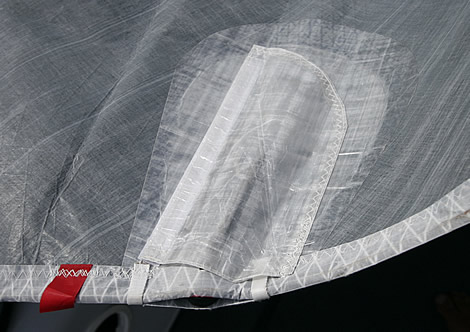 (Big) future developments

The 3Di story doesn't end with sails. As mentioned, North has built machines that can create carbon tapes thinner than anything available on the market at present even in the aerospace or defence markets. And significantly has many applications also in rigid composites.
To exploit this, North has established a new business called North TPT, or Thin Ply Technology using the same technology as the 3Di sails, but for rigid composites. For as Bill Pearson explains: "A lot of composite structures are not as finely engineered as one might imagine."
Typically at present many composite structures simply use fibres at 0deg, +/- 45 deg and +/- 90deg. With North TPT there will no longer be this limitation, so structures can be much more finely engineered using thinner pre-preg in more complex orientations, ultimately offering weight reduction. A big part of using thin plys efficiently, are the tape placement heads and plotting tables North has developed alongside the pre-preg. The North TPT business will not only develop and sell light pre-preg matrix materials, but will supply clients with tape plotting heads and tables. The goal is to make not only a better composite part, but to do it more efficiently. Obviously this technology isn't appropriate for heavier weight composite construction. Already North are in discussion with Formula 1 teams and the aerospace industry where ultra-lightweight components are required. This TPT business unit has already supplied thin materials to the Swiss ski company Movement for ultra light snow ski's, and are currently producing thin ply glassfibre material for a Mark Mills-designed Summit 35 deck, and for rudders for both the Summit 35 and 40 models.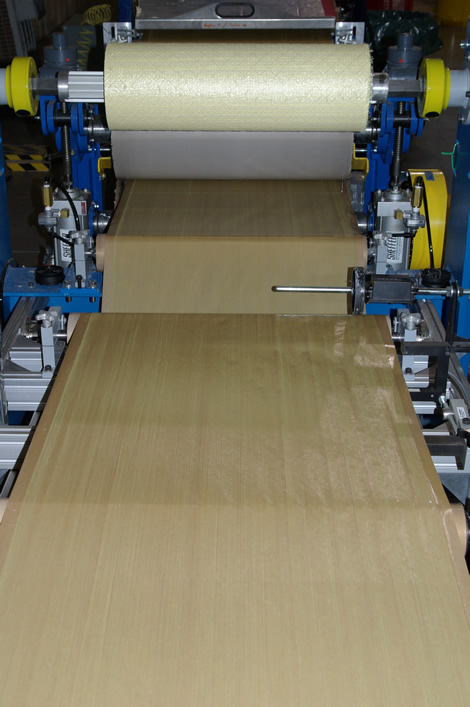 Above: Ultra-thin Dyneema pre-preg
In the marine industry there are many demands for lightweight composite structures too. Pearson continues: "For instance using the mast business as an example, the vast majority of the fibre is at 0deg up and down the face of the mast, most of the other fibres is at +/- 90 and there is a tiny bit at 45. So what we are going to do is by using much thinner materials, we are going to let the mast designers have much better control of what the off-axis orientations are , so instead of just having 0s and some 45s, you might change the orientation all the way down the face of a panel. It might be from 5deg off zero through to 60deg. You can't do that using current materials because the mast would be too heavy. It will allow for better engineering by using lighter plys, resulting in a weight saving because you'll have a more efficient and better engineered structure."
Conveniently North Marine Group also own Southern Spars...
There is still much development work to be done with 3Di, but we wait with interest to see where this goes. In the meantime one wonders what the next great creation to come out of land locked Geneva might be...

Back to top
Back to top