Overall win for Bella Mente
Known as the longest running regatta in America, the New York Yacht Club's 156th Annual Regatta presented by Rolex also has the distinction of kicking off the sailing season in New England. This past weekend, June 11-13, over 1,000 sailors on 111 boats gathered from across the U.S. and Europe for three days of racing on Narragansett Bay and Rhode Island Sound.
The start to the weekend was the Around the (Conanicut) Island Race on Friday, which is scored separately from the Saturday/Sunday races. The race has become a popular 'add on' for competitors, especially those gearing up for the biennial Newport Bermuda Race the following week. George David's custom maxi Rambler took line honours, finishing the 19-nautical mile distance in two hours, 10 minutes. However, Titan 15, a Reichel/Pugh 75 owned by Tom Hill finished in first on corrected time with Hap Fauth in second with his mini maxi Bella Mente. "We really love the competition," said Hill after racing. "We have been having so much fun racing Titan that to be that close to the other boats is really enjoyable." Rambler finished in third.
The Rolex Cup – presented to the best performing two-boat team in the Around the Island Race – was won by Rush, a J/109 owned by Bill Sweetser and Spitfire, a J/122 owned by Pierre du Pont.
On Saturday, the first day of the two-day buoy racing, most classes completed three races. The skies may have threatened rain but didn't deliver much on that promise. Come Sunday, the promise of ideal conditions didn't materialise until late in the day, and most classes ended up adding only one more race to the total score. The IRC boats were split into six classes, with Classics, 12 Metres, 6 Metres, J/105 and NYYC Swan 42 one designs rounding out the fleet.
In IRC 1, Bella Mente won three of four races and took the overall title. An IRC 69 from Reichel/Pugh, the mini maxi adds this title to a recent victory in Storm Trysail Club's Block Island Race, in May, and the 2009 IMA Mediterranean Circuit. The much-anticipated duel among Bella Mente, Titan 15, Rambler and Rán, Niklas Zennström's Judel/Vrolijk 72, proved exciting with the 90ft Rambler taking line honours in some, but not all races, and the fleet finishing within minutes of each other.
Sforzando, Blair Brown's Ker 55, used consistency to take the IRC 2 title. With four second-place finishes, Sforzando held off Natalie J, Philip O'Neil's TP52, race 1 and 3 winner finishing in second overall, and Snow Lion, Lawrence Huntington's Ker 50, winner of race 2. The US Naval Academy's TP52 Invictus finished in third.
Rounding out the IRC classes was IRC 3 overall winner Cool Breeze, a Mills 43 owned by John Cooper, with four victories in as many races; Wings, a J/122 co-skippered by Mike Bruno/Tom Boyle/Jim Callahan won the largest class, the 14-boat IRC 4; Storm, the J/109 owned by Rick Lyall, winner of the 12-boat IRC 5 class; and Bluto, the Evelyn 32 owned by Ben Hall, winner of IRC 6.
In the Classics division, a total of 15 boats competed in the first leg of the 2010 NYYC Invitational Racing Series for Vintage and Classic Yachts. Entries were split among five classes, each full of eye pleasing entries.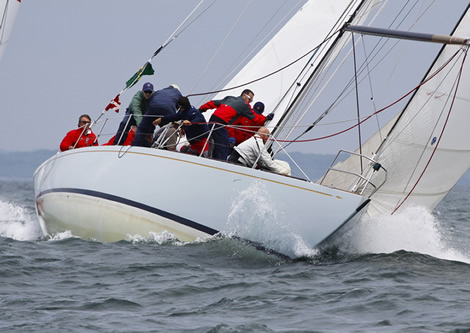 One such is Columbia that ushered in the 12 Metre era of America's Cup racing in Newport and won the 1958 Cup. This year, it was chartered for racing by a group of nine friends lead by Americans Charlie Ingersoll and Mike Furgueson. "A group of us have been sailing for the past nine years in (the) Around Island in Cowes (England) and decided we wanted to try something new," said Ingersoll. "So, with my seven European friends we decided on this regatta and because Mike Ferguson and I are both NYYC members. We chartered Columbia since we like to race and thought it would be fun to charter a 12 Metre. I mean, we're in Newport Harbour, and we really wanted to have that Newport experience." With three first places and one second, Columbia took the traditional class win over Jon Wullschleger's Nefertiti, while Guy Heckman and USA won the 12 Metre Modern class over second-place Victory 83 and Denis Williams.
In CRF Classics, Black Watch, Lars Forsberg's Custom S&S won CRF-1, while Peter Kellogg's Catboat Silent Maid won CRF-2. Clarity, Bill Doyle and Jed Pearsall's 6 Metre won both all three races to take the 2010 title.
In the first of two one design classes, the 13-boat NYYC Swan 42 class was won by Chris Culver's Blazer, with Glen Darden's Hoss in second. The NYYC Swan 42s are gearing up for the national championship, which will be held during NYYC's Race Week at Newport presented by Rolex (July 17-24). The class enjoyed one day of buoy racing on Friday as a standalone day in lieu of participating in the Around the Island Race where Jon Halbert's Vitesse won.
The nine boat J/105 class was won by Live Edge, owned by Michael Mountford, with Dudley Nostrand's Jaded in second.
Preliminary Results

Blue Fleet - Top 3 in each class
IRC 1 Overall (6 boats) – 4 races
1. Bella Mente, Mini Maxi, Hap Fauth (Minneapolis, MN) 1-1-1-2, 5
2. Rán, JV72, Niklas Zennstrom (London, UK) 3-2-2-1, 8
3. Titan 15, RP 75, Tom & Dottie Hill (Puerto Rico) 2-4-6-3, 15

IRC 2 Overall (7 boats) – 4 races
1. Sforzando, Kerr 55 Blair Brown (Padanaram, MA) 2-2-2-2, 8
2. Natalie J, TP52, Philip O'Niel (Bloomfield Hills, MI) 1-7-1-3, 12
3. Invictus TP52, USNA (Annapolis, MD) 6-3- 4-1, 14

IRC 3 Overall (13 boats) – 4 races
1. Cool Breeze, Mills 43, John Cooper (Springfield, MO) 1-1-1-1, 4
2. Nasty Medicine, Corby, Stephen Sherwin (Hamilton, RI) 3-2-4-3, 12
3. Temptation ,Taylor 45, Arthur Santry (Arlington, VA) 4-4-2-4, 14

12 Metre Traditional (4 boats) – 4 races
1. Columbia, Mike Furgueson (Mendnem, NJ) 2-1-1-1, 5
2. Nefertiti, Jon Wullschleger (Sarasota, FL) 1-2-3-2, 8
3. American Eagle, Carol Swift (Barnstable, MA) 3-3-2-5(DNS), 13

12 Metre Modern (3 boats) – 4 races
1. USA, Guy Heckman (Newport, RI) 2-1-1-3, 7
2. Victory 83, Denis Williams (Hope Sound, FL) 1-2-3-2, 8
3. Courageous, Isham / Auersperg (New York, NY) 3-3-2-1, 9

Green Fleet - Top 3 in each class

J/105 (9 boats) – 5 races
1. Live Edge, Michael Mountford (Toronto, CAN) 4-2-4-1-2, 13 points
2. Jaded, Dudley Nostrand (Hamilton, MA) 1-1-2-9-6, 19
3. Vixen Christopher Beane (Marblehead, MA) 7-3-3-4-3, 20
CRF1 (7 boats) – 3 races
1. Black Watch, S & S Cstm., Lars Forsberg (Greenwich, CT) 2-1-1, 4 points
2. Sonny, S&S Sloop Joe Dockery (Newport, R.I.) 1-2-2, 5
3. Angelita, 8 Metre, Sam Croll (Greenwich, CT) 3-4-3,10
CRF2 (2 boats) 3 races
1. Silent Maid, NY Catboat, Henry Colie (Summit, NJ) 1-1-1, 3 points
2. Windigo, Reliant, Mark Treat (Barrington, RI) 3(DNC)-3(DNF)-3(DNC), 9
6 Metre (5 boats) – 3 races
1. Clarity, Jed Pearsall (Newport, RI) 1-1-1, 3 points
2. Alana, Thomas Rodes (Cambridge, MA) 4-2-3, 9
3. Madcap, Thomas Fair (N. Kingstown, RI) 3-3-4, 10
White Fleet - Top 3 in each class
NYYC Swan 42 (13 boats ) – 4 races
1. Blazer, Chris Culver (New York, NY) 1-1-2-6, 10 points
2. Hoss, Darden / Williamson (Fort Worth, TX) 3-7-4-1, 15
3. Vitesse Halbert (Dallas, TX) 5-8-1-2, 16
IRC 4 (14 boats) – 4 races
1. Wings, J/122, Bruno/Boyle/Callahan (Irvington, NY) 3-2-1-2, 8 points
2. Christopher Dragon, Andrew Weiss (Mamaroneck, NY) 4-1-2-4, 11
3. Spitfire, Pierre du Pont(Rockland, DE) 1-3-4-5, 13
IRC 5 (12 boats) – 4 races
1 146 Storm Lyall 1.0420 New York J109 10 1 2 4 3
2 51 Rush Sweetser 1.0410 New York J/109 12 5 3 2 2
3 156 Out of Reach III Nees 1.0460 Other X-35 15 3 5 1 6
IRC 6 (8 boats) – 4 races
1 53194 Bluto Hall 1.0110 Other Evelyn 32 9 4 3 1 1
2 51920 Elan Hammel 1.0190 New York Beneteau 36.7 10 3 1 4 2
3 1976 Mischief Schwartz 1.0070 Bristol Seguin 40 10 1 2 3 4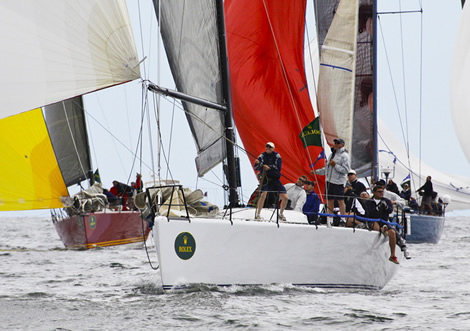 Back to top
Back to top