Daddy Long Legs versus L'Hydroptere on Sunday
Four wheel drive foiler
L'Hydroptere charging around the Solent over the last few days has brought out of hiding another UK hydrofoil project that has managed to survive for 15 years under the radar. On Sunday the Daddy Long Legs foiler cat lined up against the French world sailing speed record holder on the Solent.
The C-Fly project is the baby of two ex-Tornado sailor/very high powered engineers – Chris Edwards, who's day job is as Aerospace and Defence Director of Frazer-Nash Consultancy and who's past jobs have including working for the marine division at Rolls Royce while Richard Varvill is genuinely a rocket scientist in his role as Technical Director of Reaction Engine, a company that designs advanced space transportation and propulsion systems. They have been joined by Peter Whitelaw, a sailor who brings marketing and business skills to the campaign.
Fundamental to the C-Fly concept is that, unlike L'Hydroptere or Paul Larsen's Vestas SailRocket, it is NOT a speed sailing boat. The aim has been to produce a foiling multihull with high speed potential certainly but principally to perform well and be manageable in all conditions and points of sail. In particular she has been designed to handle well in waves.
As Chris Edwards explains: "We didn't design it to break the sailing speed record. The design speed we set ourselves was 40 knots, but with very good all round performance – that was the key and handling in sea state, a boat that you could push off the beach and go sailing."
Daddy Long Legs, the working 26ft long version of C-Fly was launched five years ago and has been under development by the team ever since. It should be stressed that this is no plywood-built, belt and braces affair. Using all their professional engineering know-how Edwards states that around 32,000 hours of R&D time have gone into the project to date and this has included several sessions at the sadly now defunct GKN high speed tank testing facility on the Isle of Wight.
So what spurred them to do this? "We've been a follower of Weymouth Speed Week and we have sailed performance multihulls all our lives, so we've enjoyed the faster end of the sailing spectrum," says Edwards. "When we started to look at the problem of going much faster than the current breed of boats, we decided to go down the hydrofoil route. Since 1995, quite a few more developments have happened, such as the planning Open 60 types with swinging keels, but we felt to make the real step change when you are crossing an ocean say - you need to go to hdyrofoil technology. And if that is the case then we needed to prove it."
The results is C-Fly, based on a purpose-built catamaran platform with two straight cross beams and a D35/Alinghi 5-style flying strut running fore and aft to handle rig loads and allowing the overall beam to be increased.
Compared to a regular catamaran, C-Fly's platform is ultra-stiff, as Edwards explains: "It became clear that you had to move the cross beams apart to get the torsional stiffness, because obviously with a foiler it is very important that you have a torsionally-stiff boat otherwise your foil incidence is changing relative to each other. So she is very very stiff."
The rig is relatively conventional by multihull standards – a rotating carbon fibre Marstrom-built wing which at present they only fly two sails off, although it is set up to accept a genniker. The interesting part are her hulls, which are slender even by multihull standards and of course the foil system.
Fundamental to her designer aims of all-round performance is that the foils can be swung up out of the water and she is effective in non-foiling 'displacement' mode.
"The reality of sailing is that there is a lot of time when the weather isn't favourable and its light conditions," states Edwards. "It is very difficult to make a good all-round boat in a wide range of wind conditions. The Moth can achieve it because they can sail in light winds and they are optimised for that. But we recognised early on that to get the best all-round performance you couldn't beat a conventional multihull platform in light winds. So that was another key criteria – that the boat has good performance off the foils. In fact she sails very well off the foils because she has long slender hulls."
C-Fly uses two sets of foils – the main set in the middle of the boat while there is another on each bow which, significantly, are also rudders (she also has conventional flip-up rudders on each transom for sailing in non-foiling mode). According to Edwards the main foils contribute the majority the vertical lift so the front foils are primarily for steering and to regulate pitch and pitching.
This foil configuration is unique as Edwards explains: "The majority of the other hydrofoil projects have a 'tail plane' configuration, where you have the main foils forward and a tail plane, essentially a control to set the pitch of the boat, at the rear. So - Mayfly, Icarus, the [Hobie] Tri-foiler and L'Hydroptere - that is the one that is commonly used, but we felt that that route didn't offer us the sea keeping we were looking for, and that's why we have gone for a canard arrangement. There are some aircraft like that, but they aren't very common."
He continues: "The front foil carries about 10% of the boat but what it also does is control the boat in pitch. One advantage of the canard arrangement is that in effect it reads the sea that it is approaching, so as a wave approaches, the front foils will pitch the boat up, which will increase the incidence of the main foil which will lift the rear of the boat in effect in anticipation of the waves. So there are a number of reasons why we think this arrangement is particularly well suited to sailing in waves."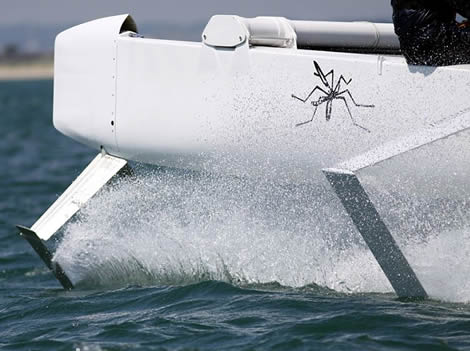 From a distance both sets of foils appear reasonably similar – using a diamond shape configuration, but in fact this isn't the case. The main foil is a diagonally mounted L-shape with a support strut, while the front foil is smaller and a diamond shape with a vertical strut through its centre both acting as the rudder and as a supporting strut for the foil.
From a foiling perspective the advantage of the foils is that the lift they generate is self-regulating – the more immersed the foil is the more area there is to generate lift.
"We wanted a boat it was self controlling," says Edwards. "So there is no adjustment on this boat. You are not operating a tail plane or a flap or anything. There are no surface feelers, so there is nothing to break or go wrong."
One of the most intriguing aspects of C-Fly's design is how the foils are lifted out of the water when sailing in displacement mode. The main foils simply rotate fore and aft around a stock mounted horizontally through each hull, however uniquely the front foil lifts out of the water as the entire bow rotates along a fore and aft axis. At this point the upper and lower halves of the bow section are symmetric in order that the hull remain fair whether the foil is airborne or deployed. Obviously with the mechanism not only to rotate the bow (which can be carried out at sea) and also housing the steering mechanism make this one of the more complex areas of the boat.
Not hydraulic mechanisms are used to operate the foils, instead they use ropes and pulleys. "You can't quite do it by hand, you need a pole and there is a pulley arrangement," states Edwards. "But you can do that even when it is rough. In fact coming back from the Solent on Sunday [from lining up with L'Hydroptere] because we had to beat back, there was one patch where we decided to raise the foils and we thought we'd be faster because the wind had gone light, but we were out in Bournemouth Bay so it was still pretty lumpy. So to pull the foils up you just go hove to and pull them up." Edwards says that the foils take just 60-70 seconds to deploy but slightly longer to pull up.
While the catamaran platform was built in a mix of carbon/glass, and carbon/foam for the crossbeams, they have gone down the seemingly retro-route of using machined aluminium for the foils. However Edwards explains this was no compromise. "We consciously made the decision not to go down the composite route which surprises some people, because composites are held out as the way forward, but it isn't always the case in all applications. The other thing with the foil system is that it has to be quite robust, because inevitably you are going to hit flotsam and aluminium is much more damage-tolerant."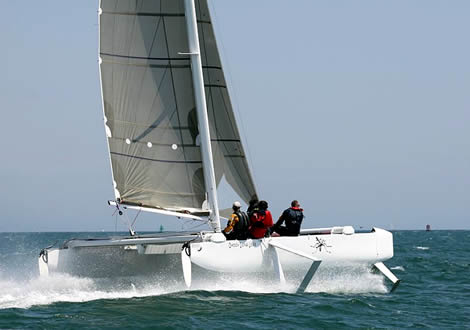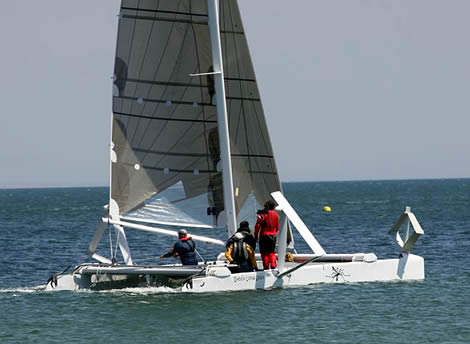 The foils are hollow, effectively built as two aluminium shells – like aircraft wings, Edwards points out – and their weight is similar to the result had they been built in carbon.
Typically the crossover wind speed from displacement to foil born modes is around 10-11 knots and she lifts out at 14 knots of boat speed. This compares with a Moth which will foil in 6-7 knots of breeze (according to the skill of the person sailing it). "We designed it relatively high up the range, unlike a Moth, because we had a catamaran platform with slender hulls, so it had very good hull form performance and the hydrofoil becomes increasingly difficult if you try optimise it for the full range of conditions. It starts to work against you."
The main lifting foils can also double as a centreplate when sailing in displacement mode. According to Edwards, depending upon conditions they will sail with one or both of the main foils down althgou they are set to a different incidence than when in foiling mode. "In displacement mode the boat goes very well to windward because she has relatively large daggerboards."
The work that has gone into developing C-Fly has been painstaking and thorough and as a result has taken 15 years because both Edwards and Richard Varvill have time consuming day jobs.
As Edwards says: "The forward hydrofoils are completely unique in terms of how they performance and their foil section, there is nothing else like them in the world, but to develop that we have had to do a huge amount of analysis and tank testing. So we have now accumulated a very significant amount of performance data on the front foil, which was key to making the whole project work. To get this arrangement to work well we had to develop this particular type of hydrofoil which has really not been used before."
Much research data is available for high speed foils, coming from the 1960s and 70s when the military were looking into high speed motor boats and this has subsequently be widely used in fast passenger ferries, although catamaran now seem the more popular option. This work was used to create the main lifting foil on C-Fly, but as Edwards says, the front foil where existing research data was scarce.
"They are super ventilated and that is the key to the performance or the performance we require from it," says Edwards of the front foil. "It is a real challenge to make a super ventilated foil perform, because you need to develop a stable cavity on the top surface. They operate a bit like a super-cavitating propeller, but given that a sailing boat has to travel through waves and pitch, establishing a stable cavity is very very difficult and a lot of the work has been about designing the shape so that we can achieve that."
A patent application is now in from these foils. "The testing and data we have accumulated is unique in the world now for that particular type of foil. That is what we did most of the testing on because it was the most difficult. We were really starting with a blank sheet of paper. Designing the main foil is fairly standard because there are a lot of aerodynamic tools you can apply. You hear people talking a lot about foil shapes, but they are well understood because you are into less than a few percent in terms of optimising foil shapes now and there are a lot of very powerful analytical programs that you can use to do that. The front foil was a step into the unknown because frankly they aren't used very much."
To our layman's eye there appears to be a lot of foil in the water on Daddy Long Legs and this we figure, combined with the main rudder being at the bow might make the boat painful to steer. However Edwards, and Paul Larsen both say this is not the case.
"She is beautifully balanced both in displacement mode and foil-born," says Edwards. "You try and make the tiller as light as possible because one of the dangers of sailing at speed is putting in too big a helm movement because of the forces on the boat."
While they are clocking up some impressive speeds for a boat her size, Edwards says the impressive bit is her performance in waves, her 'off road ability'. "The most impressive sailing is not the flat water high speed stuff, it is hacking through waves - that is what she is designed for. We have taken her out in some quite significant wave heights relative to her size. It takes a while to get used to it, because there are conditions when in any other multihull you'd be backing off because you'd be worried about pitchpoling. What tends to happen is that if you are punching through a steep sea the front foils will go through a wave and come out of the back of the wave right into mid-air and that's when you'd be thinking 'this is when we drop down into the trough and pitchpole' but they drop back in and immediately start to develop lift and off you go again. It takes a little while to get used to the fact that you can do that."
Conversely Edwards says that they don't 'launch' the boat in a seaway or at pace as the hydrofoil configuration heavily dampens the pitching. "The foils will broach the water's surface but as they go back in it is very very smooth." This is unlike a Moth for example where the foils are not designed to exit the water. And the advantage of this is that C-Fly can be sailed like a regular catamaran, complete with hull-flying, etc, without the boat going crazily out of control.
In terms of maximum speed the top speed of the 26 footer as designed, is 40 knots although they are building up gradually. Last year for example there was a 30 knot maximum limit and they didn't push any further than that. However Paul Larsen went for a sail on it and coaxed out 32 knots (not bad for a 26tft long boat).
According to Edwards is that the C-Fly concept is scalable from a dinghy they were looking at recently, but the more interesting prospect is using the idea on a large ocean-going boat. It is equally applicable to a trimaran or a catamaran. They have an intriguing design that uses the rig, cross beams and centre hull of an ORMA 60 but with new longer floats. So Route du Rhum 2014 anyone? Edwards says that he likes the idea of this becoming the replacement boat for the Extreme 40 at some point.
So how fast could the oceanic version of C-Fly go? Obviously the aim would be to achieve high average speeds but in terms of ultimate speed, Edwards confirms that the limiting factor is foil cavitation. "That is hard to avoid. Once you are up to 60 knots, you have to look at different foil designs. One of the advantages of our front super cavitating foils is that they won't cavitate, but we'd have to change the main foil design.
"It is hard to push - there have been some powered hydrofoils which have got up to 60 knots and we could design a foil for that, but that is about your limit. Above 60 knots you are looking at a different type of foil like a super ventilated foil."
We suggest that they should take the boat to France and there has been talk of C-Fly taking part in the Round the Island Race, but Edwards says this won't take place this year. To us it seems that the development of the boat is taking place at snail's pace, but Edwards counters that this is a function of time and money. If they can find a backer for the project then they can dedicate more time to it.
So how much further is there to go with the development, we ask Edwards. "I think we are there to be honest. What we are doing now is fine tuning. There is always the danger of breakage, but we are 100% satisfied with the concept and the way she performs." No small words from a man who is clearly a perfectionist.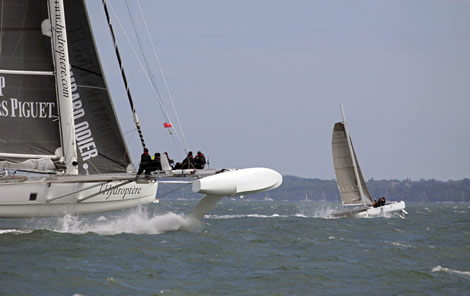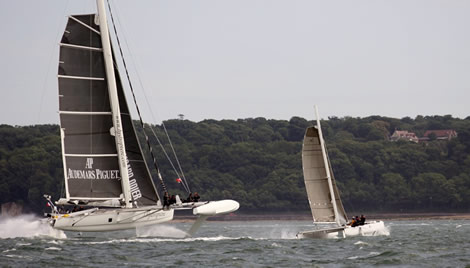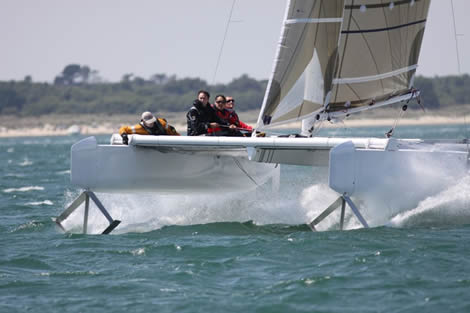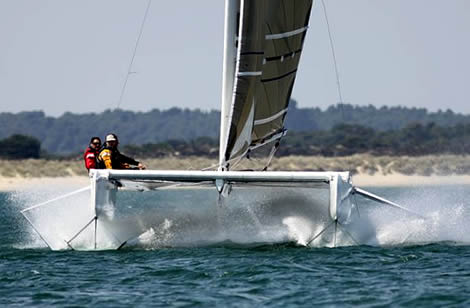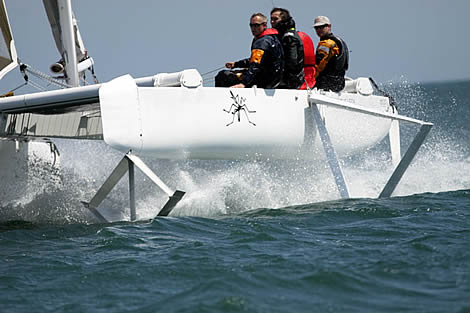 Back to top
Back to top