Three way fight for first
After the penultimate day of racing at the first round of the 2010 Extreme Sailing Series in Sète, France, three teams are taking control at the top of the leaderboard. A jib sheet problem for Groupe Edmond de Rothschild and a penalty dealt Guichard's men a last place in the final race, but they had done enough to keep their lead and there seem to be very few cracks in their armour.
"We started off really well, then had a couple of less than good starts and in those conditions it becomes hard to catch up," said Guichard. "Overall we've done good things, but at times we did not shine, yet we still retain our first place and tomorrow we'll try and stay on the podium!"
Oman Sail Masirah's convincing victory in the final race keeps Loick Peyron in third behind Paul Campbell-James' team on The Wave, Muscat. Only four points separate each of the top three teams going into the final day.
Plenty of close combat resulted in a number of penalties and collisions. The winds shifts proved costly for many, at the same time the stronger gusts gave the crowds what they love - massive acceleration and flying hulls.
Another great battle is developing mid-leaderboard with Franck Cammas in fourth place on 66 points, Red Bull Extreme Sailing 5th on 60 points, then The Ocean Racing Club and Ecover, 6th and 7th, on 59 points apiece.
Ecover helmsman, Leigh McMillan, did a fantastic job in the early races, getting Ecover right in the mix at the front but the team's fortunes did not continue: "Probably a little bit disappointed because we started the day really well, we got three seconds and were winning at one point, and then the breeze got up, we started to struggle a bit and our strategies off the start just really weren't paying off," said McMillan. "We weren't picking the right shifts off the line and we got thoroughly punished. We had a few close port and starboards which was a difference between us getting round in the second or third or last because we had to do some slow double tacks at windward mark so that set us back massively as well. On these boats the margins are so small and it is all so close that a matter of metres can make the difference between the first and last sometimes."
Nick Moloney's crew on Team GAC Pindar had their best result of this regatta with a second place in the fourth race today, but remain bottom of the leaderboard on 39 points.
Perhaps the surprise act for many of the European regulars is Britain's Paul Campbell-James, skipper of The Wave, Muscat. His 49er and match racing expertise, and youngest skipper in the fleet, makes him a formidable opponent and he is putting pressure on Groupe Edmond de Rothschild and Oman Sail's Masirah at every opportunity he can get, whittling down Yann Guichard's 8-point lead of yesterday to just 4 points at the end of play today. His aggressive style can lead to repercussions as we saw in race 3 today - after being denied a penalty call Campbell-James tried to get passed Loick Peyron, jostling for position on the short downwind leg resulting in ramming Masirah from behind!
Results:
| | | | | | | | | | | | | | | | | |
| --- | --- | --- | --- | --- | --- | --- | --- | --- | --- | --- | --- | --- | --- | --- | --- | --- |
| Team | R1 | R2 | R3 | R4 | R5 | R6 | R7 | R8 | R9 | R10 | R11 | R12 | R13 | R14 | R15 | Tot |
| Groupe Edmond de Rothschild | 1 | 6 | 2 | 1 | 3 | 2 | 3 | 2 | 1 | 1 | 6 | 7 | 1 | 2 | 8 | 89 |
| The Wave Muscat | 5 | 3 | 4 | 2 | 2 | 4 | 5 | 3 | 3 | 4 | 5 | 1 | 2 | 1 | 6 | 85 |
| Oman Sail Masirah | 2 | 7 | 5 | 3 | 5 | 5 | 2 | 1 | 4 | 3 | 3 | 4 | 3 | 6 | 1 | 81 |
| Groupama 40 | 6 | 5 | 1 | 7 | 1 | 8 | 4 | 7 | 5 | 6 | 1 | 3 | 6 | 5 | 4 | 66 |
| Red Bull Extreme Sailing | 3 | 2 | 8 | 8 | DNS | 1 | 1 | 5 | DNF | 7 | 7 | 5 | 5 | 3 | 2 | 60 |
| The Ocean Racing Club | 4 | 1 | 6 | 4 | 4 | 7 | 7 | 8 | 6 | 5 | 4 | 6 | 4 | 7 | 3 | 59 |
| Ecover Sailing Team | 7 | 8 | 3 | 5 | 6 | 3 | 6 | 4 | 2 | 2 | 2 | 8 | 7 | 8 | 5 | 59 |
| Team GAC Pindar | 8 | 5 | 7 | 6 | 7 | 6 | 8 | 6 | 7 | 8 | 8 | 2 | 8 | 4 | 7 | 39 |
From Vincent Curutchet/DPPI/OC Events: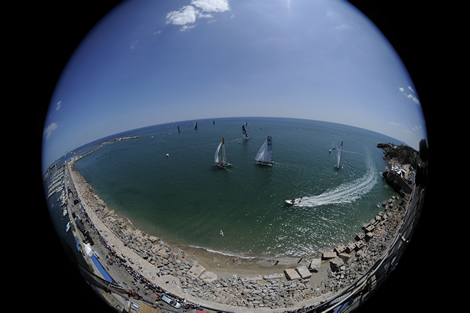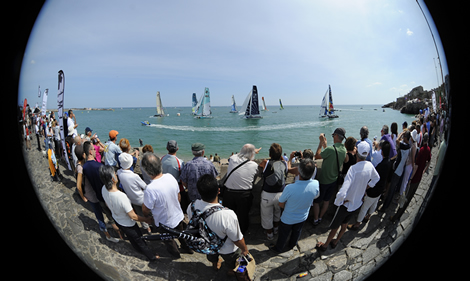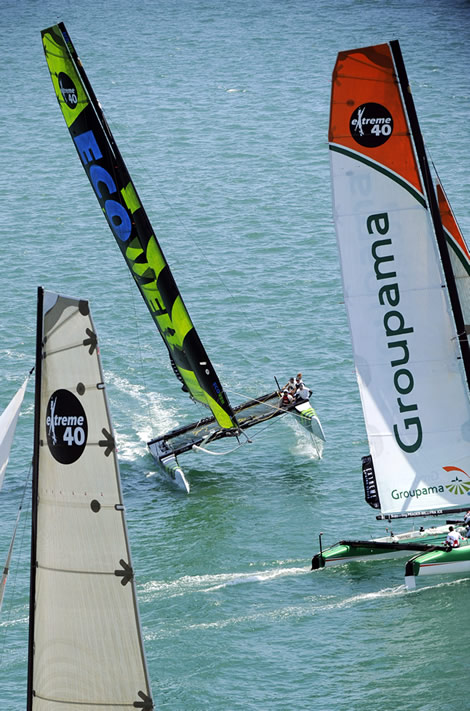 Back to top
Back to top