Guichard squeezes ahead
Batting opened today in the 2010 Extreme Sailing Series, held off the resort town of Sète in the south of France. There was sunshine and there was breeze, although it proved unreliable in both direction and strength, but enough to see the Extreme 40 hulls flying and showing great pace on the downwind legs.
The eight world-class teams completed three longer-course races on this points scoring media day here, allowing the teams to stretch their legs for the first time. It was not a perfect day to gauge the teams' form, and this was reflected in the varying results.
Nonetheless at the end of play, Yann Guichard's Groupe Edmond de Rothschild had scored a 1-6-2 to leave them on top of the leaderboard.
Mitch Booth, co-creator of the Extreme 40 class and no stranger to this type of racing, put in a great performance on brand new entry The Ocean Racing Club with a 4-1-6 leaving them second overall: "Yeah it was a difficult day, in a few races we were back but with those sort of conditions it's not over until it's over," said Booth. "We just kept fighting all day, trying to take every shift. We got a few lucky ones but a few unlucky ones too! But it was a good day we are pretty happy with the results, the teamwork is good, the boat speed is okay and we're looking forward to a good regatta."
Defending champion, Oman Sail Masirah, had a day of mixed fortunes benefiting from a major wind shift in race 1 to go from last to second! But their luck didn't hold and a 7th and 5th leaves them in 6th place on the overall leaderboard.
The fastest man around the planet, Franck Cammas on his Groupama 40, scored a victory in the final race today allowing them to scrape into third overall ahead of Paul Campbell-James' team on The Wave, Muscat.
Roman Hagara's Red Bull Extreme Sailing team were in the mix throughout the day, scoring a third and a second, but a disappointing last place in the final race dropped them into 5th place. Mike Golding's Ecover, now helmed by Leigh McMillan, were also in the fray but problems with their rudder kicking up, and staying up in race 2, cost them dearly. Rallying in the last race with a podium third-place, ensured they ticked off on of the team's objectives on day one.
Tomorrow will revert to the short, close combat racing this Extreme Sailing Series is renowned for to entertain the crowds here in Sète from Friday through to Sunday.
Results
| | | | | | | |
| --- | --- | --- | --- | --- | --- | --- |
| Pos | Boat | Skipper | R1 | R2 | R3 | Tot |
| 1 | Groupe Edmond de Rothschild | Yann Guichard | 1 | 6 | 2 | 18 |
| 2 | The Ocean Racing Club | Mitch Booth | 4 | 1 | 6 | 16 |
| 3 | Groupama 40 | Franck Cammas | 6 | 5 | 1 | 15 |
| 4 | The Wave Muscat | Paul Campbell-James | 5 | 3 | 4 | 15 |
| 5 | Red Bull Extreme Sailing | Roman Hagara | 3 | 2 | 8 | 14 |
| 6 | Oman Sail Masirah | Loick Peyron | 2 | 7 | 5 | 13 |
| 7 | Ecover Sailing Team | Mike Golding | 7 | 8 | 3 | 9 |
| 8 | Team GAC Pindar | Nick Moloney | 8 | 5 | 7 | 8 |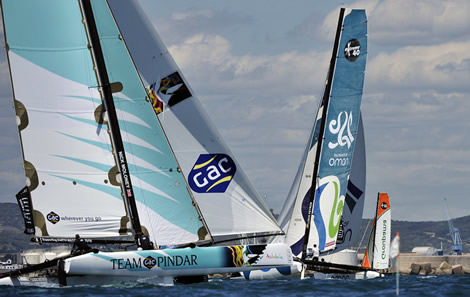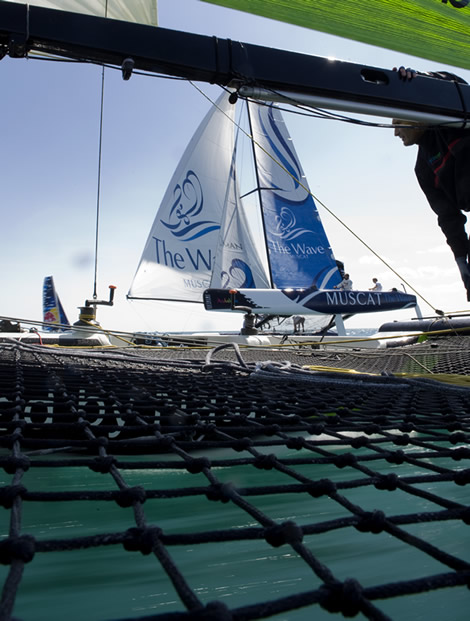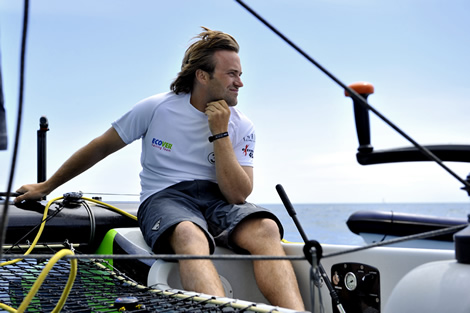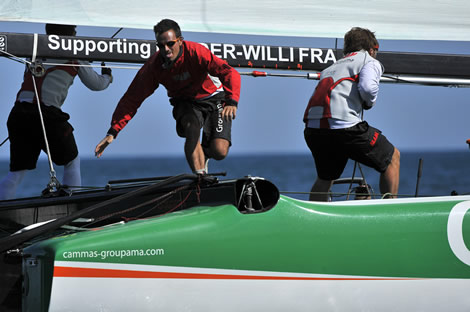 Back to top
Back to top