Extreme Sailing Series set to fire up
Friday May 21st 2010, Author:
James Boyd
, Location: none selected
With the Extreme Sailing Series set to kick-off in Sète over 27-30 May, so all but one of the Extreme 40 teams have now confirmed their sailing teams. Across the fleet of 32 sailors there are two double Olympic Gold medallists, 61 World and 37 European Championship titles, 20 Round the World navigations, 20 America's Cups sailed and 39 sailing records held or broken among the 14 nationalities.
Three top French skippers will be taking the helms of Extreme 40s this year - Franck Cammas, Yann Guichard and Loick Peyron. Franck Cammas, enters following on from his Jules Verne Trophy aboard his Groupama 3 maxi-trimaran and will steer the Groupama 40. He will be joined by former America's Cup tactician Tanguy Cariou: "We've spent the winter attempting the Jules Verne Trophy with an amazing team aboard Groupama 3, and so Groupama 40 looks pretty small!" Cammas joked. "But we like these close-quarter regattas. Our business is all about sailing so, big or small, in a team, or alone, it's not important. It's all about the sailing."
Former Olympic Tornado sailor, Yann Guichard, will once again be at the helm of the Gitana Team entry, Groupe Edmond de Rothschild. Guichard finished second last season: "2009 was the year we discovered the Extreme Sailing Series and the style of Extreme 40 regattas: the notion of sport as a spectacle!" he says. "We soon learnt that consistency pays and to perform well in this series and to post good results, you need to navigate really well and not have any on-the-water contact with your competitors."
The final French skipper is 'Mr Multihull' himself, Loick Peyron who recently was Ernesto Bertarelli's shot gun helmsman on the Alinghi 5 maxi-catamaran during the 33rd America's Cup. Peyron has 'jumped ship' from one Oman Sail Extreme 40 to the other and for 2010 will skipper and helm Oman Sail Masirah that won the Extreme Sailing Series last year. With Chris Draper now concentrating on his Olympic 49er campaign, Peyron is effectively stepping into his shoes but also taking on the skipper role. Pete Cumming is now trimmer and team manager. The second Omani entry this year is The Wave, Muscat, skippered by British 49er sailor Paul Campbell-James. With his match racing background Paul 'CJ' demonstrated his aggressive starting technique over the winter in the Extreme Sailing Series Asia where The Wave debuted. Joining him will be the first Omani who has progressed through the Oman Sail Academy and who will now be racing as a full time member of the sailing team, rather than fifth man - Khamis Al Anbouri.
Following his debut in the inaugural Asian Extreme Sailing Series, Austrian double Olympic Tornado Gold medallist Roman Hagara will be joined by his Olympic crew Hans-Peter Steinacher aboard the Red Bull Extreme Sailing entry. Racing alongside Hagara will be Gabriele Olivo (ITA) and David Vera (ESP), both of whom participated in the last Volvo Ocean Race with the Spanish Telefonica team. Red Bull Extreme Sailing boasts a good balance between offshore and inshore racing experience and talent and will be strong contenders for a podium position.
Veteran Extreme 40 sailor, Australian Nick Moloney is back as skipper a new entry - Team GAC Pindar. From the America's Cup to the solo Vendée Globe, the Jules Verne Trophy and the Volvo Ocean Race, Moloney has seen it all! Helming Team GAC Pindar is British Tornado sailor Andrew Walsh, who will be joined by perennial competitor Fraser Brown (with his lucky gloves!) Olly Smith, known for his unscheduled holidays in Iran.
Finally, one of Great Britain's most accomplished singlehanded sailors Mike Golding returns to the circuit with an all-British line up in the Ecover Sailing Team. Golding will receive a shot in the arm from the combined Olympic Tornado talents of Leigh McMillan, Team GBR's catamaran helmsman at both the Athens and Beijing Olympics, and Will Howden. McMillan will be taking the helm with Golding moving on to main sheet. Golding commented: "Training has gone really well. Will and Leigh have a great synergy onboard, so it has been a very smooth process working in the role changes. 2009 was a learning curve for all of us, and I hope this year will see us raise the bar in terms of performance on the water. Leigh will be fantastic on the helm, and we intend to make an impact on the leaderboard this season".
And with just one final team led by Mitch Booth, racing under the flag of The Ocean Racing Club in Slovenia, due to announce early next week, there will now be eight teams on the start line: "It's a hugely impressive line-up again this year, the quality and depth of experience of the sailors increases year on year and guarantees us some spectacular action," said Event Director, Gilles Chiorri. With more days racing than ever before, the four-day events will challenge every aspect of tactics, speed and finesse for the top international sailors.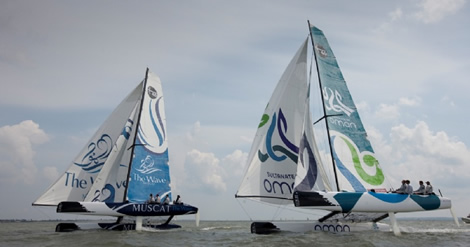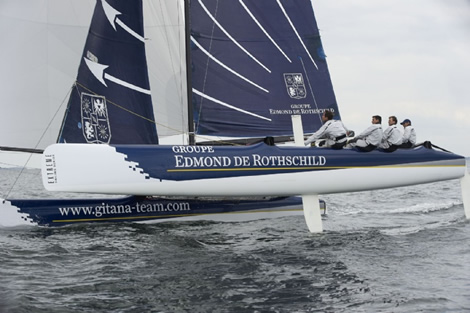 Back to top
Back to top