Mike Sanderson leaves TeamOrigin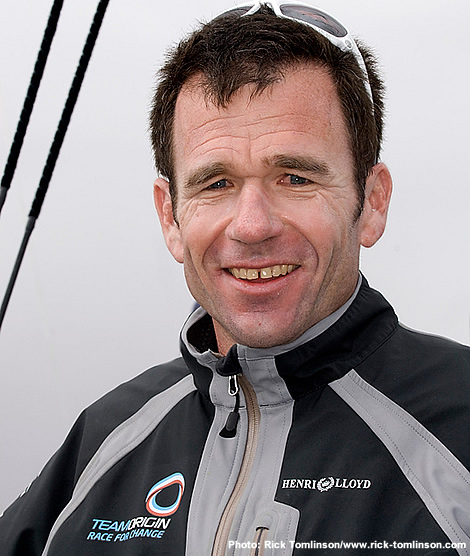 TeamOrigin last night issued the following statement:
TeamOrigin announced today that Mike Sanderson has left the team following the decision by Sir Keith Mills, Team Principal, to restructure the organisation.
This decision has been taken to ensure that the team functions as effectively and efficiently as possible, in order to improve the team's performance and ultimately win the America's Cup.
Mike has been with the team since it was formed in 2007. He has made a huge contribution to establishing what has been a relatively new team and has worked hard to keep the team together over the last three years while the America's Cup was in the courts. Sir Keith and the team wish Mike every success in the future.
This morning Sanderson kindly picked up the phone to us as he was midway through evacuating his family from La Maddalena where TeamOrigin are currently training prior to next week's start of the Louis Vuitton Trophy.
The crux of the reasons for Sanderson's departure seem to be over differing ideas between him and other senior team members within TeamOrigin. Sanderson was given the news by Sir Keith Mills on Monday, the team told about his departure at a group conference call on Tuesday evening.
"Keith comes from a footballing management world as well and at the end of the day the team's performance was always going to be my responsibility and I wasn't happy with the results we were getting either. That is tricky because I've always been public that my role was to provide a platform to do their work. My frustration is that I believe we've had that platform so obviously I am pretty disappointed with the way this has panned out," Sanderson told thedailysail
One wonders if this wasn't also due to cultural differences – the lead people in the sailing team being British and coming from an Olympic background, while New Zealander Sanderson has considerable experience in the America's Cup but is best known for his Volvo Ocean Race record, where of course he won with ABN AMRO One in 2005-6.
Certainly running such a Cup team is a very tough job requiring technical and sailing experience as well as the firm hand of management.
"It is a tough job," agrees Sanderson. "You do need a wide variety of knowledge so that you can have the final say on where funds are allocated. People with less knowledge in a specific area, if they don't understand it, it is very hard for them to work out why a decision is being made. In hindsight I don't think the decisions we've made have been bad or wrong... So a lot of it seems to be – it is just really hard, I am struggling to get to the bottom of it.
"I have put so much into this. One of the biggest disappointments for me leaving TeamOrigin is the disproportionate amount of effort put in to have this result. There are three, four, five of us who have toughed it out for the last three years while others have been able to go off and do others things and come back to it when it suited them. So that is pretty disappointing.
"It was one of those situations where you take all of the heat and you don't get to enjoy the highs. We didn't have that many of them and it seemed that that kind of environment, I wasn't able to shake that."
At present it seems that Sir Keith Mills has made no appointment to replace Sanderson, although this is expected soon. In the interim it seems likely a combination of Ben Ainslie and Iain Percy will step into his shoes, which of course includes the LV Trophy in La Maddelena, starting next week. Sanderson's departure might also see the beginning of an anglicising of TeamOrigin, which could be important if nationality rules are reintroduced into the America's Cup teams to some degree - something we'll only find out in the autumn when the Protocol for the event is published.
With a few Volvo Ocean Race programs still to show themselves, one suspects that Sanderson won't be on the sidelines for long.
We are due to speak to Sir Keith Mills later today.
So who will replace Moose? Ian Walker? Rod Carr? Further suggestions below
Back to top
Back to top