Emirates Team New Zealand continue their winning ways
The 2009 Audi MedCup champions proved they have lost nothing from their competitive edge as they both opened their 2010 season with resounding wins in the Portugal Trophy in Cascais.
After another day of strong breezes producing fantastic racing conditions off Sintra, just to the west of Cascais, Emirates Team New Zealand and Puerto Calero had both set up unassailable regatta leads, clinching their respective trophies with a race to spare.
Through the five events of the 2010 Audi MedCup season, regatta trophies are a bonus, and this is Emirates Team New Zealand's fifth successive regatta title in a row, but the dominant Kiwi crew will be even more content to leave Portugal with a comprehensive lead of 20 points over Franco-German Circuit newcomers Audi A1 powered by All4ONE.
Audi A1 powered by All4ONE may have finished with a sixth in the final race of the regatta, but the Franco-German team headed by four time Olympic medallist Jochen Schuemann, finished consistently in the top half of the fleet through the second half of the regatta to prove they have the talent and the tools to be podium contenders. It is Schuemann's best podium finish on the circuit, bettering his third in Puerto Portals in 2008 with Platoon Powered by Team Germany.
Schümann commented: "Cascais has been one of the most beautiful Audi MedCups that we've had in the last years. We had relatively good weather, every morning some rain but after that a lot of wind, beautiful shifty wind which I think was a beautiful challenge for all of us to get good results in the races. For us a second place is perfect, this has been the perfect Audi MedCup event.
"Today it was important for us to sail well, but we didn't necessarily have to win, second is more than enough for us. On the second race we've started well at the committee boat and at the first top mark we even had the possibility to be first, but we were second and we had a problem with the first hoist, the spinnaker sheet got hooked under the bowsprit and we had abort the first hoist till and wait till we've been able to free the sheet and that has cost us many meters, because in only a few seconds without a spinnaker you fall quickly behind.
"Even if we finished sixth that wasn't too important, what we were looking at is the overall standings, and both races we've always been in a safe position ahead of Artemis and TeamOrigin, and that was the most important thing.
"For us it was clear that in such windy conditions the important thing is to sail clean races till the end without breakdowns, without disasters, and we've managed to do it."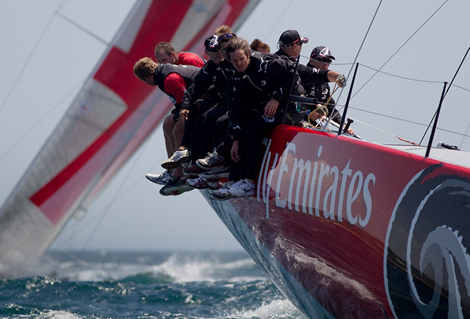 The tough conditions produced a typically bruising final day, placing big demands on crew work and equipment. Emirates Team New Zealand proved, once again, a cut above the rest in the breeze but there were gennakers shredded again today and several teams not managing to convert on the final day, due to mechanical or sail failures, whether or not they were the product of crewing errors.
Skipper-helm Dean Barker said: "It's been a very difficult first event. The venue is tricky, very hard to understand and the frist day we didn't really start off too well. The two first races were well below the standard we expected to sail at. And then the third race of the day we sort of bounced back but really after that I think we sailed a very, very strong regatta.
"I think in the remaining races, we achieved everything we set out to do and it was really a case of the other teams having races which dropped them back into the pack a little bit so we just remained consistent, other than that the first day. That's been the main difference. Without question at every event teams always improve and over the season. The standard here was very high, so it makes it a tougher challenge to keep improving. And we know that fortunately come away from here with a nice buffer for the season long championship. But also to win this event is great but there's still a lot of races, 40 races to go, we are only a fifth of the way.
"I had never sailed in Cascais before, I had sailed once in the river but that was just in a minor event and I had never had the chance to race here. I loved it, beautiful conditions. I didn't' realize it would be so difficult, I thought it would be more straight forward but it was great."
TeamOrigin lost their gennaker sheet under the boat during the first race causing them to finish 10th. For some of the time today Ben Ainslie and his crew looked like an truly exceptional unit, leading again during the first race of the day, but they still have a speed deficit downwind, which needs rectifying.
Mike Sanderson, Team Director, summed up the event: "We have to remain positive and make sure that we learn as much as we can from this event. Starting and tactically the guys sailed beautifully, we have to work on our boat speed both from us and the boat of course plus the crew work. We will get there for sure and are looking forward to the next event in Marseilles."
Ben Ainslie added, "A tough day on the water but the overall result was a good one for our first regatta with limited preparation. There is plenty of scope for improvement which is promising for the rest of the season."
On board Team Origin today - courtesy of Ian Roman/TeamOrigin
Artemis were challenging Audi A1 powered by ALL4ONE for second overall but they damaged their bowsprit when they tussled with TeamOrigin on the start line of the second race today and lost the use of their gennaker for some of the time as well as incurring a penalty.
For the local team on Pedro Mendonca's Bigamist 7, there was a boost to their morale when they won the first race of the day, beating Emirates Team New Zealand across the finish line to take the win, the Cacscais-based team's ninth Audi MedCup win since getting Bigamist 7 last year.
So, too, the 2008 Audi MedCup TP52 champions Quantum Racing leave Portugal with their belief restored that they can be serious contenders this season, not least by winning today's last race. The absence on Thursday and Friday due to injury of skipper helm Terry Hutchinson (USA) tells its own story as Quantum Racing won Wednesday's first and today's last race of the regatta.
Without question Cascais on its first time on the AudiMed Cup Circuit has proved to be one of the best venues yet on the Audi MedCup Circuit offering a full programme of 10 races for the TP52 Series and nine for the GP42 in winds which averaged over 15 knots.
Results:

| | | | | | | | | | | | | | |
| --- | --- | --- | --- | --- | --- | --- | --- | --- | --- | --- | --- | --- | --- |
| Pos | Boat | Skipper | R1 | R2 | R3 | R4 | R5 | R6 | R7 | R8 | R9 | R10 | Tot |
| 1 | EMIRATES TEAM NEW ZEALAND | Dean Barker | 6 | 11 | 1 | 1 | 4 | 2 | 1 | 1.5 | 2 | 2 | 31.5 |
| 2 | AUDI A1 POWERED BY ALL4ONE | Jochen Schuemann | 9 | 7 | 4 | 6 | 1 | 5 | 5 | 4.5 | 4 | 6 | 51.5 |
| 3 | ARTEMIS | Paul Cayard | 3 | 6 | 7 | 8 | 3 | 7 | 2 | 6 | 6 | 9 | 57 |
| 4 | QUANTUM RACING | Terry Hutchinson | 1 | 5 | 8 | 2 | 10 | 9 | 8 | 10.5 | 5 | 1 | 59.5 |
| 5 | TEAMORIGIN 1851 | Ben Ainslie | 4 | 9 | 2 | 4 | 2 | 1 | 7 | 13.5 | 10 | 7 | 59.5 |
| 6 | MATADOR | Guillermo Parada | 7 | 2 | 5 | 9 | 8 | 12 | 6 | 3 | 3 | 5 | 60 |
| 7 | SYNERGY | Karol Jablonski | 8 | 1 | 6 | 3 | 5 | 8 | 3 | 15 | 11 | 4 | 64 |
| 8 | CRISTABELLA | Tim Powell | 2 | 8 | 3 | 5 | 9 | 6 | 10 | 12 | 7 | 3 | 65 |
| 9 | LUNA ROSSA | Robert Scheidt | 5 | 3 | 9 | 10 | 6 | 3 | 9 | 16.5 | 8 | 8 | 77.5 |
| 10 | BRIBON | Gonzalo Araujo | 10 | 10 | 10 | 12 | 7 | 4 | 4 | 7.5 | 9 | 9 | 82.5 |
| 11 | BIGAMIST 7 | Afonso Domingos | 11 | 4 | 11 | 7 | 11 | 10 | 12 | 9 | 1 | 12 | 88 |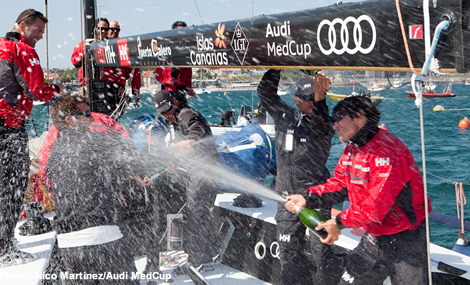 GP42 Puerto Calero wins first battle in the war

Showing yet another display of near-flawless sailing in stronger breezes, Puerto Calero scored a first and second on the final day to win this first battle in the five regatta long war that is the 2010 GP42 Series.
Their consistency, speed and error-free sailing in the challenging 20-25 knot conditions seem suited to this Canarias-based team. Puerto Calero's wide-body 2009 Botin & Carkeek-designed hull design was perfectly suited to the fresh breeze.
Puerto Calero skipper Jose María Ponce said: "We are surprised because we didn't really know what was going to happen and in which conditions the other teams were and at the end we've been able to finish with an advantage that we didn't manage to get in any of last year's events because every thing was much tighter. It's clear that what's happened here is not real, because the teams are still adjusting and I think we are the only team which has remained the same as last year, and the rest of the teams have all done changes so we have a little advantage in that ense, but I think in the next race everything is going to change a lot and it'll take a bigger effort to be at the head."
Madrid-Caser Seguros (ESP) won the last race today and finished this regatta as runner-up.
The GP42 fleet was cut down by one in today's racing by the unfortunate damage sustained by Peninsula Petroleum (GBR) when their masthead crane snapped within an hour prior to the start of the first race.
Nonetheless, the racing among the remaining four was still intense, with making great starts and progress upwind to always round the top marks in second, but then struggling a bit downwind in the fresh conditions, and the whole pack within seconds of each other at each turn.
The next regatta on the Audi MedCup Circuit is the Marseille Trophy over 15-20 June.
Results:

| | | | | | | | | | | | | |
| --- | --- | --- | --- | --- | --- | --- | --- | --- | --- | --- | --- | --- |
| Pos | Boat | Skipper | R1 | R2 | R3 | R4 | R5 | R6 | R7 | R8 | R9 | Tot |
| 1 | PUERTO CALERO | Jose Ponse | 1 | 1 | 2 | 1 | 2 | 3 | 1 | 1 | 2 | 14 |
| 2 | MADRID - CASER SEGUROS | Paolo Cian | 3 | 2 | 3 | 2 | 1 | 4 | 2 | 6 | 1 | 24 |
| 3 | IBERDROLA | Laureano Wizner Perales | 2 | 5 | 1 | 3 | 3 | 1 | 5 | 2 | 3 | 25 |
| 4 | AIRISESSENTIAL | Roberto Monti | 5 | 4 | 5 | 4 | 6 | 2 | 4 | 3 | 4 | 37 |
| 5 | PENINSULA PETROLEUM | John Bassadone | 4 | 3 | 4 | 5 | 4 | 5 | 3 | 6 | 6 | 40 |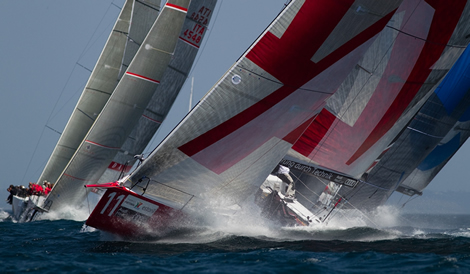 Back to top
Back to top