The 34th America's Cup WILL be different
Friday May 7th 2010, Author:
James Boyd
, Location: none selected
It seems that at present the Defender and Challenger of Record for the 34th America's Cup, along with the other challengers patiently waiting in the wings, are in the process of going through a massive box ticking exercise, as they head towards the next event, to take place most probably in 2014 in San Francisco.
At yesterday's press conference held in a magnificent museum in Rome, a suitably ancient venue for sporting's oldest trophy, several points came to the fore but most notably the timing of decisions and announcements over the coming months. This will see an initial Protocol outlining many of the rules by which the next event will be fought - not just on the water by commercially too – published by the end of August this year, a new design rule by the end of September, NoR and Sis by the end of the year which will also be the latest date the venue will be announced. A period has also been set when teams will be able to challenge – 1 October 2010 until 31 January 2011.
For a challenger the time line probably reads like this: rules in 2010, boats designed and built in 2011, first generation boats being raced on some sort of Louis Vuitton circuit in 2012 and second generation boatslaunched and raced in 2013. Challenger selection series and AC in 2014.
(As an aside Coutts points out that unlike previous Cups, all the major documentation for the event, from both the sailing and commercial side, will end up in one document. "We have to simplify that process and make it more understandable, so that someone who looks at this sport doesn't have to hire a team of lawyers for six months to work out what the legal position is.")
So the process of the AC34 coming to fruition is a considerably slower, but a very much more thoughtful process than when Alinghi, mistakenly (even they have admitted in retrospect), pumped out their original Protocol for the 33rd America's Cup before the waves had even settled on the 32nd.
One of the clearest underling messages from yesterday's press conference was over how inclusive the defender is trying to be in bringing the 34th America's Cup to life - another attempt to show how the new regime differs from when Alinghi was in charge. However this in turn has drawn criticism over the process being too democratic and inclusive and as compared to how the Swiss ran things, there seems to be little clear structure to how decisions are made, whether the buck stops with the defender in all matters (which it probably does), which decisions are ones for the defender alone (the venue and probably the date), which decisions are only for the defender and the Challenger of Record and which will be opened out more widely to get feedback from the challengers and other experts (we suspect most of it).
Nonetheless while the process is still finding its feet it seems to be heading in the right direction with a lot of good philosophy, such as the much touted introduction of neutral management, rather than defender-run management.
Another aspect that remains slightly grey is over the degree to which the AC34 is a commercial entity. Coutts has stated in the past that his boss Larry Ellison doesn't view his involvement in the America's Cup as a money-making exercise. But then neither is it philanthropy.
"Let's define what we are talking about," Coutts told us yesterday. "An example – television. Is it more important to earn revenue from television at this point or to develop a better television product and get it out to a wider audience? I'd suggest the latter is way more important as a philosophy for the teams - getting good TV, I'm not suggesting at any costs, reaching more of the masses is probably one of the objectives, rather than earning a short term dollar off TV."
So how will the 34th America's Cup differ from what has gone before?
The most significant feature will be a much much greater emphasis placed on the events leading up to main Louis Vuitton Cup and subsequent AC. The primary reason for this is that the San Francisco water front doesn't have room to accommodate a large number of team compounds and there is only room for one race course within San Francisco Bay. So it is likely that the Louis Vuitton Trophy series (or the Louis Vuitton Cup, if it gets renamed that from 2012 or 2013), will in some way be used as a device to cull weaker challengers (rather than having a minimal impact on the Louis Vuitton Cup through deciding the seeding, etc as was the case for the 32nd Cup).
Personally from the 32nd America's Cup we liked China Team being in the same row as Emirates Team New Zealand and the stronger challengers - one of the interesting moments was when in a rare David-Goliath upset of the challenger selection series, China Team claimed the scalp of BMW Oracle Racing.
It also seems likely that the number of LV Trophy events will increase dramatically from this year's three to possibly as many as seven each year.
According to Russell Coutts, some of the expert advisers they have brought in have said that there should be more racing in the build-up to the main event, but one wonders if this will spur interest in the event or if it might lead to 'America's Cup fatigue' – so when the final challenger selection happens going into the America's Cup itself, there will be no novelty.
The boats

Least important, but the bit we all like. According to Coutts, Bruce Nelson (who he?) and multihull designers Morrelli and Melvin, who worked with BMW Oracle Racing for the 33rd America's Cup, have been coming up with preliminary designs, monohull and multihull respectively, for comment. A design meeting for all the challengers and their technical teams is to take place in Valencia.
While we don't mind admitting our bias towards multihulls, it seems likely that the boat decided upon will be a monohull, but something very much more modern than the present V5 slugs. Coutts says that the boats Bruce Nelson has been penning have been in the 75-85ft range.
If the Louis Vuitton Trophy/Cup series is to become highly significant in the next contest, then it will dramatically change the challenge for design teams. No longer will it be about designing a boat or a pair of boats for one venue for one average set of heavily researched wind conditions over a specific period. Boats will have to be much more all-rounders capable of being raced in a variety of venues around the world. Significantly these venues are unlikely to be known when design teams are putting pen to paper.
Significantly Coutts repeated yesterday what he has stated in the past - that the boats must be able to race in a wide range of conditions so there is no more opportunity for racing not to take place for when it is scheduled either due to too much or too little wind. Coutts stated the wind speed in which the boat must race as 3-35 knots.
In terms of boat size, there are a number of constraints. One is over a possible use of powered winches as we saw - controversially - in the 33rd America's Cup. Coutts reasons that if this is the way grand prix yachting is going and the America's Cup is supposed to reflect the 'state of the art' in technology then they won't shy away from it, even though the majority of the feedback they have had from teams – as well as his personal preference - is to stick with manual power.
"For TV, we want to keep it as a physical sport," says Coutts. "We could also consider electric which would tie in with the reusable energy philosophy in the world today. So we could drive some of the winches by electric and have manual power for the other ones so we still have the physical element but we save cost maybe because some of the functions are electric. If that is the way sailboats are going to go as the world is with renewable energy, then we should be thinking about that for the America's Cup."
Another powerful driver of length is draft – over previous Cups, the trend has been for courses to get shorter and come closer to shore. This will take a quantum leap if racing for the 34th AC is within San Francisco Bay. So maximum draft is likely to become a major factor and it could be that to compensate for this boats will have to be fitted with canting keels (although Mascalzone Latino Audi Team skipper Gavin Brady, who was instrumental in Karl Kwok's Farr 80 Beau Geste, is advocating lifting keels. Hey – maybe canting AND lifting?)
What also seems likely is that the massive 17 man crews of the Version 5 boats will become a thing of the past with crew numbers significantly reduced.
Another aspect of the rule for the new boats is how tight or relaxed it should be. There is the argument that the box rule should be so tight that the boats end up as virtual one designs. The advantage of this is that teams, even financially strapped ones, are likely to be more competitive - which is good. But in this case – why not go for one designs and spare everyone the cost? However the America's Cup has always been described as a design contest and it could be more interesting if teams were given greater flexibility through a more relaxed rule.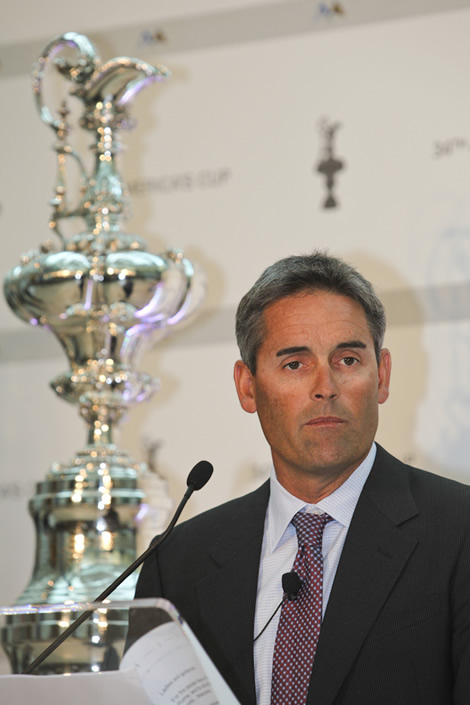 Multiple venues leads to the further complication that a boat that proves successful in the venues selected for say 2012, might not be so successful in those chosen for 2013 or 14.
We suspect the most interesting rules will be those determining how much each team is allowed modify their boats between regattas. If they are allowed to modify them – we can see no way they wouldn't be allowed to – then the meteorologists and the design teams and then the shore teams are going to have their work cut out remoding their boats to suit each venue as it comes around in turn. Unrestrained this could see them chopping boats up, changing foils and keels between every LV regatta, and that would definitely not be cheap.
Two boats

While Alinghi when they were planning for a multi-challenger 33rd America's Cup were stipulating that teams could only build one boat in order to drive costs down, Coutts has perpetually made the argument for two and it seems that teams entering the 34th America's Cup will be pretty much obliged to build two boats, although Coutts says they will be limited to this as a maximum and we won't see a Raul Gardini/Bill Koch situation where a team builds five new boats.
"If the Cup is in 2014 and if you made it mandatory that all competitors had to have a new boat ready by the end of 2011 and there are rules around that and when to launch by, then through two or three years that is getting to be a pretty old boat," states Coutts. As he has said in the past "it is not the boat that is the expensive part – it is the use of the boat that is the expensive part." So limiting required crew numbers will dramatically reduce costs. They are considering introducing an earliest launch date for each team's second boat and Coutts told us that they will also limit the amount of time teams can spend two boat testing.
In addition a team having a second boat solves some of the security issues – what happens if a week before the challenger selection series two boats have a dramatic collision destroying them both or causing them to sink? If they were one boat teams they could be out of the competition.
How much?

While there is a demand to make taking part in the America's Cup less expensive than it was for the 32nd America's Cup, we suspect that with such a large number of LV Trophy events then costs will remain significant. This will be particularly so if teams have to arrange for transportation of their boat between all the events – possibly their V5 boats in 2011 and their new generation Cup boats from 2012 and on.
So perhaps one of the smartest things that could be done is to find a shipping sponsor. Isn't Vincenzo Onorato a shipping magnate?
However Coutts points out that more racing will provide more value. "We have sensible cost cutting measures, but we don't devalue it to the point that we get a bunch of pretenders coming it. I can't go and do Formula 1 right now because there are certain restrictions. We are applying the same thinking to the America's Cup."
Coutts at present couldn't tell us a figure they are aiming at for campaign costs (as the Volvo Ocean Race has done) because they don't know the number of events likely to take place beforehand, nor where they will be.
However he is contemplating a significant benefit for smaller teams. After the 32nd America's Cup, the organiser, ACM distributed 66.5 milion Euros, the profit made from the event, between the teams that had taken part. Coutts is suggesting this time that this surplus be given to teams in advance rather than paying it after the event when it isn't needed.
The dreaded nationality rule

In the past (ie up until the 32nd America's Cup when it was thrown out) this was a nightmare issue, requiring team members to change passports, etc. However for the 34th America's Cup there seems to be a desire to reintroduce this to a degree.
"Personally I would favour a high nationality rule, which would certainly not favour BMW Oracle as it stands at the moment," Coutts told us. "That would bring countries like Denmark and others that are strong sailing nations back into play, because all of a sudden they would know that it wouldn't be an arms race."
Aside from the amount of racing that goes on before final challenger selection series (and defender trials if another US syndicate comes forward) one of the biggest leaps for the 34th AC is likely to be the way it is televised.
"As Larry said – if we can't dramatically transform TV and how at the moment incomprehensible it is to the general public to look at – if we can't do that, this sport won't shift much," says Coutts. "You can improve hospitaly and racing but we need to dramatically improve the television."
We hope that the days are gone where the on board comms loop on AC boat cannot be heard. Coutts says that they are likely to be going as far as requiring that cameras and microphone positions be planned into boats from the outset."
Coutts – and this will be endorsed by Louis Vuitton – also believes that they need to maintain the glamour of the event and he cites the example of making the case for attracting the superyacht fleet.
"We need to have a business plan for them so that it makes sense for them to come to these events and they can participate in them from a spectator and hospitality point of view – it would be pretty cool to have some of those high profile people to be around these events like Formula 1 has."
And finally – what has happened to the tri?

"We have got to figure out a plan for that," says Coutts. "We are going to ship it back to the US and I don't know whether we will sail it again or not. It will be displayed somewhere who will look after it and people can look at it for years."
We suspect it will end up never being sailed again and will be turned into an exhibit somewhere. San Fran we would bet.
Back to top
Back to top