Ceeref wins long distance race
The leisurely long distance windward-leeward course across Lake Traunsee for the City of Gmunden Trophy took place this afternoon in light and fairly steady conditions. The City of Gmunden Trophy doesn't count for the Championship Tour, however Igor Lah and his team on board Ceeref managed the course perfectly.
Igor Lah's Ceeref, with Rod Davis calling the shots, got off to a good start and immediately headed for the favoured right side of the course, closely followed by BMW Oracle Racing and No Way Back. Opting for the pin, Torbjorn Tornqvist's Artemis headed on its own to the left of the course – a choice that proved to be wrong.
Beating up alongside the eastern bank of the lake, Ceeref held on to its lead and made it first to the windward mark, closely followed by No Way Back and BMW Oracle Racing.
The course today didn't offer many passing opportunities, and the distance between the boats kept increasing throughout the regatta. Ceeref crossed the arrival line first, ahead of No Way Back and BMW Oracle Racing. Team Austria sailed a good race to finish fourth, just ahead of Team Aqua, which was recalled at the start and made a great come back.
The fleet racing part of the RC 44 Austria Cup begins tomorrow and will finish on Tuesday.
Results - City of Gmunden Trophy:
1) CEEREF (Igor Lah / Rod Davis)
2) Team No Way Back (Pieter Heerema / Ray Davies)
3) BMW ORACLE Racing (Larry Ellison / Russell Coutts)
4) Team Austria (René Mangold / Christian Binder)
5) Team Aqua (Chris Bake / Cameron Appleton)
6) Team Islas Canarias Puerto Calero (Daniel Calero / José Maria Ponce)
7) RC 44 Challenge (Ian Vickers / James Spithill)
8) Artemis (Torbjorn Tornqvist / Terry Hutchinson)
9) Team Sea Dubai (Harm Muller Spreer / Markus Wieser)
10) Katusha (Paul Cayard)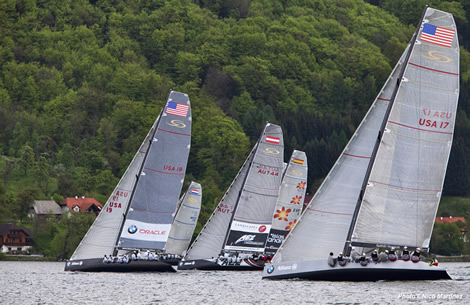 Back to top
Back to top