Black beauty
Tuesday April 27th 2010, Author:
James Boyd
, Location: none selected
Feel free to tell us we're wrong, but we think that Sir Peter Ogden's Judel Vrolijk IRC 60, Jethou, is the best looking race boat on the water at present (heckle in the comment section at the bottom of the page, if you beg to differ). Like the cooler America's Cup yachts, Jethou is finished in both hi-tech and alluring clear-coated carbon fibre and being an inshore day racer has a low freeboard for her length. The detail of the finish by her builders Green Marine is also right up there, for the Lymington-based company is good at all-black boats – many years ago now they also built Fiat boss Gianni Agnelli's maxi, shadowy Stealth.
We were going to write about Jethou after she was launched last summer, but seeing as in these hard economic times and the chances slim of any new racing boats of this size being launched in 2010, we thought we'd hang on to our look at this peach of a boat until now.
Jethou, the boat, like the Channel Island he also owns, belongs to Sir Peter Ogden, a former investment banker and one time MD of Morgan Stanley, who made his fortune as one of the founders of Computacenter, which today describes itself as 'Europe's largest provider of IT infrastructure services'.
In the sailing world Ogden is best known for his long series of Swans, culminating in his heavily campaigned 601, Spirit of Jethou. After a top season in 2008 winning regattas in Porto Fino and coming second in Capri and the Swan Maxi Cup and in the Swan Maxi Series, Ogden felt the time had come to move on. According his boat captain Stuart Branson this was also because the other 601s Moneypenny, Artemis and CourdiLeone had moved to pastures new. "It was really exciting with the four of us racing, but we'd gone as far as we could go."
The choice to go for a 60 was down to Ogden wanting to squeeze into the Mini Maxi class, but not wanting the struggle of having to change his crew or the way they sailed, as would have happened if they had chosen to go bigger. For Ogden, a life-long sailor, races primarily with family, including his daughter and a cousin, and friends. The only pros on board among the 16-17 crew are Branson, Scottish 49er turned Volvo Ocean Race sailor Ian Budgen, who is tactician, and for this year Nat Ives, who has returned to the crew as navigator.
"We are all learning together and that's how he [Peter Ogden] wanted to do it," continues Branson. "We wanted to go racing and be faster and more competitive, but he wants to still sail within the ethos of how he has always sailed with all his boats. Peter steers. He is a big advocate of owner-drivers and he loves that."
Ogden himself explained his reasoning to thedailysail: "I'd rather sail a smaller boat. Obviously I had lots of thoughts about design. Theoretically all the big boats might fight between themselves and leave us alone maybe a little bit! There are lots of things for a smaller boat, but so far the bigger boats have shown to be on balance quicker.
"Obviously the boats are very exciting boats to sail and the owners are quite a nice group of people. We all seem to get on and chat - on shore it is not that vicious!"
The Mini Maxi class is run under IRC so in theory there should be no benefit to being at one end or the other of the 18.29-24.08m (60-79ft) length limits. Yeah, right.
According Rolf Vrolijk, Jethou's design fits into the gap between their STP65s Luna Rossa and Container and their TP52 designs. "In concept it is closer to the 52s than the big boats and so the ratios are slightly different because of that."
Jethou is effectively an inshore boat, the most offshore she is likely to go is the Giraglia Rolex Cup (which she is entered in this year, including the offshore race from St Tropez to Genoa) and possibly the Newport-Bermuda in the future. As a result, Vrolijk says, they were able to reduce freeboard to the minimum.
So in the Mini Maxi class, is there any advantage to being a smaller boat, we asked Vrolijk. "On paper there shouldn't be of course, but I think in breezy conditions the bigger boats should have an advantage. Everything under medium conditions, smaller boats should have a fair chance, assuming there are only one or two bigger boats they have free air and they can sail their own race. But now there are more big boats, it will be interesting to see what happens."
Ian Budgen says they have taken measures to minimise the downside of their short size: "We realised that the boat is at a disadvantage off the start line and initially round he course because we have to fight for clean air, and therefore we made a conscious effort to make the boat as light as possible so she gets up and surfs and planes quicker than all the rest."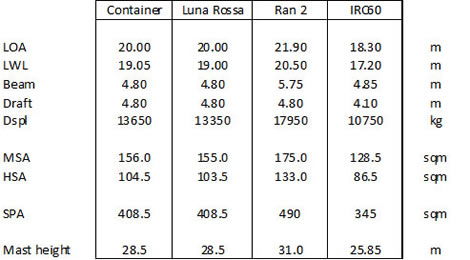 Obviously there are strong links between Jethou to Niklas Zennström's 72ft Ràn, which was designed by Judel-Vrolijk at the same time and also built by Green Marine - both boats being developments of Dan Meyers' IRC-killer JV66 Numbers. The difference is that Ràn is a little more offshore orientated, able for example to do a Rolex Sydney-Hobart.
In terms of their systems they are also very similar – both boats have Lewmar winch packages (in the past the late Owen Parker was a regular in Ogden's crew) with a John Williams-designed gear box and hydraulics from Ian Lovering. John Williams was also involved in Jethou's deck layout although not to the same extent as he was with Ràn, says Stuart Branson. Diverse fitted the electronics.
"I suppose with our experience from other projects we've been involved in, we tried to make all the systems on board as light and as simple as possible without trying to reinvent the wheel," says Ian Budgen. "We wanted it so that it was reliable and worked well and to date there is nothing I would change if we were to do it again."
One major difference is that while Ràn is a Southern Spars boat, Jethou has a HallSpars rig package, with a three spreader carbon fibre spar with HallSpar halyard locks on everything save the staysail.
Like Ràn, the hydraulic package is a development of that used in the America's Cup, including the ability for her three pedestals (rather than Ràn's four) to power a Navtec rotary pump capable of driving the boat's extensive hydraulics. We were surprised to hear that their Swan 601 Spirit of Jethou also had a rotary pump for this same purpose, although it was not as efficient as the one on the new boat.
Jethou has hydraulics for her forestay and jib tack, operated by a 'Siamese' ram so they run in tandem, plus outhaul, vang, Cunningham, jib in and jib up-down clew positioning. While there is the ultimate flexibility in terms of what the pedestals grind - whether they power winches individually or in unison or whether they drive the rotary hydraulic pump - typically on Jethou the rotary pump is driven from the aft pedestal and is used to operate the mainsail hydraulics leaving the headsail trimmers to operate the jib hydraulics independently with handles.
"There are times when you want to do both jib and mainsail functions, but just to make it simple, it is easier with them being split," states Budgen. He adds: "Both the rotary pump and the driven pit winch actually make sailing the boat much more efficient and quite a lot easier in a number of ways. Compared to the boat Peter had before, in a lot of ways this boat is easier to sail, because the cockpit is a lot more open and the controls and functions are easier to adjust. The big step up is actually for the grinders because there are three sets of handles on the boat and they can link into any one of different four winches in any combinations. So the grinding role is the biggest step up."
The sails were put together by the North UK loft and designed between Dave Lenz, who sails on board, and North Denmark's Henrik Söderlund, while North's Bob Lancester is another long term trimmer on board. Typically they have five upwind headsails and five chutes – all asymmetric – of which one is a fractional.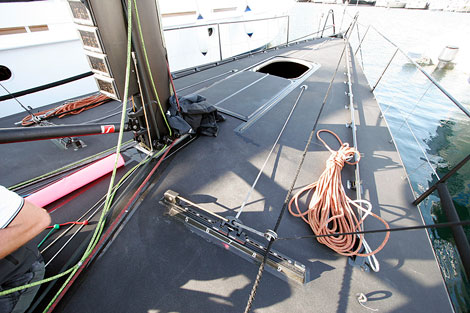 Working back from the bow, there is obviously a bowsprit and zero spinnaker pole. The forestay has a substantial headfoil on it which Branson says is a US-version of a Tuff Luff. In hot climes the all-black deck, one imagines is not to be walked on without some sort of foot protection, particularly with the aggressive non-slip (part of the paint system) which is effective but, Stuart Branson admits, does rapidly eat through crew shorts.
Further aft is a sizable deck hatch with a pneumatic seal, as Ràns has. Below this is Jethou's Cup-style spinnaker drop system which flushes the kite down below via a drop line. The different between Ràn and Jethou here is that the take-down system on the former is entirely below deck while on Jethou the take-down line emerges from its length run around the interior of the boat back on deck into the pit on the port side. Going hand in hand with this is of course a pedestal driven pit winch, another now regular feature of AC boats/TP52s.
Jethou doesn't have Ràn's 'Lou Varney specials' for her jib cars, but a more conventional arrangement with the up-down control lines leading all the way forward to either side of the foredeck hatch. A very good looking feature that has been appearing on race boats such as this recently, are the internal chainplates – the Hallspar composite shrouds disappearing through neat holes in the deck.
There is no cabin top (hurrah) and so lines can return directly to the pit area without having to be diverted.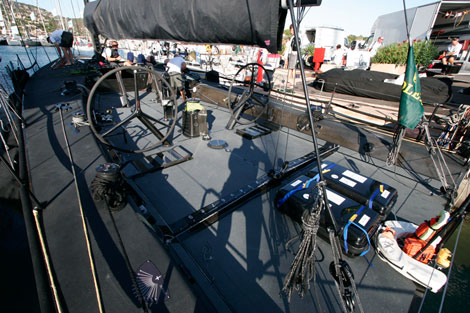 The cockpit has three pedestals, the forward two fore and aft, the aft one mounted laterally. Aft of this is the central island for the mainsheet winch, the two wheels and then forward of the transom, the full width mainsheet track, the twin liferafts (in black cases of course) and the chainplates for the twin running backstays.
Down below the interior finish is clear coated black carbon fibre like the exterior. This means everything, including the moulded galley unit, mounted off to port complete with a carbon fibre cover that lifts up to reveal a two burner stove and a carbon fibre sink.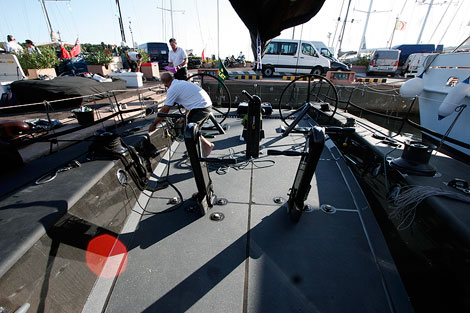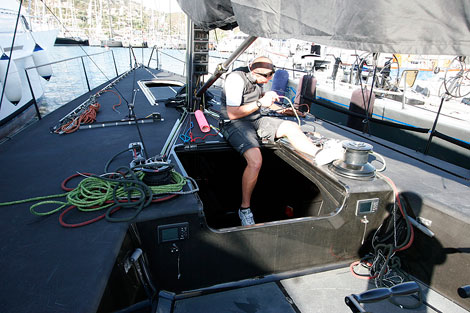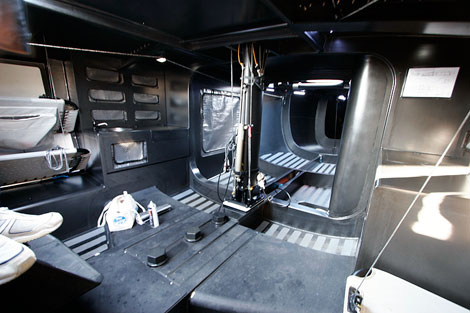 Hard to overlook in the central 'saloon' area are the three carbon fibre covers for the giant keel bolt heads. Save from frequently spaced ring frames, including the main bulkhead, the bow is open going forward, with the enclosed head compartment to starboard just forward of the mast. Despite being a day racer there are pipecots either side of the boat from level with the companionway, aft. The Ives lair/navigatorium is mounted beneath the cockpit sole, directly aft of the companionway.
While the new Jethou may be around the same size as Sir Peter Ogden's previous Swan 601, her performance has a marked difference as aside from having more horsepower her displacement is less than 11 tonnes compared to the 601's substantial more hefty 18.
"In Sardinia it was quite windy and wavy and I think we had 25 knots of wind and big waves which was quite entertaining," says Ian Budgen. "One day we came ashore with the boat pretty full of water, but we are still waiting for a good blast. We will certainly know all about it because it will be very wet and it will be very quick." Speed-wise they currently sail downwind at just short of true wind speed and Budgen reckons that flat out boat speed could be approaching 30 knots if they dare to take it out in enough breeze.
The program for Jethou in 2010 has already started with Hublot PalmaVela where they finished third in the Mini Maxi Racing class (or second if you exclude the non-owner driven Container) and ahead of Neville Crichton's Shockwave (ex Alfa Junior). From Palma they head off to Rolex Capri Sailing Week at the end of May and on to the Giraglia Rolex Cup in mid-June, before the boat hightails it back to the UK to compete at Cowes Week. It is then back down to the Maxi Yacht Rolex Cup in September which will feature the first ever Mini Maxi World Championship.
So if you see an all-black boat that stops you in your tracks – now you know what she is.
| | |
| --- | --- |
| | |
| | |
| | |
| | |
| | |
| | |
| | |
And some rather more professional images from Mark Lloyd/www.lloydimages.com
Back to top
Back to top