Interlodge trounces the big boys
Light to moderate winds from the east and scorching sunshine made for yet another sparkling day on the water for day two of Antigua Sailing Week. The racing yachts in Division A enjoyed two cracking round-the-buoys races on courses set along the south coast of the island, while the cruising classes and charter yachts had a fairly relaxed race from Dickenson Bay on a north-bound course to the finish just off Jolly Harbour on the north-west coast of the island.

The two super-stylish 'powerboats' – Tom and Dotty Hill's custom Reichel Pugh 75 Titan 15 and Niklas Zennström's 72ft Judel Vrolijk-designed Ràn continued their matchracing style battle in Racing 1 fleet as they headed off from the line neck-and-neck in the first race of the day in a 8-10 knot easterly breeze. These two engaged themselves in such a close battle that they ended up on the wrong side of the beat, giving Austin Fragomen's well-sailed JV52 Interlodge an opportunity to benefit. At the windward mark Ràn had taken the advantage and rounded just over 30 seconds ahead of her closest rival. But Interlodge was up there too. A good downwind leg from Titan 15 put her back in control by the leeward mark, but she had not gained enough on Ràn. Interlodge, on the other hand, had pushed ahead making further gains, which was enough to secure an overall class win. Ràn was second and Titan 15 had to settle for third.

Jeff Ewenson, tactician on Interlodge, commented: "We were able to get a good start ahead of Privateer and controlled the race from there on. Thankfully Ràn and Titan engaged themselves in a private battle which meant they both slowed down a bit allowing us to sail clean and take advantage of that fact in the first race."

In the second race of the day, the wind increased to 15-16 knots and Ràn was keen to keep the potent Interlodge under control at the start, and control her destiny. Tim Powell, boat captain on Ràn, commented: "We had a very good day, and a close tussle with Titan in both races. She has to give us one minute 16 seconds an hour, so if we have a good start and a good first beat, and get to the top mark ahead of her that normally sets us up. There was a certain amount of Titan and us playing around too much with each other, which resulted in us ending up on the wrong side of the course and allowing Interlodge to benefit. We leant a lesson that in this class we need to sail smarter and go the right way if we're going to win races." In the second race they did just that, beating Titan and Interlodge on corrected time.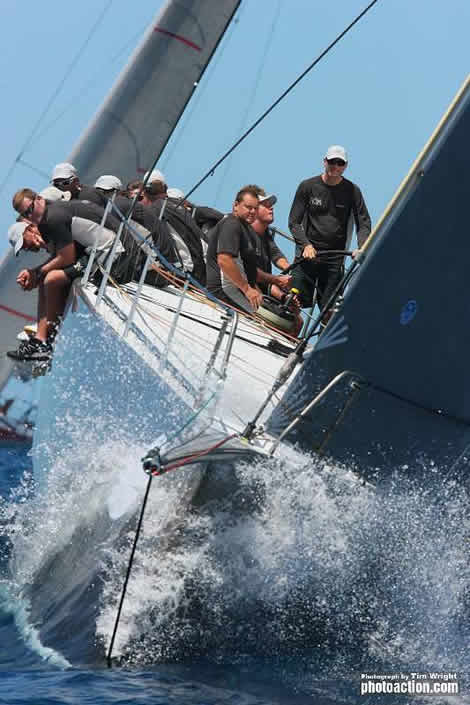 Lindsey Duda and team on Sin Duda, the American Santa Cruz 52, made their intentions clear by taking their third win of the regatta in Racing 2. They had a good start just behind Danilo Salsi's Swan 90 DKS Pioneer Investments in race one today and sailed a tactically good beat putting them in a good position well ahead of the gaggle of Farrs, which give her time. Increasing her lead further, she not surprisingly went on to win, with DKS Pioneer Investments second, and Stefan Lenert's Bill Tripp/Turner 56 Passion4C in third. Stuart Lochner, Sin Duda's boat captain commented: "We've had a fantastic time so far and really looking forward to the racing tomorrow. Our team work is good so we hope to continue our current form for the rest of the week."

In this fleet, round the world yachtsman Brian Thompson has teamed up with Safe Passage Sailing (SPS) as a key coaching member aboard one of Ondeck's four Farr 65s. This 'fleet within a fleet' is enjoying some extremely close racing with, often, just seconds separating them as they cross the finish line. Today's racing was no exception. Thompson and team on Spirit of Minerva enjoyed a boat-for-boat, race-long battle in Race 2 and 3 with Spirit of Isis, and finished just 40 second ahead on corrected time in Race 2, and just over three minutes in Race 3.
Michael Williamson's King 40 White Heat stirred up things in Race 2 today with a 26-second win over Catapult, the brand-new J/122 sailed by Marc Glimcher. So close is the racing in this class that even the pre-event favourite – Lost Horizon was 'struggling' and beaten in this race by the extremely well sailed RP44 Peake Yacht Services Storm. Barry Sampson's Swan SC42 Long Echo is also making her mark, finishing just behind Lost Horizon, while Richard Matthews' Humphries One-Off design Oystercatcher XXVI had to settle for sixth place, just five second behind on corrected time.

Lost Horizon came good again however, in the second race of the day beating Catapult by one place. Alfred Koolen, Antigua Sailing Week measurer and core crewmember aboard Lost Horizon, said: "We had a confusing first race where everything went wrong including a problem with the spinnaker. It was not our race. In the second race however, we were back on track and everything went right but at the moment we're still just behind Catapult overall."

In Division B, racing was equally close within the fleets with just seven minutes separating the top six boats in Performance Cruising 1. Tyke, Marco Serfini's FY61 stole the show today beating Han Schmitt's Swan 48 by just over two minutes. Peter Morris and his team aboard the Frers 43 Jaguar which won yesterday's opening race, had to settle for sixth. Hugh Bailey sailing his First 456 Hugo B from Antigua won Performance Cruising 2 today, with another local hero – Carlo Falcone – aboard his one-off Caccia Alla Volope finishing second.

The British Jeanneau 49 Sunbeat IV sailed by Steve Kuhl and team took their second win in succession in Cruising 1, beating Dave Perkins' Jeanneau 54 Windward Spirit for the second day in a row. Burt Keenan and his crew sailing the Frers custom 48 Acadia also sailed an exceptional race again today clocking up their second win of the regatta in Cruising 2.

The Bavaria 42 Match Moonlight, one of KH+P Yachtcharter's 12 boats from Stuttgart, Germany won Bareboat 1 today, while Bareboat 2 saw four KH+P charterboats within the top five of Bareboat 2 including yesterday's winner the Dufour 44 Sea You Later taking another win. Michel Ruyter in his Sunsail-chartered Beneteau Oceanis 39 Dynaf beat yesterday's winner KH+P Sun King in Bareboat 3.

Robbie Ferron who runs the Heineken Regatta in St Maarten is at Antigua Sailing Week racing his Lagoon 410 Katzenellenbogen and has so far put two wins in the bag in Cruising Multihull fleet, beating Joe Walsh on his Lagoon 470 Escapade by two points.

The schedule for Antigua Sailing Week continues tomorrow with Division A yachts racing two races in the southeast corner of the island off Willoughby Bay. Division B will race from Jolly Harbour round the coast back to Falmouth in time for the English Harbour Rum Street Party where competitors and visitors to the island can enjoy traditional Antiguan hospitality with performances from some of the best bands on the island and a taste of Antigua Carnival.
Back to top
Back to top