Farr 25 OD launched
The first Farr 25 One Design has been launched by OD Yachting in Istanbul, Turkey.
This new sportsboat has all the attributes one would expect off the breeze, aided by a 64sqm spinnaker flown from a retractible bowsprit, but she has been designed to also provide a comfortable ride upwind.
As the Farr Office explains: "OD Yachting wanted a one-design that would impress advanced sailors with excellent performance yet be easy to handle and operate for the intermediate, weekend sailor. The Farr 25 meets the performance requirements with a beautifully shaped hull (developed alongside our Volvo 70s), an exceptional ballast ratio of 50%, a light displacement of only 930kg (2050lbs) and a displacement to length ratio of 77."
Constructed in E-glass and epoxy with a foam core, the 25 features a single spreader carbon fibre mast and boom from Southern Spars, however for ease of handling she feature a jib on a roller furler with the furling drum recessed into the deck.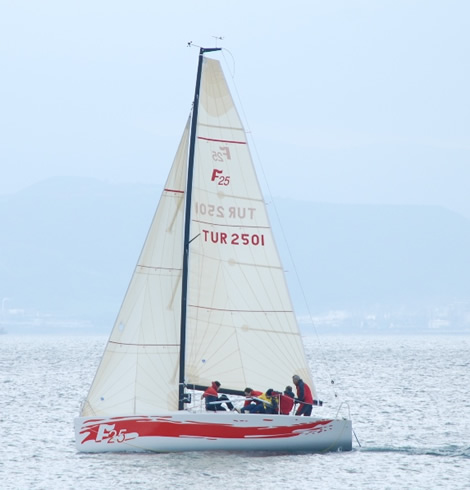 Unlike say the Melges 24, the 25 has a fixed T-keel rather than a lifting keel in order to keep costs down and have a simple, maintenance free installation. With a maximum draft of 1.8m, the boat is still legally trailer-able on its keel throughout Europe and the US. The keel is assembled into a trunk in the hull with a single M20 stainless steel bolt making keel assembly and disassembly extremely easy.
Uniquely, the 25's keel features a fin constructed in pre-preg carbon fibre – with an all-up weight of just 18kg. "Such a light fin allows more weight to be packed into the bulb for a lower VCG and turbo'd performance. The fin plan form is trapezoidal and utilizes one of FYD's proprietary custom foil section designs for optimum performance in round the buoys racing. Given the propensity of T-keel configurations to snag kelp and weed, this keel fin also incorporates a kelp cutter.
"The bulb shape takes advantage of the recent CFD research FYD has conducted on bulb shape optimization and features a moderate length to diameter ratio and a high squish ratio for optimum performance in round the buoys racing. The bulb shape also includes a chine, giving the bulb a low center of gravity and improved lift efficiency upwind and tight reaching."
Similarly the rudder stock and black are also made in carbon fibre for lightweight, strength and stiffness.
Down below there is sitting headroom and space for two bunks either side of the companionway. Under power she is driven by a 6hp outboard motor that swings out of a storage locker in the cockpit sole.
The price of the boat, from Turkey, without sails, instruments, trailer, outboard or tax is 44,600 Euros.
Vital statistics:
LOA - 7.62m (25ft)
LWL - 6.96m (22.85ft)
Beam - 2.47m (8.1ft)
Draft -1.80m (5.9ft)
Displ - 930kg (2050lb)
Ballast - 453kg (1000lb)
D/L - 77
Upwind sail area - 37sqm (400sqft)
Downwind sail area - 87.5sqm (940sqft)
I - 9.30m (30.51ft)
J - 2.75m (9.02ft)
P -9.50m (31.16ft)
E - 3.72m (12.2ft)
ISP - 10.67m (35.0ft)
SPL - 4.20m (13.78ft)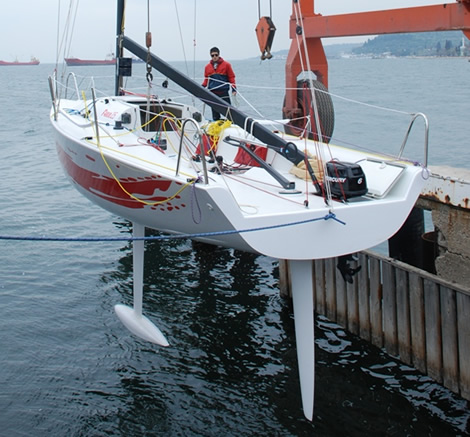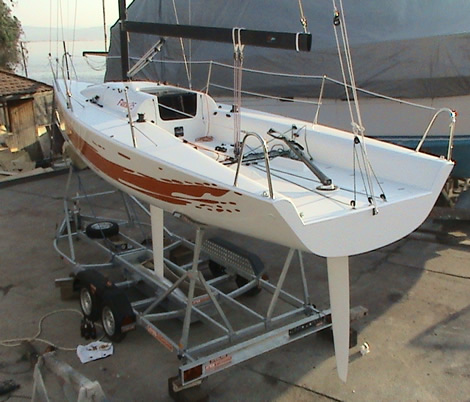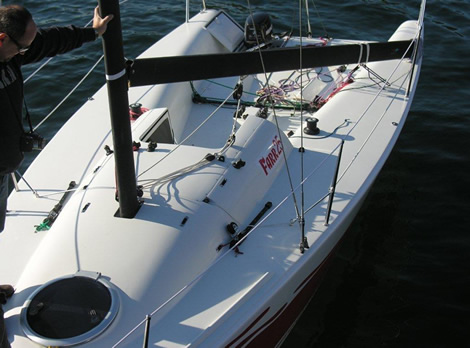 Back to top
Back to top