Niklas Zennström's Ràn
Success in a recession
Times are hard still, economically at least, in the UK. And so, it comes as little surprise that one of the most successful formulas to keep big boat owners racing on the south coast is the venerable Farr 45. Built in the mid-1990s and known previously as the Corel 45 and the IC45, today these once state of the art one designs are still going strong with nine or ten boats regularly racing on their own circuit in the UK. Perhaps most significantly, they have reached an age where they are no longer depreciating.
Familiar Hamble figure Mike Richards, of Boat Sales International, has grown up with the 45 since its inception and today races on Duncan Morris' Rebel. He waxes lyrical about his waterborne baby: "I've always thought they are great boats, because they are a perfect size for the Solent. They have always been great fun – the first boat came out in 1996 and who would have thought that 14 years later we will still be sailing them?"
The 45 fleet today comprises Rebel, Simon Henning's Alice, Shaun Frohlich's Exabyte 4, David and Gill Richards' Shadow (to be chartered this year), Jack Pringle's Fraxious, Freddie Freeloader (for sale), Tony Langley's Atomic, Jerry Otter on Werewolf, Jeff Blue's Espresso Martini and the new recruit - Niklas Zennström's Ràn.
Aside from having a fair turn of speed, the boats are still strict one designs. As Richards, who has an unofficial role as the class' technical guru, says: "The foils, the hulls and the rigs are all pretty well sorted. The sails – there is a set of class rules with dimensions in it. The only big things that have changed are the foot chocks in the boats for the owners. Everything else is heavily controlled."
Richards mentions this because the latest recruit to the class, Ràn's Niklas Zennstrom is tall and as he wishes to improve his helming, the team has been allowed to replace the foot chocks with wells, to allow him a more comfortable helming position behind the 45's characteristic enormous single wheel.
Another reason for the boat's longevity is that coming from the era of IMS, which penalised carbon fibre, the 45 is built in Kevlar. As Richards puts it "they bounce really easily and don't tend to break!"
The circuit for the 45s fits in around other big events in the Solent such as Cowes Week, the Round the Island Race and the Vice Admiral's Cup and also a class favourite – Dartmouth Week - while their championship this year counts the big boat racing at Warsash Spring Series and Hamble Winter Series, plus their own class races run by the Royal Thames and the Royal Southern yacht clubs. The big event of the year is the Nationals taking place over 10-13 June in Weymouth, where they were held last year too.
Typically races are short windward-leewards with as many as five races a day. "Sometimes it can be a 0.8 windward-leeward, but we will get four or five races in a day," says Richards. "It is one of the things – if you finish a race and you've done badly, you know there is another one coming. If you have a race where people have just extended and it has become very boring, you have nothing to look forward to. If you have four or fives races you know you have a chance."
Class Chairman Jerry Otter also agrees with the format: "You have lots of turns and lots of potential attacking positions. If you have a fleet of nine boats all going into the first windward mark someone is going to get spat out of the back end and others are going to make gains. And because you have windward-leeward it is a case of reading the course and reading the tide – it is a lot more tactical and that is what most of the boats want."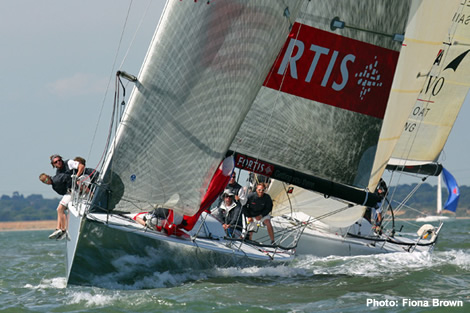 A new addition this year's race program for the 45s is that the Royal Thames YC is laying on a two day match racing event and they are also looking at a team racing event, where boats race in pairs.
And the racing is close, the boats well matched in terms of their speed. Richards says that aboard Rebel they lined up with Ràn recently and between East Bramble and Cowes there was perhaps one or two boatlengths in it.
In terms of value, Jerry Otter, owner of Werewolf, says that 45s typically sell for £100-120,000 and that will buy you a fully tricked-up boat, ready to race. How much new boat could you get for that? All the boats are fully maintained and in the case of Werewolf it is Nick Butt who looks after it. "These boats, apart from being 12 years old, still have as much love put on them as a 52 would," states Otter. "However – and that's my briefing from the other owners – we want to prevent someone with a lot of money trying to dominate the class by cheque book." This, it is argued, is what has prevented the IRCed former TP52s becoming the popular big boat class as was being touted in the UK two or three years ago. However Otter argues the IRCed TP52 supposed phenomenon didn't last because the boat's aren't the same and you have to race them on handicap.
Unlike the Farr 40, there is no owner-driver requirement in the Farr 45 class, but typically the majority of boats are steered by their owners. On Werewolf it is typically Mark Richmond behind the well. "I am an athletic type of person, but I know I can't drive as well as Mark can, but I don't mind doing guy or pit so long as I am on the boat. It is not going to rule my life," says Otter.
So while new race boats may be few and far between in 2010, it is good to see that one class seems to have cracked the formula of how to succeed even in times of recession.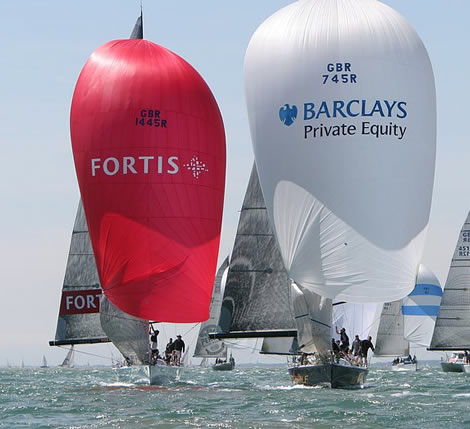 Back to top
Back to top