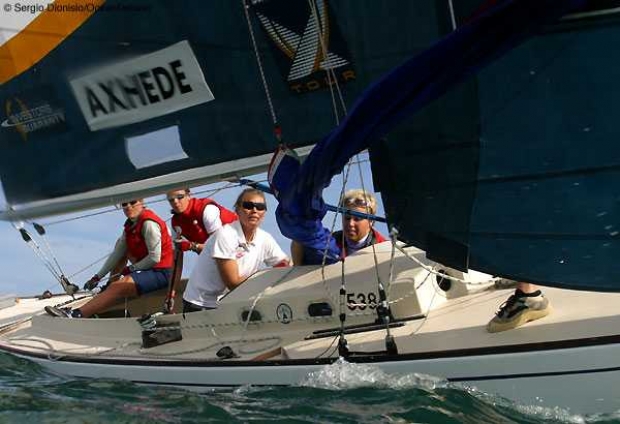 Axhede and Lewin on top
The Bermuda International Women's Match Race Championship returned to Hamilton Harbour this morning in beautiful sunny weather for the eight international teams here vying for $15,000 in prize money and the 4th Cruiser Squadron Bowl.
Defending champion Paula Lewin/Team ACE is one of two undefeated skippers, posting two wins in the Round Robin. Racing continues through Tuesday in International One Design class sloops. The winner and runner-up will advance to round one of the Investors GuarantyT Presentation of the King Edward VII Gold Cup (October 22-26), the second event of the Swedish Match Tour 2003/04, where they will compete for another $100,000 in prize money.
"We had a good day," said Lewin who is sailing with her sister Peta, Carola Cooper, Lisa Neasham and Christine Patton. "In our first race against Sally (Barkow), it was quite exciting, we switched leads three times - we're just happy to have gotten away with a win and the position we're in after the first day."
Jenny Axhede/Team Panorama of Gothenburg, Sweden shares the top of the scoreboard with Lewin. Axhede is a member of a six-person team that rotates as crew for World #1 Marie Bjorling, absent from this year's event because she is expecting her first child. Axhede recently switched to helming duties and the team was pleased with their result. "We sail the DS 37s back in Sweden so the IODs are a bit different for us," said Anna Holmdahl, who sails with Jenny Axhede. "We're happy with our boat speed, we have a couple of IODs back home so we've spent some time training in those to get ready for this week."
Four skippers are tied with one win each are Rolex Yachtswoman of the Year Betsy Alison of Newport, R.I., USA, Sally Barkow of Nashotah, Wisc., USA, Deborah Willits of Houston, Texas and Elizabeth Kratzig of Corpus Christi, Texas/Miami, Fla., USA. Klaartje Zuiderbaan of Amsterdam, Netherlands and Sandy Hayes of Scituate, Mass., USA lost both matches.
The top four highest scoring skippers in the Round Robin will qualify for the Semi-Final Round, which is scheduled for Tuesday, with the Final Round to follow.
BERMUDA INTERNATIONAL WOMEN'S MATCH RACING CHAMPIONSHIP
Results: Day 1, October 18, Two flights of Round Robin:
Skipper, Hometown, Win-Loss Record
Jenny Axhede, Gothenberg, Sweden, 2-0
Paula Lewin, Paget, Bermuda, 2-0
Betsy Alison, Newport, R.I., USA, 1-1
Sally Barkow, Nashotah, Wis., USA, 1-1
Elizabeth Kratzig, Corpus Christ, Texas/Miami, Fla., USA 1-1
Deborah Willits, Houson, Texas, USA, 1-1
Sandy Hayes, Scituate, Mass., USA, 0-2
Klaartje Zuiderbaan, Amsterdam, Netherlands, 0-2
Round Robin Results
Flight 1, Match 1
P. Lewin def. S. Barkow
E. Kratzig def. S. Hayes
J. Axhede def. D. Willtis
B. Alison def. K. Zuiderbaan
Flight 2, Match 1
P. Lewin def. S. Hayes
J. Axhede def. K. Zuiderbaan
S. Barkow def. E. Kratzig
D. Willits def. B Alison
Back to top
Back to top