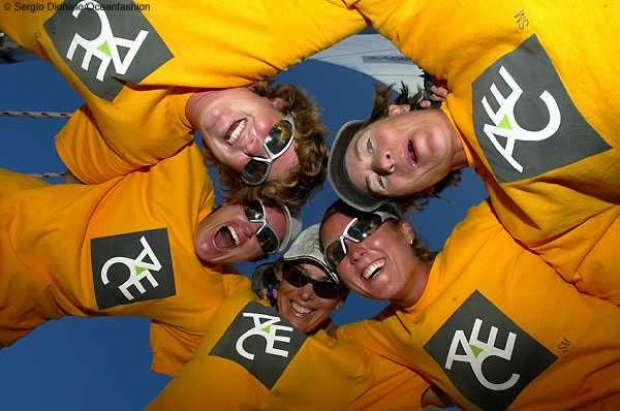 Local girl comes good
In front of a large spectator crowd on Hamilton Harbour, Bermuda's own Paula Lewin/Team ACE claimed victory over Sweden's Jenny Axhede/Team Panorama in a thrilling five-match series that no one will soon forget. For the win Lewin was awarded $5,000 and the 4th Squadron Cruiser Bowl. In addition, she advances to the first round of the Investors Guaranty Presentation of the King Edward VII Gold Cup, the second event of the Swedish Match Tour 2003/04, where 16 teams will compete for a record $100,000 in prize money.
In the petit-final, Elizabeth Kratzig/Team Kaenon (USA) won over Sally Barkow/Team Seven (USA) 2-1. Racing took place in International One Design class sailboats in this ISAF Grade 1 event hosted by the Royal Bermuda Yacht Club.
"It was a tough final," said Lewin, who sailed with Peta Lewin, Lisa Neasham, Christine Patton and Carola Cooper. "My crew kept me on track. Hamilton Harbour is tricky and sometimes it pays to wait for pressure and sometimes it doesn't."
The win was a true test of Lewin's ability and that of her team. Additionally, it was only the second time that Lewin had faced Axhede. Lewin, a two-time Olympian, easily won the first match, but then suffered defeat in two straight matches against Axhede. With building breezes and nerves onboard not only the two race boats, but also the spectator boats, Lewin won the start and kept a nice lead on Axhede to win the fourth race. Match point came down to the final race in the 'first to three points' series.
With a strong lead in the pre-start, Lewin crossed the line fully powered up and ahead of Axhede, who appeared to be slow getting moving. Upwind on the first leg of the twice around windward/leeward course, Lewin held her lead, covered Axhede nicely and reached the windward mark with a comfortable margin. Down to the leeward mark, Axhede gained slightly, but with Lewin rounding ahead and getting into some strong pressure, it was 'game over' for the Swedish team.
"I think we were a little stronger in the pre-start and it was a matter of keeping ahead of her," said Lewin.
"It was a long day of racing. When we rounded that last weather mark, some of the crew – including me – started getting excited about winning, but then I had to say, 'let's stay calm and focus on what we're doing here.' I'm so relieved to have won."
In Round One tomorrow, Lewin will face Dennis Conner/Team Dennis Conner (USA), with whom she sailed in this event in 2001. " I cannot wait," said Lewin. "I have never sailed against him and I think I'm privileged to do so. He's a fabulous helmsman, but it's Bermuda and it's our waters and it's in small boats, which we're comfortable with. And it's supposed to be windy tomorrow and we like that, so we'll see."
In tomorrow's round one of the Investors Guaranty™ Presentation of the King Edward VII Gold Cup, eight match-ups will be sailed and the skipper that is the first to three points advances to the quarter-final round. Those who do not advance are 'knocked out' of the regatta. The pairings are:
1. Paolo Cian/Riviera di Rimini Sailing Team (ITA) vs. #1 seed and defending champion Jesper Radich/Team Radich (DEN)
2. Paula Lewin/Team ACE (BER) vs. #8 seed Dennis Conner/Team Dennis Conner (USA)
3. Cameron Dunn (NZL) vs. #5 seed Russell Coutts/Team Alinghi (SWI)
4. Staffan Lindberg/Team Henri-Lloyd (FIN) vs. #4 seed Peter Gilmour/Pizza-La Sailing Team (AUS)
5. Bill Hardesty/Team Hardesty (USA) vs. #3 seed Peter Holmberg/Team Gramicci (USVI)
6. Ed Baird/Team XL Capital (USA) vs. #6 seed Dean Barker/Team New Zealand's Omega Match Racing Team (NZL)
7. Jenny Axhede/Team Panorama (SWE) vs. #7 seed Chris Dickson/Oracle BMW Racing (USA)
8. Peter Bromby/Team ACE (BER) vs. #2 seed Jes Gram-Hansen/Team Colorcraft (DEN)
Racing is scheduled to begin at 9:00 a.m. (Bermuda time) on Wednesday, October 22.
Title sponsor of the King Edward VII Gold Cup is Investors Guaranty™. The event is hosted by the Royal Bermuda Yacht Club and the Bermuda Department of Tourism. Renaissance Reinsurance is the Presenting Sponsor. Primary Sponsors are Bacardi, Colorcraft, Continental Airlines, Coral Beach & Tennis Club, Horizons Resort, Oleander Cycles, Omega, The Waterloo House and Wedgwood.
BERMUDA INTERNATIONAL WOMEN'S MATCH RACING CHAMPIONSHIP
Final Results:
1. Paula Lewin/Team ACE (BER)
2. Jenny Axhede/Team Panorama (SWE)
3. Elizabeth Kratzig/Team Kaenon (USA)
4. Sally Barkow/Team Seven (USA)
5. Deborah Willits (USA)
6. Betsy Alison (USA)
7. Klaartje Zuiderbaan (NED)
8. Sandy Hayes (USA)
Final Round
Flight 1
P. Lewin def. J. Axhede
Flight 2
J. Axhede def.P. Lewin
Flight 3
J. Axhede def.P. Lewin
Flight 4
P. Lewin def. J. Axhede
Flight 5
P. Lewin def. J. Axhede
Petit-Final Round:
Flight 1
S. Barkow def. E. Kratzig
Flight 2
E. Kratzig def. S. Barkow
Flight 3
E. Kratzig def. S. Barkow
Back to top
Back to top