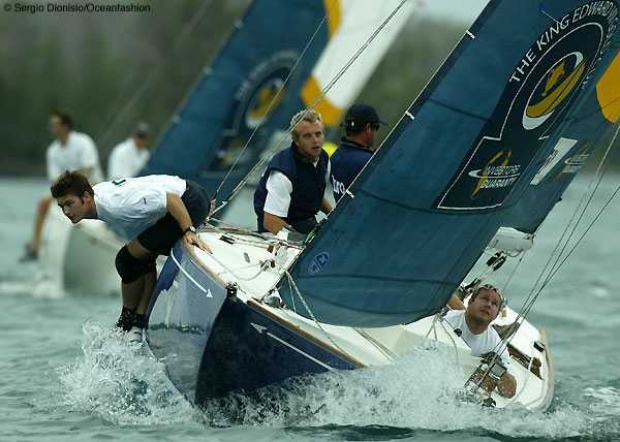 The unseeded line up
Racing in the three-day round robin qualifier of the Investors Guaranty™ Presentation of the King Edward VII Gold Cup - the second event in the 2003-4 Swedish Match Tour - kicked off today on Hamilton Harbour in Bermuda. While the first half of the 16 unseeded skippers were met with steady 15-knot breezes and sunshine for their two flights of matches, rain clouds and oscillating winds quickly changed the mood of the second group and eventually led to the cancellation of a third scheduled flight of matches.
In Group 1, three skippers are undefeated: Paolo Cian of the Riviera di Rimini Sailing Team and New Zealanders Cameron Appleton of Team Triangle Rigging and Cameron Dunn of Team Kaenon. "Obviously, I'm extremely happy with my first day today," said Dunn, "but we can still sail a lot better and are going to continue to try to improve tomorrow."
For former Team New Zealand sailor Appleton, helming a match racing team is a new, but exciting challenge. "It took me quite a long time to get my crew together," said Appleton. "In fact I just got three guys from the East Coast of the United States to come sail with me this past week. I'm looking forward to tomorrow, I need to get the boat off the line a little bit better, but we sailed around the course really well and look forward to getting better as the week goes along."
In Group 2, two skippers are undefeated: ISAF World Match Racing champion Ed Baird of Team XL Capital (USA) and Bill Hardesty (USA). The current #1 ranked Swedish Match Tour skipper Magnus Holmberg of Team Continental Airlines (Sweden) lost his opening matches to Scott Dickson of Long Beach, Calif., USA and Andy Green of Team Renaissance Reinsurance (U.K.). Green, who won this event in 1999, stands on one win, one loss having defeated Holmberg.
"It was pretty sketchy in the final race today," said Green about the extreme wind shifts and pouring rain. "Nonetheless, we picked up a pretty important win against a very tough field, which will be hard to get through to advance to the next round."
For Magnus Holmberg, who put in a week of training aboard the IOD back home in Sweden, today's losses were tough to take after leading both matches. Against Green, he incurred a penalty in the pre-start and explained that the end of the race was where it all went wrong. "We took our penalty turn at the start of the second beat but ended up getting into trouble in the last two hundred yards," he said. "We were happy until the start of the last run. We were about 10-15 boat lengths ahead of Andy but the wind dropped on us and it's hard in these conditions needing to jibe twice with the wet, heavy spinnaker. Andy beat us by about half-a-meter. It's tough to take, but still some racing ahead of us so we'll look forward to a better day tomorrow."
Bermuda's top male athlete Peter Bromby suffered defeat twice. First to Mattias Rahm of Team Stena Bulk of Sweden and second to countryman Blythe Walker of Team Bacardi. "I'm not too upset with the way we're sailing, the results can be a lot better, but the hardest part is coming back to shore and explaining it to my mates," he said. "We've sailed a lot worse and done better. With the conditions we had this afternoon the second race was a roll of the dice."
Group 1 Standings Day 1, October 18
Cameron Appleton 2-0
Paolo Cian 2-0
Cameron Dunn 2-0
Staffan Lindberg 1-1
Maxim Taranov 1-1
Adam Barboza 0-2
Matthew Gregory 0-2
Kelvin Harrap 0-2
Round Robin Results
Group 1
Flight 1
Paolo Cian def. Kelvin Harrap
Cameron Dunn def. Matthew Gregory
Staffan Lindberg def. Adam Barboza
Cameron Appleton def. Maxim Taranov
Flight 2
Cameron Dunn def. Kelvin Harrap
Maxim Taranov def. Adam Barboza
Paolo Cian def. Matthew Gregory
Cameron Appleton def. Staffan Lindberg
Group 2 Standings Day 1, October 18
Ed Baird 2-0
Bill Hardesty 2-0
Scott Dickson 1-1
Andy Green 1-1
Mattias Rahm 1-1
Blythe Walker 1-1
Peter Bromby 0-2
Magnus Holmberg 0-2
Flight 1
Scott Dickson def. Magnus Holmberg
Bill Hardesty def. Andy Green
Mattias Rahm def. Peter Bromby
Ed Baird def. Blythe Walker
Flight 2
Andy Green def. Magnus Holmberg
Blythe Walker def. Peter Bromby
Bill Hardesty def. Scott Dickson
Ed Baird def. Mattias Rahm
Back to top
Back to top