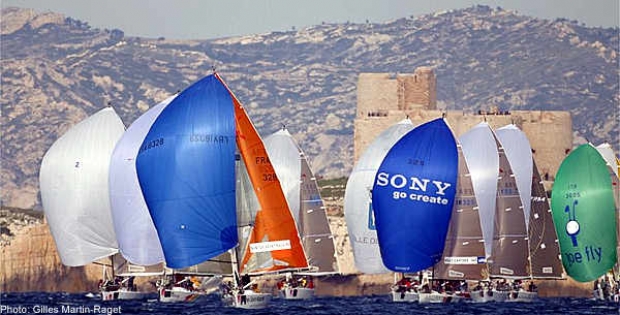 Honours again for Peponnet
The final day of the Pro-Am Cup saw a brilliant victory for one of the two K-Challenge boats, with Thierry Peponnet and François Brenac taking the top place: through impeccable navigation, a team working in perfect harmony. It is the second regatta the K-Challenge have won in the south of France in the last week - they also took honours in the One Ton Cup.
It was only in the final race that second place was confirmed for
Nantes Saint-Nazaire
, and third for Vasco Vascotto, fourth for
Asterix
, also 1st by a large margin in the amateurs placing. The performance of the British team surprised a few and they intend to come back next year to do even better.
In fifth and sixth places
K-Challenge 1
and
Ville d'Antibes NEC
were separated by only one point.
The last race today was again a battle royal and ultimately taken by loca boat
Marseille
with Dimitri Deruelle at the helm: after an excellent start, they stayed at the top of the race until the end, followed closely by
Asterix
, Vasco Vascotto,
K-Challenge 2
and
Nantes Saint-Nazaire
. Following the Pro-Am Cup
Nantes Saint-Nazaire
have also become French Mumm 30 champions.
Next year the Mumm 30 ProAm will run from 15-19 October.
Results:
Rgs Competitors Points r.1 r.2 r.3 r.4 r.5 r.6 r.7 r.8
1 K CHALLENGE 2
PEPONNET THIERRY 21.00 6 5 4 5 2 1 1 3
2 NANTES ST NAZAIRE
BERTHET PIERRE LOIC 23.00 3 7 5 6 1 2 2 4
3 K YACHTING 1
VASCO VASCOTTO 26.00 7 2 3 2 6 3 3 7
4 ASTERIX
EVANS DAVID 33.00 5 9 OCS 1 5 5 6 2
5 K CHALLENGE 1
CHARBONNIER NICOLAS 34.00 4 10 2 3 7 8 5 5
6 VILLE D'ANTIBES NEC
FARNARIER JULIEN 34.00 1 3 6 7 4 10 7 6
7 DEFI PARTAGE
PAUL MAXIME 38.00 2 4 7 8 3 12 4 10
8 MARSEILLE
DERUELLE DIMITRI 48.00 11 11 DSQ 4 8 4 9 1
9 THEOULE MANDELIEU
CHTOUNDER SYLVAIN 69.00 8 15 1 10 10 14 11 16
10 K YACHTING 4
DE PAVANT KITO 69.00 DSQ 8 9 9 14 6 8 15
11 TRIGA 5
PECLARD 77.00 10 1 10 20 13 15 15 13
12 JUMP EVENT
ROUAULT BENOIT 87.00 9 6 8 18 12 20 BFD 14
13 TEAM ISRAEL
ROTSHTAIN URI 94.00 15 14 13 12 11 17 12 18
14 VILLE DE BANDOL
MORANTE ANDRE 95.00 12 20 17 13 17 9 16 11
15 CSC ESSEC
GAUTIER HERVE 95.00 14 12 12 11 16 13 17 19
16 POWER BIKE MORDILLA
MASPERO GIOVANNI 104.00 DNS DNS DNS DNS 9 7 10 9
17 DINARD 1
BASSET ERIC 105.00 13 17 18 17 DSQ 18 14 8
18 DINARD 3
BIET ARNAUD 106.00 17 13 16 15 15 19 13 17
19 DINARD 2
GUILLOUX JR 110.00 16 19 11 14 19 DNS 19 12
20 KEEP COOL II
JACQUOT VINCENT 119.00 DSQ 16 14 16 DSQ 11 18 21
21 DEFI JEAN BART
GELLEZ OLIVIER 124.00 18 18 15 19 18 16 20 20
22 BELVEDERE
TZARFATI GAY 142.00 19 21 19 21 20 21 21 22
More photos on page 2
Back to top
Back to top